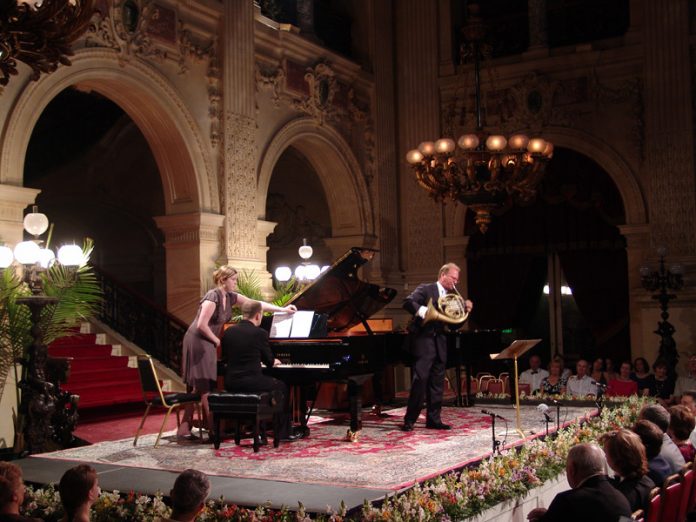 NEWPORT – To celebrate its 50th anniversary this summer, the Newport Music Festival will feature Joshua Bell, A Far Cry and Imani Winds among the artists who will perform in the 42-concert festival between July 4 and 22.
During the last 49 seasons, the music festival has included over 2,500 performances. Concerts this year will be hosted in venues like The Breakers, The Elms, and Belcourt Castle, announced the festival's executive director Pamela Pantos Thursday.
"In looking through 49 years of programming, we have discovered fascinating information on programming, events, artists and the trends of the festival over time," said Pantos in a prepared statement.
The festival will open on July 4 with a free waterside performance by Boston Brass in King Park. The festival will also reach out to young audiences with a performance by pianist Jeffrey Siegel on July 14. Other selected events are highlighted below:
Sunrise Concerts at the Chinese Tea House on July 6, 13 and 20
Mezzo soprano Frederica von Stade, composer and pianist Jake Heggie on July 7
A Far Cry, who will perform Bach's Brandenburg Concerto No. 3 and Philip Glass' Symphony No. 3 on July 8
Free "From the Porch" concerts at the Newport Art Museum on July 10 and 17
Bernstein Centennial Concert with excerpts from "West Side Story" and "Anniversaries" and featuring pianist Jeffrey Siegel on July 12
South Korean pianist Yekwon Sunwoo, gold medalist of the 2017 Van Cliburn Competition, on July 12
Grammy-nominated Imani Winds at The Breakers on July 13
Young Persons' Concert featuring pianist Jeffrey Siegel on July 14
Joshua Bellheadlines the Newport Music Festival Gala on July 15
Festival Ensemble-in-Residence Summer Strings performs everything from Led Zeppelin to Michael Jackson to Brahms at Newport Vineyards on July 19
The Newport debut of pianist, composer and improviser Charlie Albright on July 21
Tickets and more in formation can be found at www.newportmusic.org.
Kate Talerico is a PBN contributing writer.