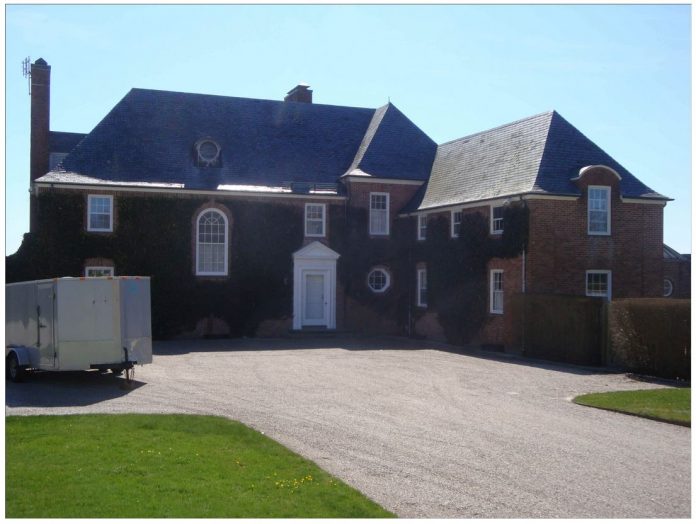 NEWPORT – An early 20th-century home along the city's Cliff Walk was sold at the end of January for $11 million. Based on published reports as well as discussions with Realtors in the area and an examination of Newport records, the buyer is Oracle founder Larry Ellison, who first started buying real estate in Newport in 2010, at the same time that he was looking for a port to host his defense of the Golden Gate Yacht Club's win in the 33rd America's Cup race.
According to city records, Seacliff, located at 562 Bellevue Ave., was sold to Carbonview Limited LLC on Jan. 31 for $11 million. The entity – with the address 101 Ygnacio Valley Drive, Suite 320, Walnut Creek, Calif. – purchased the 8,787-square-foot home from the Seacliff Trust, represented by Michael L. Madden. The home and land were last assessed by the city in 2018 at $6.8 million.
Seacliff, which has five bedrooms and five bathrooms, was first built in 1910, according to city records, and sits between the Rosecliff mansion and the Beechwood mansion. Beechwood, 580 Bellevue Ave., is also owned by Ellison, who has spent $100 million renovating the property to convert it into a nonprofit museum to display his art collection after purchasing it in 2010 for $10.5 million, according to sources in the real estate community. A 2012 blog post by Leslie Hogan, co-owner of Newport-based real estate agency Hogan Associates, confirmed the Beechwood was being restored by Ellison. Eastern Estates LLC is listed by the city as the owner of  Beechwood.
Along with Beechwood, Ellison also owns two other properties nearby, the Carriage House property at 570 Bellevue Ave. and the Summerwind mansion at 590 Bellevue Ave. The addresses of the entity noted on city records as the owner for those properties – SF Pacific LLC – shares the same address as Eastern Estates LLC and the new owner of Seacliff, Carbonview Limited LLC. In total, Ellison, through his LLCs, has spent $31.4 million on properties in Newport on Bellevue Avenue.
The sale of Seacliff is the most expensive home sale so far this year and surpasses last year's highest home sale in Rhode Island. In 2018, The Birdhouse, located at 70 Beacon Hill Road in Newport, was purchased by Judy Sheindlin, also known as "Judge Judy" from her syndicated television show of the same name, and her husband Jerry for $9 million.
James Bessette is a PBN staff writer. Email him at Research@PBN.com.