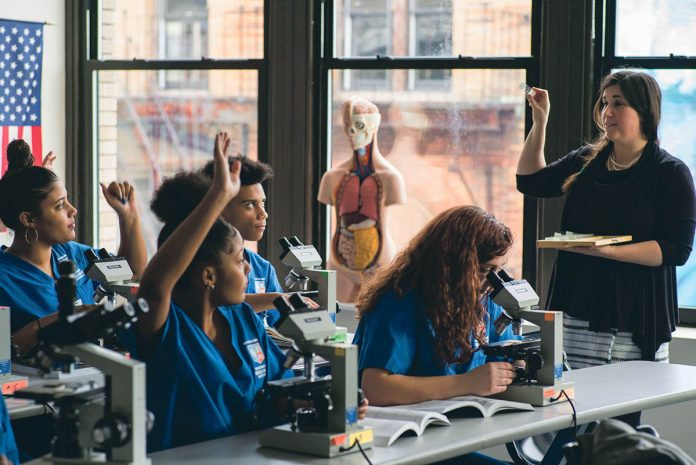 EDUCATION Rhode Island Nurses Institute Middle College
The Rhode Island Nurses Institute Middle College charter high school, founded in 2011 to prepare a diverse group of young people to enter the state's nursing workforce, offers work experience, college-level coursework and paid internships to underserved students.
Rhode Island Nurses Institute Middle College recruitment is focused on students who may not otherwise have considered a high-paying, high-demand nursing job, according to CEO Pamela McCue. Recruiting efforts center on Rhode Island's urban-core communities, where 85 percent of the school's students hail from. Sixty percent of the school's students speak a language other than English, and 87 percent meet the federal guidelines for free and reduced lunch.
McCue said more than 91 percent of registered nurses in the state report their ethnicity as white/non-Hispanic. Between 2011 and 2016, 75 percent of the state's nursing graduates were white/non-Hispanic. At RINIMC, 93 percent of the student population is female; 45 percent is Latino, and 36 percent black, with white and Asian students rounding out enrollment at 16 percent and 3 percent, respectively.
Students enter a four-year college preparatory program giving opportunities for work experience, college-level coursework and paid internships. They also have the opportunity to win CPR and EMT certifications. Upon graduation, students will find themselves equipped with skills in high demand. The R.I. Department of Labor and Training forecasts that by 2024 the Ocean State will need about 4,000 nurses, both to replace nurses retiring and to fill a growing need.
More nurses are needed in the workforce here, said McCue – but supplying the labor demand is only part of the need.
"We need more nurses … they are the first ones interacting with patients. And it's not just about numbers but about nurses better reflecting the languages and nationalities of their patients, so that there are better outcomes," McCue said.
When it comes to diversity in nursing, especially in this area, she has a wide perspective. McCue, the former director of nurse registration and nursing education for the state, was also executive director of the Rhode Island State Nurses Association. The registered nurse earned her doctorate in nursing, with nursing workforce diversity as her research focus, she said. She drew on that work to craft the school's business model.
In addition to McCue's real-world background in the field, the school also has a formal mentoring program with Lifespan Corp. registered nurses, who help guide and inform their assigned mentees.
All students at the middle college are pursuing a bachelor's degree.
If recent school announcements are any indication, it is succeeding in efforts to get more well-rounded nurses into the field that better represent patients in their care while opening up health care to students who may not otherwise have explored it as a career.
Last June, for example, six students at the school won full scholarships for a residential pre-collegiate program at Brown University in Providence, with the opportunity to do coursework there and experience campus life.
At the same time, a cohort of certified nursing-assistant students were doing clinical work at Cherry Hill Manor Nursing & Rehab Center in Johnston – working toward their licenses. A group of students also went on a field trip to Dana-Farber Cancer Institute in Boston to learn about the facility and treatments it offers. Also in June, two graduating seniors were awarded CharterCare Foundation Scholarships to study nursing, one at University of Rhode Island and one at Rhode Island College, according to the school.
"They can earn up to 22 college credits by the time they graduate, and with the work experience, they have already demonstrated to themselves that they can save and make money," said McCue. "That eliminates a lot of challenges in underserved communities. It makes the pipeline clear."

Want to share this story? Click Here to purchase a link that allows anyone to read it on any device whether or not they are a subscriber.