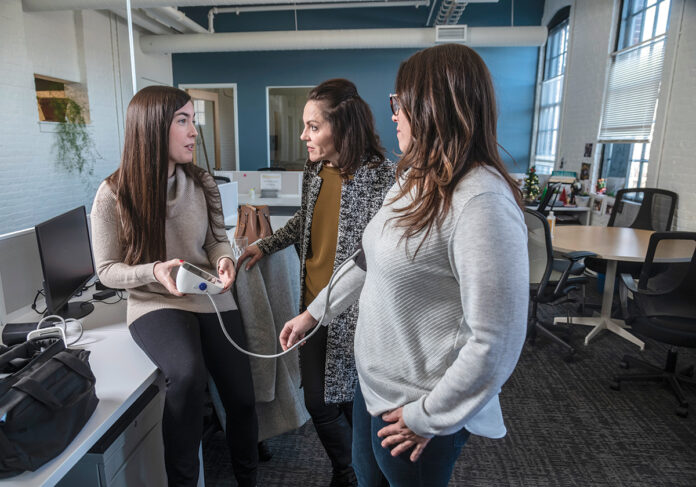 Michele Kratz is a registered nurse at heart, but she's done many things in her career that position her for success in her new role as vice president of clinical services at Providence-based Upward Health National LLC.
Upward Health serves high-risk, high-need patients in their homes, working with health insurance plans and health care providers to achieve better outcomes that save money. CEO Glen Moller said Kratz's appointment will continue the company's momentum.
"Michele's proven clinical expertise and case-management background will enable us to further develop meaningful treatment plans and programs for our patients," he said in a statement. "Michele joins the leadership team at a key point in our company development."
With a care specialist assigned to each patient, Upward Health coordinates with their physicians, filling in the gaps by delivering medication, connecting them with organizations such as Meals on Wheels or housing resources.
Having worked most of her career with patients in government programs such as Medicaid and Medicare, Kratz said Upward Health's whatever-it-takes care model is one she believes in and can help grow.
"They do whatever the patient needs," with patients' trust in their care specialist building and strengthening over time, Kratz said. "It can be the healthiest relationship they have."
Kratz, who was born in Philadelphia and raised by a single mother, said she always wanted to be a nurse, like her aunt, Audrey. After graduating high school in a small Pennsylvania town, she earned a nursing degree from Drexel University, when the Philadelphia school was affiliated with Hahnemann University Hospital.
'It's about empowering people and giving them the tools to succeed.'
MICHELE KRATZ, Upward Health National LLC vice president of clinical services
Kratz found herself in the inner-city hospital at a crucial time in the fight against AIDS, and she learned volumes.
"I was 18 and taking care of patients on the tail end of the AIDS epidemic," she said. "I was exposed to a lot. We took care of a lot of young men who were dying. Empathy had a place in that hospital. It was exposure to a poor, urban and gay community."
She said the nurses genuinely cared about the patients and were supportive of the student nurses. Patients came from all over the globe to see the specialists at the hospital, which gave her a wider world view. "In one room, I might have someone who was homeless. In another room, it might be someone from the Middle East," she recalled.
Kratz spent eight years at Hahnemann as a staff nurse. She spent about a decade exploring different roles with other companies in New York and New Jersey, and she found case management particularly rewarding.
The process involves assessing, planning and coordinating care to meet a patient's complete health care needs via advocacy, education and communication. The goal is increased safety and quality of care for the patient, with cost savings overall.
"I loved it, as it's organic across the continuum," said Kratz.
At one of her New York employers, Healthfirst – the state's largest Medicaid-managed care plan – she'd interact with patients who were constantly at the emergency room. They weren't compliant with their treatment plan, as they often didn't understand it, she said, due to social determinants such as health literacy.
She also recalled her experiences with overwhelmed mothers coming into the hospital with asthmatic children. "We'd give them sheets for their beds so the dust mites didn't aggravate the asthma and arranged for a mobile van [to] come to their home to teach them how to manage their child's condition," she said.
As director of medical management with Elderplan, a social health maintenance organization that meshes medical and social services, she participated in a 17-year project that was a precursor for Medicare Advantage patients. The organization's social workers would visit members at home and work to keep them out of long-term care for as long as possible, identifying members with depression and linking them with adult day centers, for example.
After four years as district director of case management for Kindred Healthcare in Pennsylvania and New Jersey, Kratz then took a position in 2012 with Cigna-HealthSpring. As vice president of health services, she was responsible for the mid-Atlantic region, but working for a big corporation left her missing the nimble ability of a smaller organization.
Kratz accepted the position with Upward Health this past August, a logical continuation in a journey of making change via case management, and a welcome one. She compares the leadership team to a small family.
Her goals include increased "facilitated virtual care" visits for patients in their homes, especially for the disengaged and those with complex medical conditions such as risky substance use. A medication reconciliation program would also use technology, she said, where a pharmacist could see meds in patients' homes before a community health worker picks up and delivers refills – no doctors' appointments needed.
Patients feels safer with caregivers coming to them, she said. "It's about empowering people and giving them the tools to ­succeed."

Want to share this story? Click Here to purchase a link that allows anyone to read it on any device whether or not they are a subscriber.