"Yes! He sat right over there! He was really here!"
Natalia Paiva-Neves pointed to a small table near the center of the dining room of O Dinis Restaurant in East Providence, that is owned by her family. That table was the center of activity weeks earlier when celebrity chef Andrew Zimmern and his Travel Channel show "The Zimmern List" stopped by what he calls one of his favorite restaurants in the Providence area.
It was the kickoff of the second season of the spotlight dining show for Zimmern, in which the chef and restaurateur showcases some of his favorite dishes in various American cities.
Zimmern was last in Providence in March 2016 to dine at and feature his favorite local restaurants. A visit to O Dinis was on the top of his list back then as well. Paiva-Neves, who operates her family's restaurant, prepared, served and socialized with Zimmern on his recent visit during a busy lunch rush. Zimmern dined and chatted with the restaurant's regular local customers while he enjoyed some of his favorite traditional Portuguese dishes, such as bacalhau na brasa (salted cod), stewed octopus, fried smelts and ameijoas a bulhao de pato (littlenecks steamed in a white wine and garlic sauce).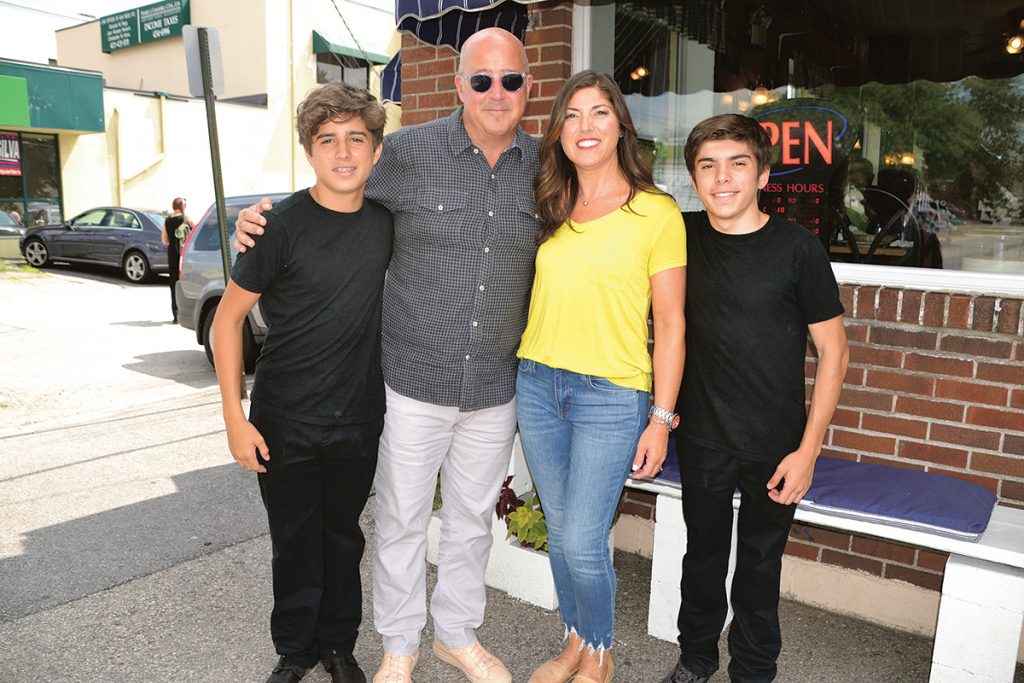 Paiva-Neves was raised in the restaurant industry. Her dad, Dinis Paiva, was the chef of another beloved Portuguese restaurant, Estrela do Mar in East Providence, just around the corner from O Dinis. Paiva was not only the chef but an entertainer in the restaurant. He was also well-known as a radio and TV personality on Portuguese-language broadcasts. His television program was seen on Tuesdays. "That is one of the reasons [O Dinis] is closed on Tuesday," laughed Paiva-Neves. "He had to go to the TV station that day, so he closed the restaurant."
Paiva was known to emerge from the kitchen, stroll among the tables and sing all the traditional songs of the old country.
Paiva-Neves said, "These days we still make him sing!"
She was born in Portugal and moved to Rhode Island at age 6. She operates her family business in the city in which she was raised. In the Portuguese culture, dining out is something that one does during the time between the church feasts, the summer and fall festivals that were once the centerpiece of life in many communities in Rhode Island and southeastern Massachusetts.
"The feasts would go on for three days, rain or shine," she recalled.
Festivals such as those at St. Francis Xavier in East Providence and Holy Rosary Church in the Fox Point neighborhood of Providence were real highlights of the year.
"You would go to the feasts to see who had the best malassadas [a Portuguese pastry similar to a doughboy]!" she said.
Paiva-Neves also talked about how Zimmern revealed some of his favorite eating experiences. "He really likes littlenecks [clams], but in Portugal they are smaller, more like cockles. But this was the one dish he ate from beginning to end."
During his three-hour visit, Zimmern engaged with the diners in the restaurant, which he insisted remain open for service while he was filming. When he asked the crowd if there were any tourists visiting for the first time, not a hand went up. After the show aired on the Travel Channel, that has probably changed.
Bruce Newbury's Dining Out radio talk show is heard Saturdays at 11 a.m. on 1540 AM WADK, through various mobile applications and via smart speaker. Email Bruce at Bruce@brucenewbury.com.