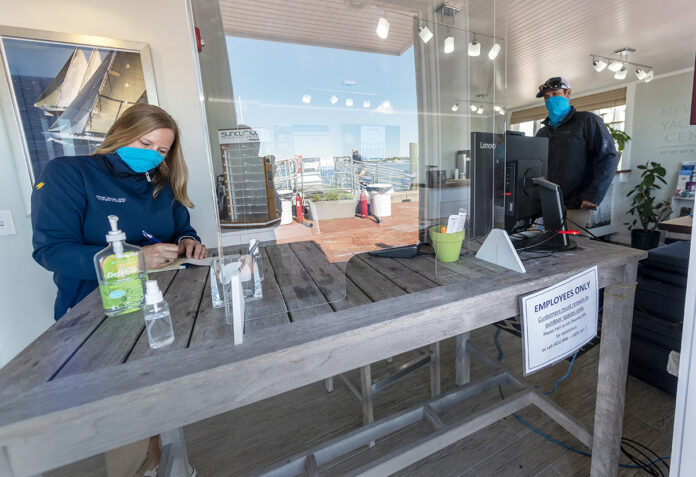 The community candy dish in the office is gone. So is the team lunch, the over-the-desk conversation and people ­rushing into a crowded elevator.
As Rhode Islanders return to their offices in June, their behaviors will change and many will encounter an unfamiliar environment.
Depending on the size and function of an office, walls are going up to create more separation, or they're coming down to improve interior air flow. Sanitation is king. The cleaning of common surfaces, which can contain contaminated droplets, will be as important as layout for businesses bringing employees back into offices, and trying to reassure everyone that the environment is safe.
"Sanitation is the new sustainability," said Eric Zuena, an architect and managing principal of Providence-based ZDS Inc. "A year ago, everyone wanted to be [Leadership in Energy and Environmental Design]-certified. Now what's taken a real front seat is sanitation. How do you show people, not just in office spaces, but hotels and restaurants, how do you get people comfortable with coming back to your space?"
The first question business owners have to decide is whether to bring everyone back, or allow a portion of the employees to continue working from home. This reduces pressure on the space requirements, but it may not be practical.
"We do have clients that want everyone to come back to the office rather soon. So the question becomes – what do we need to do?" Zuena said.
The guidance from the U.S. Centers for Disease Control and Prevention is fairly broad for office space, he said. Although encouraging workers to wear facial masks and to maintain 6-foot separations, it allows interpretation as to how that can be accomplished. And it doesn't say what offices should do about common areas, Zuena said.
These include previously mundane parts of every office – the bathrooms, entry points, kitchens and the copy machines – now potential danger zones because they bring people together. What to do?
In larger offices, hallways can become one-way traffic only, reducing the chance that employees will come too close to each other. Cafeterias may be decommissioned. Conference rooms that are enclosed are a no-go.
Understanding how the new coronavirus spreads has become more clear in the roughly two months since most companies in Rhode Island sent employees home.
It can be airborne, not just through sneezes and coughs, but also conversation. So plexiglass partitions are being installed around desks, to ensure the safety of office receptionists and for shared workspaces where people can't be physically separated.
Small changes can be made inexpensively. Arrows taped to the floor will work, Zuena said. So will a sign on a bathroom door that says only one person at a time can use it.
At the Newport Yachting Center marina, the small office now has a reception desk protected by a plexiglass enclosure. Colin Kane, managing principal for the Peregrine Group LLC, which owns the site, said it was installed a few weeks ago and didn't take much time.
At Kane's East Providence headquarters, most employees are still working from home, he said, and people who want to do that can continue. The people who have returned can keep a distance. He has scheduled more deep cleanings.
"I don't know if it's making a difference," he said. "It makes people feel better."
Some offices are taking a wait-and-see attitude about their space. Marc Crisafulli, the Rhode Island president for Twin River Worldwide Holdings Inc., has his office in a downtown Providence tower. Right now, the two to three people working in the office have about 1,000 square feet to themselves. "I always keep my door closed," Crisafulli said. "We're just being really careful. No one uses the break rooms."
Other office-based businesses have taken the plunge on costly improvements, in part because they anticipate having most of their workforce returning.
Zuena has one client that has opted to build a second kitchen at their offices, rather than have everyone trying to use the original space.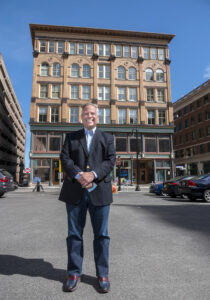 Another has asked for a contractor who can tear out the walls of an enclosed conference room to allow air to circulate so the company can use the long table for meetings.
About one-third of Zuena's current work involves making assessments for business owners about how they can reconfigure their office space to accommodate social-distancing requirements. They can be in Class B or Class A space, he said, but all have a similar focus: How do you make people feel comfortable in this space?
Site Specific LLC, a design and construction firm based in Providence, has spoken to numerous building owners in recent weeks, generally Class A space. They are approaching the work that has to take place from two directions – what changes need to be made to the building systems and common areas to make them work more effectively given COVID-19, and what's happening within offices.
The shell of the building – the domain of the landlord – is getting as much attention in the Class A buildings as office interiors.
Landlords who have contacted Site Specific are educated about what they need to do to improve the air flow, in particular. "All of them are being very proactive to try to ensure that when they reopen their buildings, they're a safe place to work," said partner Matt Dempsey.
Air exchanges bring fresh air into the offices through the air system. Many landlords are asking for improvements to these systems to make sure enough fresh air is circulating. "The landlords have been very proactive," said Bo Koloski, vice president of client services at Site Specific. "The last thing they want is this spreading through their buildings."
Joseph R. Paolino Jr., managing partner of Paolino Properties LP, who owns numerous downtown Providence buildings, has installed ultraviolet lighting systems in several buildings that will cleanse offices of germs overnight. At the skyscraper 100 Westminster, and the adjoining yet-to-open The Beatrice hotel, he's installed a UV system tied to the air system, to remove airborne germs.
Paolino estimated that he's spent in the "seven figures" for building improvements and rent forgiveness across his properties. At two locations, he installed thermal cameras, which can detect a fever in anyone entering a building.
"You have to have a safe building," Paolino said.
At one of his buildings that he plans to renovate, at 86 Weybosset St., Paolino is rethinking the design. Instead of retail on street level, he thinks micro-office units will be more appealing post-COVID-19.
At 100 Westminster, he's had some tenants ask about leasing additional office space – to try to spread people out.
"They need, or would prefer, to have more private offices than they've had in the past," said Paolino, who thinks traditional office design of individual spaces with doors is going to have a comeback. "The concept of a collaborative office space, which many people felt in the office industry was going to be the future, is now outdated very fast because of this virus."
The movement toward open design, free of cubicle walls and enclosed offices, has left many businesses with a layout that encourages collaboration and shared conversations. But does it work to help contain the new coronavirus?
Zuena's own 20-employee studio is typical of modern offices, in that it features an open-concept design, a bullpen of sorts that allows architects and designers to collaborate freely. He's having half of his employees work on different days, and increasing the frequency of cleanings in between, to reduce cross-contamination.
He's also installing modular dividers on the desks, to provide a barrier for the workers who sit there.
This is one of the least expensive and disruptive solutions, and dividers can be installed without a crew of six different contractors coming into an office. Many of his clients have taken this approach, he said.
"Modular wall systems, you buy them from a furniture vendor and then you put them together like a piece of Ikea furniture," he said.
Mary Sadlier, executive vice president at Advertising Ventures Inc., which does business as (add)ventures, said its newly renovated, open-design offices in East Providence have worked well. The 30,000-square-foot office has a large conferencing area, and studio spaces, as well as six "phone booth" spaces to make calls. Through the summer, she expects most of the 75 employees will continue to work from home.
"While we have people in open office spaces, we're confident that when the decision is made that we'll start working from the offices, we'll be able to separate people pretty easily," she said.
Mary MacDonald is a PBN staff writer. Contact her at Macdonald@PBN.com.

Want to share this story? Click Here to purchase a link that allows anyone to read it on any device whether or not they are a subscriber.