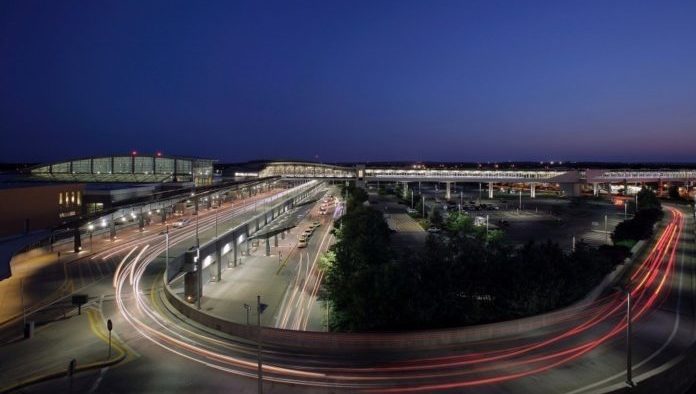 WARWICK – Aviation, state and city authorities gathered on Monday to celebrate the recent completion of a massive runway extension project at T.F. Green Airport, a nearly $250 million project that officials said was critical to position Rhode Island for economic growth.
The runway, called 5-23, was extended by 1,534 feet to a length of 8,700 feet. Although completed in July, the extended runway has not yet been certified by the Federal Aviation Administration to accommodate aircraft that need instruments for landing and takeoff. That is expected by December, according to Iftikhar Ahmad, president and CEO of the R.I. Airport Corp.
The runway extension is the culmination of a nearly 20-year effort, which began under the late Gov. Bruce Sundlun.
About 60 percent of the project was financed with federal dollars. The massive project included the relocation of a Warwick city park, Winslow Park, a relocation of Main Avenue, residential home acquisitions, tree removal and safety improvements, according to officials.
Attending Monday were the Rhode Island Congressional delegation, state officials including Gov. Gina M. Raimondo and city leaders, led by Mayor Scott Avedisian.
Raimondo, in her comments, cited U.S. Sen. Jack Reed, D-Rhode Island, for his long-term commitment to the project. "This is great for Rhode Island's economy," she said. "It seems I'm at the airport every other month for a new announcement. We're just getting started."
Ahmad cited Sundlun in his opening remarks, saying that he understood the economic potential represented by a strong airport.
"His vision then cannot be understated," Ahmad said.
"Infrastructure is a major factor. Without the proper infrastructure in place, it becomes difficult to position and market any airport."
T.F. Green has added four airlines and 16 new routes in the past 18 months, including several direct routes to international cities. Without the promise of an extended runway, few of the airlines would have committed to expanding service at the airport, he said.
Mary MacDonald is a staff writer for the PBN. Contact her at macdonald@pbn.com.