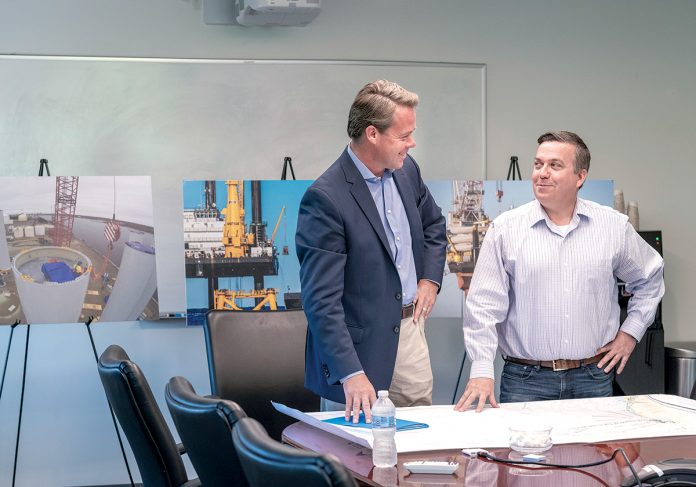 Rhode Island, looking to leverage the vast coastline after which it draws its nickname, jumped on the offshore wind farm bandwagon early on and that foresight is now paying off in jobs – by the hundreds.
On May 30, a week after Massachusetts chose New Bedford-based Vineyard Wind to construct an 800-megawatt wind farm, Gov. Gina M. Raimondo and Deepwater Wind LLC CEO Jeffrey Grybowski announced an expected 800 temporary construction jobs and 50 permanent maintenance and operations positions would be needed to facilitate the construction and operation of a second offshore wind farm by Deepwater Wind.
Known as Revolution Wind, Deepwater Wind's latest project is a 400-megawatt, 50-turbine wind farm that will be located roughly midway between Block Island and Martha's Vineyard, Mass. and includes $250 million in local investment by the Providence-based energy company.
The local impact will include $40 million in infrastructure improvements to the Port of Providence and Quonset Point, where the cables tied to the offshore energy site will come ashore.
While construction is not slated to begin until 2020, the industry is preparing to meet the project's needs today.
Michael F. Sabitoni, president of the Rhode Island Building & Construction Trades Council, said the union "will be involved with the vast majority" of the jobs needed. Revolution Wind will necessitate the hiring of construction workers, iron workers, electricians, plumbers, pipe fitters, operating engineers, carpenters, laborers and elevator constructors.
Sabitoni knows not just any construction worker will fit the bill for this job.
"There is a physical endurance, strength and skill [needed] to handle projects [such as] these," he said.
With the nature of offshore wind, he explained, "You're not just hiring an electrician who can wire a building; you're hiring an electrician who can wire a turbine 200 or 300 feet up in the air, off the coast of New England."
Now that the Block Island Wind Farm, which is also owned and operated by Deepwater Wind, is complete, many of the local construction workers have already gone through the necessary safety training and certification process to work on offshore wind sites, said Sabitoni.
'Deepwater Wind …is in a good position to provide opportunities.'
Matthew Morrissey, Deepwater Wind vice president
Matthew Morrissey, vice president of Deepwater Wind, concurred.
The company, he said, "already … [has] our arms around the types of job skills and companies that are in a position to compete for pieces of the contract locally. While the offshore wind industry is new in [the U.S.], Deepwater Wind, having built a project, is in a good position to provide opportunities for a lot of folks" in Rhode Island.
As construction commences, Sabitoni added, if interest in offshore construction grows, "We have the training infrastructure in place through [skills] centers and apprenticeship programs to bring people into our industry in a timely fashion."
Given the high number of jobs created, ancillary "support personnel" will also see more time on the job, said John Sinnott, vice president and business unit leader of Rhode Island at Gilbane Co.
Sinnott, who currently serves as chairman of Build Rhode Island, said spillover will be seen in different forms of water transportation, as well as increased fuel demand at local companies.
In addition, Morrissey confirmed construction of a second crew vessel will be contracted to a Rhode Island firm. Atlantic Pioneer, the crew vessel utilized by Deepwater Wind to ferry workers back and forth to the Block Island Wind Farm, was contracted to and built by Blount Boats Inc. in Warren. While the contract for the second has not yet been issued, Morrissey said: "Blount is in a position to compete very well."
For Sabitoni, Revolution Wind secures Rhode Island's position "in the forefront" of the wind-energy industry.
Locally, this is "huge, a massive" opportunity for Rhode Island because of the growing popularity of this type of renewable energy.
"It's not a matter of if, but when, you'll have turbines up and down the East and West coasts," said Sabitoni, "and Rhode Island will be poised [to participate] not only in the Revolution Wind farm but in other projects as well."
In the 18 months since the 30-megawatt, five-turbine Block Island Wind Farm, the nation's first offshore wind farm, went online, offshore wind energy has developed into an "enormous growth industry," said Morrissey.
As part of the vanguard of wind-energy technology, Morrissey believes Rhode Island is provided an opportunity by Revolution Wind "to stay engaged in the industry and maintain its leadership position, unquestionably."
This is especially important given local competition. Wind-energy "markets [are] emerging in larger states around Rhode Island," he added. In fact, Deepwater Wind is pursuing projects in the Bay State, Long Island, N.Y., New Jersey and as far south as Maryland.