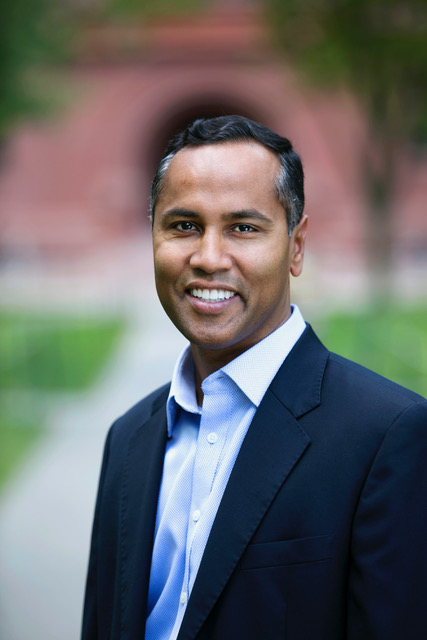 (Providence, Rhode Island) July 03, 2018 – After an extensive international search, O'Neil A.S. Outar joined Rhode Island School of Design (RISD) in January 2018 as Vice President for Institutional Engagement. He brings more than 20 years of fundraising and leadership experience from some of the world's foremost public and private research universities. Outar leads advancement, alumni relations and government relations efforts that galvanize constituencies from around the world in support of RISD's strategic priorities.
"O'Neil is a dynamic, collaborative leader with an exceptional track record of engaging stakeholders and driving philanthropic investment," says RISD President Rosanne Somerson. "He is a builder with experience working with diverse constituencies at a time when RISD needs to expand its base of support and strengthen its position as a global leader in art and design education."
Outar was drawn to RISD because of its mission to apply creativity and imagination to tackle problems facing communities across the globe. "I'm delighted to be joining RISD at a time when people are truly beginning to understand the value that art and design bring to our interconnected world," said Outar. "RISD is distinct on the global stage. Its name conjures images of provocative art, inspiring architecture, elegant design and, increasingly, the integration of those elements toward solving seemingly intractable problems."
"O'Neil's strategic approach is already helping RISD to transform how it engages its global community, builds relationships and secures new commitments of support," added Somerson. With Outar at the helm for the last six months, RISD enjoyed its second best fundraising year in its history.
"The work ahead is creating the infrastructure to support the work that will make RISD's ambitions possible. In coming years, we will make significant investments to create connections between RISD and its alumni, as well as alumni to alumni and alumni to the world," adds Outar. "Alumni are an essential part of how we move RISD forward because they create the foundation for many of our aspirations. Great institutions are defined by their alumni, faculty and students. RISD is very fortunate in this regard."
Outar brings a rare blend of leadership and management skills in academia having worked previously at University of Pittsburgh, Harvard University, the University of Alberta, MIT, and Tufts in leadership roles. He is a fundraising leader with more than 20 years of experience including management of mid to large size development organizations, designing campaigns, securing transformational gifts, and creating and implementing global strategy and academic program development. In addition, he has worked successfully in partnership with academic and administrative leaders, donors, and volunteers in complex environments to create and implement novel fundraising programs.
Outar is actively engaged in the advancement profession through professional service in teaching, thought leadership, board membership and mentoring. Currently a Special Adviser to The Guyana Foundation and on the Board of Directors for Project Citizenship, Outar also was a trustee of the Council for the Advancement and Support of Education, a Ditchley Scholar, a Commonwealth Study Conference Leader, a member of the Word Economic Forum's Knowledge Advisory Group, and an MIT Leader-to-Leader Fellow.
A first-generation college student, Outar was born in New Amsterdam, Guyana and is named in honor of his father's favorite Australian cricketer, Norman O'Neill. He was educated in Brooklyn, New Hampshire, and Massachusetts and holds a Master of Arts in Urban and Environmental Public Policy and a Bachelor of Arts, both from Tufts University.
About RISD's Office of Institutional Engagement:
Founded in 1957, the Office of Institutional Engagement includes a development team of frontline fundraisers, a campaign planning and strategy team, alumni relations professionals who engage alumni and families, and an advancement operations team responsible for data integrity and technology. The Office of Institutional Engagement advances RISD's mission by strategically fostering lifelong relationships with alumni, parents, friends, and organizations to strengthen goodwill and philanthropy.
About RISD:
Rhode Island School of Design is a private, nonprofit college founded in Providence, Rhode Island in 1877—making it one of the first art and design schools in the US. Approximately 2,500 students from around the world are engaged in liberal arts studies and rigorous, studio-based learning at RISD, where they choose from 19 studio majors and earn bachelor's or master's degrees in the fine arts, architecture, design or art education. The RISD Museum acquires, preserves, exhibits and interprets works of art and design representing diverse cultures from ancient times to the present. Each year more than 5,800 children and adults also access RISD's specialized studio facilities through RISD|CE courses.