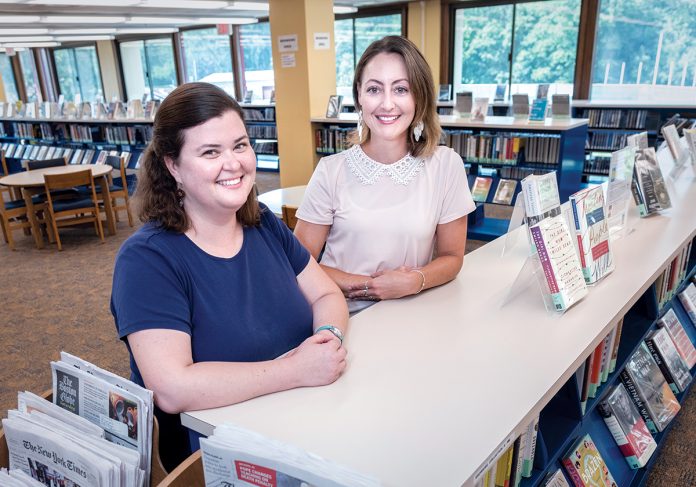 The price of tuition often trumps that of textbooks – both in size and priority – when it comes to budgeting for college.
However, according to a national study compiled by Boston-based Student Public Interest Research Groups, between 2006 and 2016 textbook prices rose 73 percent.
In fact, the College Board, a national nonprofit academic group, recommends budgeting $1,200 annually for textbooks and supplies.
A statewide effort begun by Gov. Gina M. Raimondo, in partnership with the state's 11 higher education institutions, may help Rhode Island students afford required reading materials but bypass hefty textbook prices.
In September 2016, she challenged the state's colleges and universities to increase incorporation of OERs, open educational resources, into course readings. Two years later, some schools are off to a better start than others.
OERs, explained Dragan Gill, Rhode Island College librarian, assistant professor and co-chair of the state's Open Textbook Steering Committee, are similar to traditional textbooks – with one main difference.
OERs are still written by faculty at university presses and peer reviewed, said Gill, yet OERs are often published under a creative commons license and therefore free to distribute.
Since fall 2016, Gill – like other college librarians across the state – has advocated for OER adoption among RIC professors, and has found some success. RIC faculty in 31 departments, including biology, chemistry, psychology and American history, have embraced the new model.
'A lot of faculty [are] doing their best, even if [materials aren't] easy to find.'
LINDSEY GUMB, RWU assistant professor and scholarly communications librarian
Some professors, said Gill, were early adopters, learning about the model through professional-development opportunities, but the new model still faces hurdles. For example, increased tech support and print-on-demand options would encourage adoption more broadly, said Gill.
Student response has been "great," she added. Not all schools have calculated the cost savings OER programs have meant for students; one which did is RIC. In the three semesters from fall 2016 to fall 2017, per RIC and state data, respectively, RIC students saved $225,800 and 12,300 students statewide saved $1.3 million.
However, "to the extent" OERs are being implemented in Rhode Island, said Gill, it's "very mixed."
At Roger Williams University, where OER adoption predates Raimondo's initiative, Gill's counterpart and co-chair of the Open Textbook Steering Committee is Lindsey Gumb, assistant professor and scholarly communications ­librarian.
While she does not believe RWU's program influenced the governor's plan, Gumb said it helped to be "knee-deep" at its start. While she did not have a count of departments, Gumb said OERs are active in RWU science, math, writing, American studies, sociology and businesses courses.
"I was shocked to see a lot of faculty doing their best, even if [creative commons licensed materials aren't] easy to find" in their department, she said.
One reason, she said, is RWU's $500 OER Faculty Fellowship, in which professors apply for a $500 stipend and over the summer work with Gumb to identify applicable OERs or other more-affordable, required reading options.
In the same three semesters of the fall 2016-17 school year, RWU students saved roughly $87,600 in textbook costs, per the school's count. While the library does not stock textbooks, Gumb tracks the number of student requests to reserve required reading. In three years, as of Sept. 10, she said, 675 individual inquiries were made by students looking to avert textbook costs.
Conversely, at Providence College, textbooks are often put on reserve for student use in the facility, in addition to the implementation of OERs for use outside the library.
Previously, Brown University focused on the accessibility of textbooks for students with low incomes. However, this year the school plans to cover textbook costs for more students and undertake a faculty survey to better understand use of and interest in OERs.
Johnson & Wales University holds on-campus training sessions to encourage OER use among faculty. From fall 2016 to spring 2018, JWU saved $973,700 in textbook costs for 7,399 students. They are used in 39 JWU courses.
An OER use explanation is available on the Bryant University website.
Adoption at University of Rhode Island has been course by course, not department by department, explained Paul Whitney, director of the campus bookstore. He explained OER popularity is evident in animal and political sciences and business courses. However, he added, "Individual faculty [members] develop their course content and it's individual choice" to switch or not.
While these schools do not represent experiences at all 11 Rhode Island colleges and universities, as of December 2017, Babson Survey Research Group found a 4 percentage-point increase in OER use among 2,700 faculty across the nation compared with 2015 use.
Academic textbook "licensing [practices] isn't a fun, hang-out conversation you want to have when you're not teaching," said Gill of the uphill climb that is OER adoption and awareness. She remains positive, however, and endeavors to create a new "smooth" pipeline to free and low-cost textbooks one professor at a time.
Emily Gowdey-Backus is a staff writer for PBN. You can follow her on Twitter @FlashGowdey or contact her via email, Gowdey-backus@PBN.com.