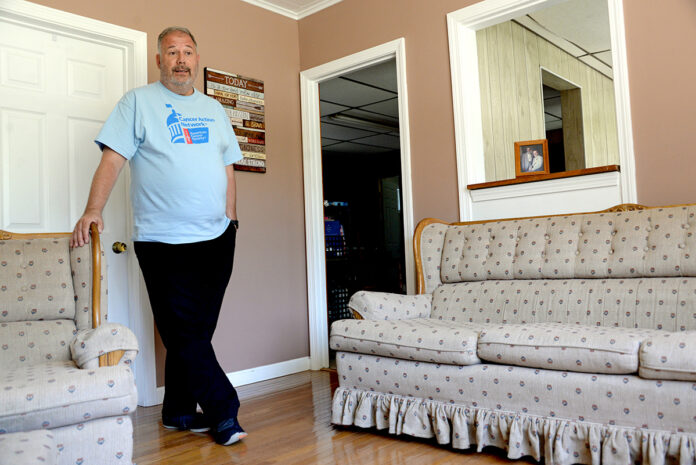 Paul Adam didn't think cancer would strike so close to home again.
Because of his work as vice state lead ambassador of the American Cancer Society's Cancer Action Network, Adam, of Woonsocket, was familiar with the prevalence of the disease, and his sister has twice survived bouts with breast cancer.
But it was still shocking when his twin brother, Peter, of Cumberland, was diagnosed with leukemia on March 23, just as the coronavirus pandemic was gaining momentum in the U.S.
Everywhere he looked, Paul Adam saw warnings about COVID-19's deadly effects on people with compromised immune systems. He knew the virus could kill his brother, whose immunity has been weakened by chemotherapy treatments.
"It just threw our entire family for a loop," Paul Adam said.
While the family was able to rally around Adam's sister during her fight against cancer eight years ago, accompanying her on chemotherapy appointments and making frequent home visits, they knew Peter Adam's care would be different.
These days, family members drop him off at the door of Rhode Island Hospital. They can't hold his hand during treatments or when they visit him at home. When they do come near, they must wear a mask and stay several feet apart.
"My support system is strained," said Peter Adam, 57, who spent three weeks in the hospital alone during his first round of chemotherapy. "Not being able to have that support of my family with me to handle the emotional aspect of chemo is affecting me."
Patients such as Peter Adam are finding it increasingly challenging to overcome isolation and mental stress while navigating the current health environment, according to a recent survey conducted by the Cancer Action Network.
'There is a concern … there will be a higher mortality from cancer.'
DR. WAFIK EL-DEIRY, Brown University Cancer Center director
Nearly 87% of cancer patients say the pandemic has affected their health care in some way, from delays in care to financial strain, the survey found. And nearly half believe COVID-19 has caused a moderate or major effect on their mental health.
Specialists say the negative effects of COVID-19 on cancer care could last even after the pandemic is over.
While Peter Adam is going through IV treatments, benefitting from clinical trials that came prior to the pandemic, research and clinical trials have been halted for months now, which could affect future patients and slow progress in the fight against a disease that kills 600,000 Americans annually.
"A lot of labs are closed down because of COVID-19 due to tight working conditions and state restrictions," said Robert Dulski, a government relations director at the Cancer Action Network. "If we delay cancer research and care, it's going to influence cancer rates in the future. And it could be a dramatic effect."
Dr. Wafik El-Deiry, director of the Cancer Center at Brown University, said that while clinical trials at some institutions such as Rhode Island Hospital have continued, many others were postponed.
Adding to the difficulties, El-Deiry said, many people have been postponing cancer screenings and examinations because of a fear of entering medical facilities and contracting COVID-19. That's delaying diagnoses, which could allow cancers to progress and lower the success of treatment.
"There is a concern, with all of these COVID-related delays, there will be a higher mortality from cancer," El-Deiry said. "It hasn't been seen yet, but it's anticipated for the first time in decades. If more patients are diagnosed later, that group's survival is less."
Some state leaders have sought to lower barriers for people to see doctors virtually.
Gov. Gina M. Raimondo extended to July 5 an executive order that required telemedicine appointments – including those for behavioral health services – to be covered by most insurance plans. She said telemedicine was "critical" for access and wants to make it permanent.
State Sen. Joshua Miller, D-Cranston, introduced a bill that would enforce commercial plans to cover telemedicine. The measure was approved by the Senate Health and Human Services Committee in May but has yet to be considered by the full Senate.
"[Telemedicine] has become absolutely critical under the COVID conditions," said Miller.
Even though declining case numbers indicate the worst of the pandemic is behind Rhode Island, cancer patients and caregivers are still feeling the anxiety about contracting the virus. Nearly 70% of patients are worried about continuously finding personal protective equipment items to help them keep safe, according to the survey.
Laurie-Marie Pisciotta, executive director of the Mental Health Association of Rhode Island, said a cancer diagnosis has always affected the emotional health of a patient, but the feelings of anxiety, distress and possibly depression can be amplified during the pandemic.
"Social isolation, which is necessary to prevent a COVID infection, shrinks one's support system," Pisciotta said. "Cancer patients are left alone to deal with their anxiety and depression, without the comfort of human contact. COVID-19 is a mental health crisis as much as it is a medical emergency and economic disaster."
Alexa Gagosz is a PBN staff writer. Contact her at Gagosz@PBN.com.

Want to share this story? Click Here to purchase a link that allows anyone to read it on any device whether or not they are a subscriber.