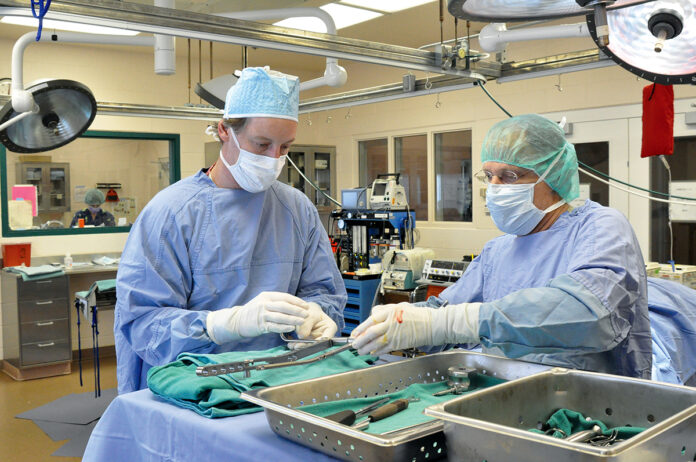 Innovation is at the heart of John Jarrell's entrepreneurial success.
Over the last two decades, the Brown University graduate with degrees in engineering and medical science has helped start more than half a dozen Rhode Island companies, from medical device and drug delivery consulting firm Materials Science Associates LLC, to a chemical coating product company, a wet lab, a med tech incubator and even a real estate firm.
These companies are the outlets through which Jarrell carries out his many inventions, patents and trade secrets – activities that the serial entrepreneur said he has tripled in recent months in response to the coronavirus crisis. Much of his increased intellectual property efforts relate to existing work on disinfection and antimicrobial solutions; now, he's creating applicators for health care workers and consumers to use to protect surfaces from germs and viruses.
"This is an opportunity for us to meet needs," he said. "It's a time for innovation."
But filing patent applications comes at a cost, as does the research and development involved in creating new designs. While Jarrell said the financial investment is worthwhile, other companies have cut back on intellectual property spending amid revenue shortages and an uncertain economic future.
Daniel Holmander, an intellectual property attorney with Adler Pollock & Sheehan PC in Providence, has seen clients move in both directions since the onset of the pandemic, though more fall into the latter camp.
Intellectual property is a "cost center" to many businesses, a unit that incurs cost but only indirectly creates revenue. Because of that, it's one of the first areas targeted for cuts when cash flow slows, he said.
An economic downturn creates a chilling effect on a business's intellectual property activity, agreed Henry V. Boezi III, who runs his own firm in Providence that specializes in bankruptcy and intellectual property law.
"If you have to worry about sustaining your business, it's difficult to try as many new projects as you would like to," he said.
'When money is tighter, companies fight harder.'
CRAIG SCOTT, Hinckley, Allen & Snyder LLP partner
Not only are creative-patent pursuits first to slow down in hard times, but they don't pick back up right away either. That's what happened during the 2008 recession.
"It was like the air was sucked right out of the room," Boezi said of the crushing blow to patent and trademark activity dealt by the recession. "It just died."
It wasn't until the 2016 presidential election that things turned around, according to Boezi. Whether patent filings would take eight years to recover this time, he was unsure.
An analysis by Law360 – a subscription service that provides legal news – used data from the U.S. Patent and Trademark Office to forecast a 2% to 4% decline in patent filings through 2021, versus the average 2.7% increase in year-over-year growth from 2011 to 2018.
Facing what he predicted to be a prolonged cut in client activity, Boezi was considering new ways to keep his practice afloat. He now devotes several hours a day to looking for virtual work opportunities for other firms or clients, while cutting costs on office materials.
At least one area of intellectual property law is on the rise, however: disputes over the minimum guaranteed royalties in IP license agreements.
Craig Scott, a partner at Hinckley, Allen & Snyder LLP in Providence who specializes in patent, trademark and trade-secret trial law, explained how shuttering of retail locations and supply-chain disruptions have made it difficult for IP licensees to meet minimum royalty payments set out under licensing agreements.
The "force majeure" clauses that grant exceptions to contract royalty requirements under unforeseen events don't typically cover pandemics. And without case law on which side – the licensee or the licensor – is on the hook for the inability to meet royalty requirements, more parties are turning to litigation.
That many businesses are cash-strapped only exacerbates their decision to head to court, Scott said.
"When money is tighter, companies fight harder," he said. "When money is a bit looser, parties tend to work things out a little bit more."
Many intellectual-property-related trials and depositions have been postponed due to limited court hearings, but Scott expected to see an increase in license agreement trials over the next year as courts reopen to hear nonemergency cases. Indeed, a recent article in the National Law Review found that patent-lawsuit filings had risen after several years of steady decline, citing the pandemic as a likely factor.
Though Holmander's work had slowed amid drops in existing client patent filings, he too was not ruling out an uptick in activity, including from new clients who wanted to use the opportunity created by layoffs, less work or changing business models to feed their innovative spirits.
"There are people who may not have thought of themselves as inventors, but now they see something they can add," he said. "Right now, people are thinking of taking this time to reengineer, improve or advance ­forward."
Nancy Lavin is a PBN staff writer. Contact her at Lavin@PBN.com.

Want to share this story? Click Here to purchase a link that allows anyone to read it on any device whether or not they are a subscriber.