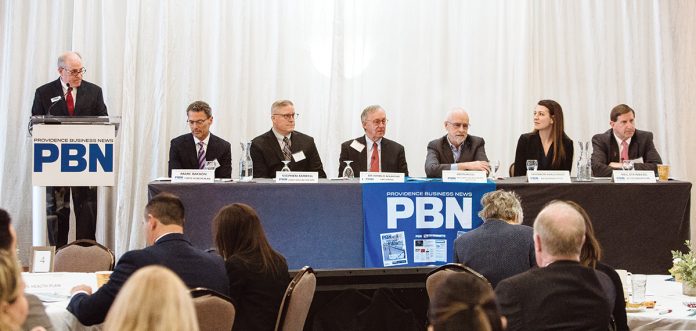 To work better, the state's health care and insurance systems must ramp up one critical skill: listening to and understanding the whole person they purport to serve, said panelists at the April 4 Providence Business News Spring Health Care Summit at the Providence Marriott Downtown.
It was a theme that ran through several topics discussed by the first panel of the day that included health insurers, data analysts, a doctor and a community funder.
The urgency of understanding the person at the other end of a service touches many relationships in the local health care industry. They include employers to employees, doctors to patients, insurers to employers, and insurers to patients. It also includes the wrangling between doctors and designers of electronic medical records.
"Before you attack a problem, you have to understand it. Health is holistic. One health problem is combined with other conditions," said panelist Shannon Shallcross, co-founder and CEO of BetaXAnalytics LLC.
"We have to meet people where they are," added Neil D. Steinberg, president and CEO of the Rhode Island Foundation.
Across the discussions, all panelists generally agreed that the nation's health care and insurance systems are not working well. According to the Kaiser Family Foundation, 5% of people in the United States account for 51% of health care costs, Shallcross said. Conversely, 50% of Americans account for 3% of health care costs.
And there's also a disconnect, as one panelist described it, between companies and their employees in the design of workplace-wellness programs.
James E. Purcell, former CEO of Blue Cross & Blue Shield of Rhode Island and the founder of the Returns on Wellbeing Institute, said only 30% of employees participate in workplace-wellness programs – which include on-site gyms, smoking-cessation help, diabetes counseling. Yet, companies are spending about $8 billion a year in the United States on such efforts.
"These programs are dropped into resistant cultures and they fail," Purcell said. "More insidious is that companies are oblivious to the employees who need these programs the most."
He added, "Employers assume they know what employees need, so they do not ask them." A wellness program, Purcell said, must consider the whole person – including their physical, financial and emotional well-being, along with family dynamics. He accused CEOs of being missing in action on this topic, adding, "That has to change."
Shallcross said she moved from the wellness industry, where she was promoting wrong solutions for people she did not know or understand, into data analytics.
"Understanding people's unique needs is important to finding a solution," Shallcross added. "Now, we are using data to understand the problem."
She gave an example of a case in which 58 people at a company signed up to take medication to help them quit smoking. Only three people finished the program.
"You've spent a lot of money to help very few people," Shallcross said of the lesson learned. "You've got to understand the data" that reveals why people do what they do.
Workplace-wellness ventures are only one place where disconnects occur between services and the people who need them, often for reasons that are not always explored or understood. Other panelists said use of data analysis is helpful in bridging services and needs.
Marc Backon, president of Tufts Health Plan's commercial division, said, "We have lots of data, including pharmacy and demographic. We want to understand people in their cultural background; we want to be able to direct targeted efforts to people." He mentioned a diabetes-treatment program Tufts created in a Chinese community that solves the language barrier and presents treatment "in a way that is relevant to them."
Steinberg put in a plug for common sense, telling about a man who turned up frequently at a local emergency room with health problems, until someone took the initiative to install an air conditioner in his home, which cut his ER visits way back.
He said statistics on insurance coverage can be misleading when you get down to the realities of people's lives. "You may have a large number of people who are insured, but if they cannot get to the doctor or pay the copays, insurance is not helpful."
Panelists did point to hopeful innovations. Big data is being collected and analyzed to better understand where and how health care dollars should be targeted for the best outcomes.
Insurers are coming up with some fresh ideas. One of several examples, cited by Shallcross, is risk-based contracts between employers and health care providers that contain specific performance guarantees regarding health care for workers. If the care provider doesn't hit certain goals, money may be rebated to the employer.
Also on the hopeful side, some panelists expressed enthusiasm for two new innovations. One is Haven, a joint venture of Amazon.com Inc., Berkshire Hathaway Inc. and JPMorgan Chase & Co., that aims to provide to their employees a system of simplified, high-quality, transparent health care at a reasonable cost.
'Companies are oblivious to the employees who need [wellness] programs the most.'
JAMES E. PURCELL, Returns on Wellbeing Institute founder
The other innovation is the recent merger of CVS Health Corp. and Aetna Inc., which aims to offer to the public various health care services, in increasing increments, through CVS retail stores.
The insurance industry is hammering out some fresh ideas to help improve care.
Stephen Farrell, CEO of UnitedHealthcare of New England, described a platform called Vim, by Optum Ventures. Farrell said Vim collects information about quality and cost of health care and helps doctors make effective referrals. It is an embedded service that goes straight to the doctor's work desk and even helps with scheduling of appointments. One objective of Vim, Farrell said, is to "reduce the variation of care across a small geography."
There also is a new product, Farrell said, from Bind Benefits Inc., which uses the on-demand concept similar to ride-hailing services. With Bind Benefits, employees are always covered by a core benefits plan, which Bind offers through established insurers. Then, people may pay for additional coverage, or "add-ins," as they are needed. Add-ins usually are treatments people can plan for in advance, such as a knee replacement or hernia repair. Isolating that coverage until it is needed lowers monthly premiums.
"This is a unique concept that will grow," Farrell said.
A hot topic for doctors and some patients is electronic medical records, which are supposed to store patient data efficiently and deliver it to doctors instantly. But these systems can create errors and insert a laptop between patient and doctor during consultations.
Panelist Dr. John Murphy, executive vice president of physician affairs at Lifespan Corp., promoted a middle zone, saying electronic medical records have flaws, but they do contribute to safety by putting all of a patient's history into a doctor's hands when needed.
In keeping with the theme of the panel, Murphy added, "We designed these systems without talking to the people who use them. Manufacturers are redesigning electronic medical records based on work flow, but that is going to take a long time."