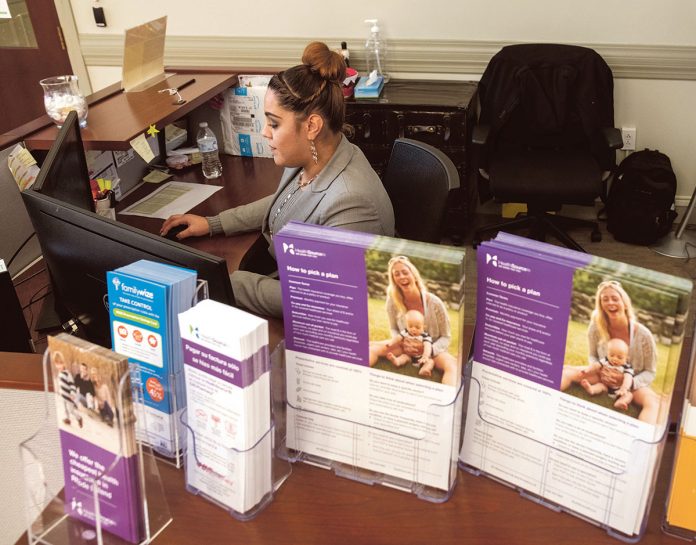 2018 began with health risks, routine and unforeseen, and proposed partnerships, and ended with uncertainty over the fate of the $78 billion merger of CVS Health Corp. and Aetna Inc.
The year started with news of some Providence Water customers resorting to bottled-water service due to routine lead warnings. Calls to Crystal Spring Water Co. in Middletown spiked with media reports about water quality in the area that has tested above the federal action level for nine of the last 10 years. One pervasive and difficult-to-remedy source of lead in the system is service lines carrying water from mains in the streets to buildings. Such repairs can run in the tens of thousands of dollars.
Brown University President Christina H. Paxson suggested Jan. 11 that Rhode Island should reject Boston-based Partners HealthCare's proposed acquisition of Care New England Health System in favor of the university's own bid to join with Prospect Medical Holdings to merge with the health care system. Paxson suggested an integrated academic health system that would keep health care in Rhode Island.
CNE announced it remained focused on the Partners acquisition. In August, Brown had set aside its initial opposition to the deal with a memorandum of understanding with CNE and Partners formalizing their collaboration through a clinical, medical education and biomedical research affiliation.
On Feb. 7, HealthSource RI reported a 12 percent enrollment increase at the end of the 2018 plan year open enrollment, the greatest among state-based Affordable Care Act exchanges for the year. By Dec. 10, enrollment for health care insurance through the state's ACA exchange remained 11 percent higher than during the same date in 2017, at 31,771.
Also in February, news of a study published in JAMA Psychiatry attributed the state's $2 million 2016 launch of the nation's first program screening inmates for opioid use disorder to provide access to medication-assisted treatment has been linked to a 61 percent drop in post-incarceration overdose deaths.
A software upgrade for the Unified Health Infrastructure Project planned for May 19 was postponed until June, after which Deming Sherman, special master assigned to ensure the state's Supplemental Nutrition Assistance Program meets federal guidelines, expected the system will be able to speedily handle 96 percent of claims, as required. The software upgrade was completed Sept. 15, the state's Executive Office of Health & Human Services reported. By December, the department reported seven consecutive weeks of greater than 90 percent completion of claims, ending with 96.5 percent completed in November.
In June, Gov. Gina M. Raimondo signed a bill to incentivize the parties in the St. Joseph Health Services of Rhode Island Retirement Plan to settle their class action lawsuits.
The legislation came after court-appointed attorney Stephen Del Sesto filed suits in R.I. Superior Court and U.S. District Court June 19 against Prospect Medical Holdings, Prospect CharterCARE, the Roman Catholic Diocese of Providence and others for wrongdoing in the plan's failure, demanding the $85 million plan be made whole. By December, two settlements, one proposed Sept. 4 for $11 million, a 15 percent ownership stake in the legacy hospital corporations and the Charter Care Community Board, and new claims against liquidated assets, and one proposed Nov. 28 for $4.5 million, promised to make the pension plan whole, special counsel Max Wistow said. Both have been approved by the state but still need federal review.
In August, Partners HealthCare, Care New England and Brown signed a memorandum of understanding formalizing their collaboration through a clinical, medical education and biomedical research affiliation following the planned merger of the two health systems.
The Partners-CNE-Brown memorandum outlined a framework for a Rhode Island-based academic medical center driving innovation, with the Partners affiliation helping to further position the health system to compete for research grants at a national level.
In September, the R.I. Department of Health granted Care New England's joint application with Partners HealthCare of Massachusetts for an expedited, 90-day review of its acquisition by the Boston-based hospital system under the R.I. Hospital Conversions Act.
In October, the Ocean State recorded a slight downturn in the number of opioid-overdose deaths from 2017 and the start of 2018, as the U.S. Department of Health and Human Services reported national numbers plateauing.
November brought the CVS-Aetna deal close to approval, with the latter valued at $212 per share, or about $70 billion, bringing the total transaction, with Aetna's debt included, to $78 billion.
But on Dec. 18, the New York Post reported U.S. District Judge Richard Leon had ordered the Department of Justice to respond to numerous complaints against the merger. The order was expected to delay the deal for several more months.
Rob Borkowski is a PBN staff writer. Email him at Borkowski@PBN.com.