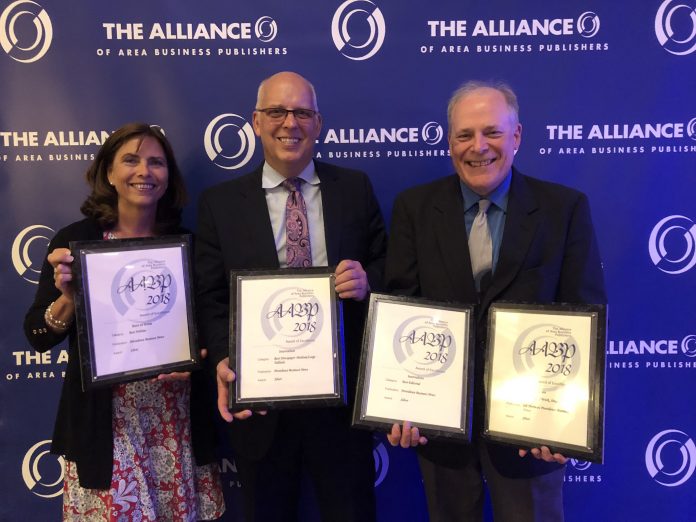 WASHINGTON – Providence Business News took home four awards – including second-place recognition among medium and large newspapers for overall quality as well as second place for having the best website among all entrants – in the annual editorial excellence competition of the Alliance of Area Business Publishers, which held its annual summer conference in the nation's capital from June 21-23.
PBN took home the silver award in the Best Newspaper: Medium/Large Tabloids category (PBN won third place in the same category in 2015) at the AABP's awards dinner, held Saturday. The competition was judged by faculty of the University of Missouri School of Journalism.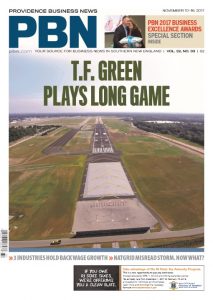 "Good reporting and solid design throughout, but it's the accessible tone of the writing that really sets PBN apart," said judges for the contest in awarding PBN second place in the category. First place in the category went to Crain's Chicago Business, while third place went to Crain's Detroit Business. In addition, the judges said: "Pensions are a difficult thing to illustrate, but [PBN] managed to, both in art and words. Stories on new chefs and restaurants are a staple of business publications, but this sparkles with language. Art played big and the design sometimes reaches effervescence."
In addition to winning the silver award for best newspaper, PBN.com garnered second place for Best Website, which was judged for all entrants (PBN won the same award in the AABP contest in 2013). First place in this category went to the Springfield (Mo.) Business Journal, while The Business Journal of Fresno, Calif., took third place.
Judges had this to say about PBN.com: "Sometimes it's the little details that come together to create the total package. That's the case with Providence Business News. A clean, modular design coupled with timestamps and subject tags creates a sense of urgency. Sponsored content is clear and varied, offering advertorial storytelling as well as a space for clients to place press releases and personnel announcements. Providence Business News is in a class by itself, having opened an alternative revenue stream through its website, selling those placements as well as tickets to sponsored events and subscriptions from the homepage."
PBN staffers won second-place awards in two other categories as well. Second place in the Best Editorial category was for the piece titled "This plan tying water revenue to pension liabilities is all wet." The editorial took issue with the city of Providence's proposal to use revenue generated by selling off its water supply to shore up its pension system, which has a large unfunded liability. Judges in the category said: "This concisely written piece shows what happens when the government tries a little sleight of hand."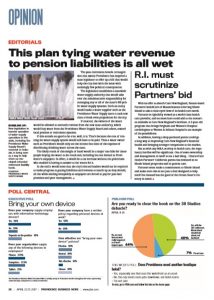 Also pulling in a silver was former PBN staffer Eli Sherman, whose award came in the Best Body of Work category, which was based on four stories he wrote for PBN – "Are we dealing with reality on pensions?", "Don't tell me we're dead," about the community newspaper sector in the region, "Good jobs, skills elusive in R.I.," and "Keeping PawSox: Where's the risk?"
Other top awards went to: the San Fernando Valley Business Journal, which repeated as first-place winner in the Best Newspaper: Small Tabloid category; Hawaii Business, for Best Magazine; and Biz New Orleans, Most Improved Publication (which PBN won in 2016).
The award winners were chosen from among 484 entries submitted by 37 publications in the United States, Canada and Australia. The AABP counts 55 independent magazine and newspaper members in the U.S., Canada and Australia.
"With the highest standards of excellence in journalism and design, these regional business publishers deliver consistent, compelling and relevant news to their readers," said Alliance Executive Director C. James Dowden.
"The high-quality journalism being done by these publications keeps readers thoroughly up-to-date and, importantly, includes a lot of data, context and historical perspective that are especially important as truth increasingly gets drowned in a flood of social media snippets," said Reuben Stern, who coordinated the judging at the University of Missouri School of Journalism. "The winning entries once again combine solid research, great sourcing, excellent on-the-ground reporting, deep community knowledge, and creative thinking."
Earlier this year PBN took home first place for general excellence and for best website for specialty publications in the New England Newspaper and Press Association's annual Better Newspaper Competition, the third time in the last nine years that PBN has gained that recognition as well as the seventh time in the last decade that it has been recognized as one of the top three specialty publications in New England. All told PBN won five first-place awards in the NENPA contest, along with three second-place honors and three third-place finishes.
PBN also took home two first-place awards and four second-place honors in the annual Rhode Island Press Association editorial contest in April.