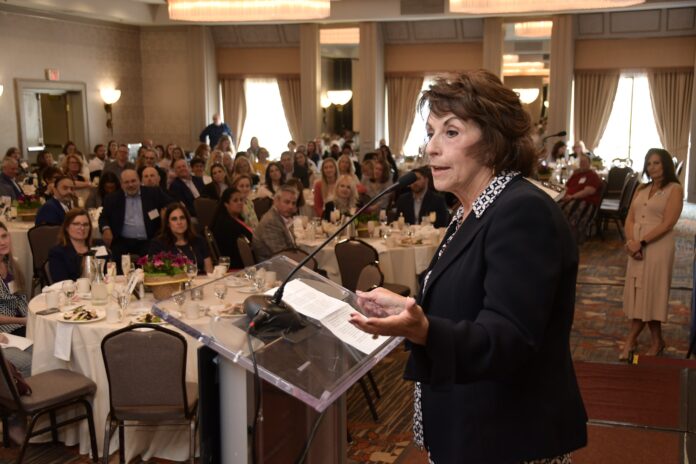 PROVIDENCE – Paula Iacono at first didn't set out to be a fundraiser. But, she said, "it happened."
Iacono, the executive director of the Chartercare Foundation who was named the 2023 Career Achiever in Providence Business News' 2023 Business Women Awards program, said Thursday she has along the way enjoyed making a difference in the community. To date, Chartercare Foundation has awarded $1.5 million in grants to the community helping more than 120,000 Rhode Islanders.
Iacono also urged those attending Thursday's awards luncheon to share their expertise with young people as a way to build for the future. "We're all in this together," Iacono said.
Marianne Monte, chief people and administration officer for Shawmut Design and Construction who was named the 2023 Outstanding Mentor, said Thursday if people choose one underrepresented individual to make their life and careers different, a lot of momentum would be created in local industries.
"[By doing this], we could create more opportunities for women," Monte said. "I've been so fortunate that mentorship is a fundamental part of my role at Shawmut. It's woven into our culture of ownership."
Thursday's lunch program at the Providence Marriott Downtown recognized leading women in various business, government and nonprofit sectors and their work for their respective organizations. Iacono and Monte were among 16 industry leaders and women to watch, along with 12 achievement honorees. Approximately 260 people attended Thursday's event.
A special section highlighting each honoree published Friday as part of PBN's May 26-June 8 print edition. In addition to Iacono and Monte, the other 2023 PBN Business Women award winners were:
Creative Services Industry Leader
Judith Lynn Stillman, Rhode Island College artist in-residence and professor of music
Creative Services Woman to Watch
Ally Maloney Winzer, Maloney Interiors principal
Financial Services Industry Leader
Yahaira "Jay" Placencia, Bank of America Corp. senior vice president and private client advisor
Financial Services Woman to Watch
Elizabeth Desautel, JPMorgan & Chase Co. vice president
Health Care Services Industry Leader
Debra Reakes, Coastal Medical Physicians director of quality
Health Care Services Woman to Watch
Rachel Best, Small Steps Therapy LLC clinical director and speech language pathologist
Legal Services Industry Leader
Karen Grande, Locke Lorde LLP partner
Legal Services Woman to Watch
Elizabeth Manchester, Partridge Snow & Hahn LLP partner
Professional Services Industry Leader
Judith Chace, Mott & Chace Sotheby's International Realty owner and broker
Professional Services Woman to Watch
Amanda Langlais, Falvey Insurance Group marketing manager
Social Services/Nonprofit Industry Leader
Nina Pande, Skills for Rhode Island's Future executive director
Social Services/Nonprofit Woman to Watch
Angelyne Cooper-Bailey, Cranston Municipal Court associate judge, R.I. Department of Labor and Training legal counsel and Roger Williams University School of Law adjunct professor
Technical Services Industry Leader
Kelly Mendell, MIKEL Inc. president
Technical Services Woman to Watch
Alison Wicks, Naval Undersea Warfare Center Division Newport policy division head and contracting officer
The 2023 Achievement Honorees were (listed alphabetically):
Dawn Apajee, City Personnel Inc. owner
Tracey Beck, The Beck Cos. co-owner and chief operating officer
Mary Blue, Farmacy Herbs LLC owner and founder
Audrey Finocchiaro, Nitro Bar co-founder
Meghan Gamboa, Ageless Innovation LLC co-founder and senior vice president
Kristen Gossler, American Trophy and Supply Inc. president
Marisa Head, Marisa's Skin Care LLC owner and founder
Haverhill Leach, Haverhill Leach LLC founder, owner and designer
Jo Lee, PopUp Rhody founder
Shirley Moore, Be Moore Interpreting LLC owner
Enith Morillo, Cadoret Global Inc. principal consultant
Milena Pagan, Rebelle Artisan Bagels LLC owner
Amgen Rhode Island and Starkweather & Shepley Insurance Brokerage Inc. were the sponsors for PBN's 2023 Business Women Awards program. Marisa's Skin Care LLC and The Savory Grape Wine Shop were the gift sponsors.
James Bessette is the PBN special projects editor, and also covers the nonprofit and education sectors. You may reach him at Bessette@PBN.com. You may also follow him on Twitter at @James_Bessette.

Want to share this story? Click Here to purchase a link that allows anyone to read it on any device whether or not they are a subscriber.