NATICK, Mass. – Providence Business News' four-part series examining the unfunded liabilities of Rhode Island municipal pension and other post-employment benefit plans was given a Publick Occurrences award by the New England Newspaper and Press Association at its annual New England Newspaper Conference Thursday.
The series, "The (Still) Looming Crisis," reported and written by PBN staff writers Eli Sherman and Mary MacDonald, was recognized as one of New England's outstanding journalistic works by the regional association. The award is named for the first newspaper published in North America, which was suppressed for criticism of the government by the royal governor in 1690 four days after it was first published.
Judges for the competition called the series "An alarming and significantly detailed investigation and report on the many communities in Rhode Island that are under funding pension and [health] insurance plans for … municipal employees."
They went on to add "While thee has been some improvement in the problem because of the recent recovery of the economy, the debt for almost all of these underfunded benefits is in the million to hundreds of millions of dollars. For current employees, retirees and their families the negative impact on their lives is devastating."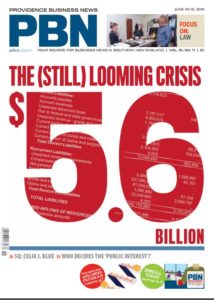 The series previously earned a national first place for investigative reporting in the Alliance of Area Business Publishers' 2017 editorial excellence competition. The series was published June 10, 2016; June 30, 2016; July 21, 2016; and Aug. 19, 2016.
PBN has previously received three Publick Occurrences awards:
For coverage of the 2014 gubernatorial and Providence mayoral elections
For its coverage of the 38 Studios LLC bankruptcy
And for coverage of the March 2010 floods
Twice PBN has been named Newspaper of the Year during this competition, in 2013 and 2014, also earning runner-up, "Distinguished Newspaper," honors in 2010, 2012 and 2016.
In February, PBN three first-place, three second-place and one third-place awards in NENPA's annual Better Newspaper Competition, which is a more comprehensive examination of regional newspapers' offerings.
A number of other newspapers and individuals in the region garnered recognition at the conference:
The Providence Journal received a Publick Occurrences award for a series on the Rhode Island medical marijuana industry, titled "Pot & Profit." The Journal was also named a Distinguished Newspaper in the weekday daily newspapers with circulation greater than 35,000 and the Sunday newspapers with circulation greater than 45,000 categories.
The Herald News of Fall River was named a Distinguished Newspaper in the weekday daily newspapers with circulation of 8,000-15,000 category.