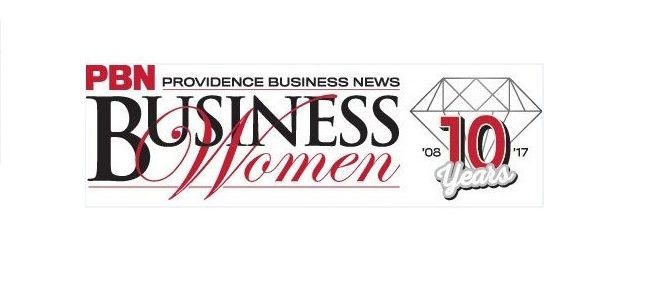 PROVIDENCE – Margaret M. "Peg" Van Bree, president of Rhode Island and Hasbro Children's Hospital, has been named the Career Achievement winner in the 2017 Providence Business News Business Women Awards program. Tia Bush, vice president and site manager for Amgen Rhode Island, will be recognized as the Outstanding Mentor at the 10th PBN Business Women Awards celebration, to be held May 25 at the Providence Marriott Downtown.
While Van Bree has been at Lifespan's flagship institution for just over two years, she has made a big impression. In her time at the helm, the hospital has received national awards for its performance as a teaching hospital, among other things, all the while improving operating income through both revenue growth and expense reduction. In addition, Van Bree has led the development effort for the new Lifespan Recovery Center, a multi-disciplinary, evidence-based, recovery-oriented program designed to combat the opioid crisis.
Tia Bush, vice president, site operations, for Amgen Rhode Island since last year, is no stranger to the Ocean State. From 2002 to 2010, Bush worked at Amgen's West Greenwich production facility, focusing on quality. She was recognized twice by PBN, first in 2007 as a 40 Under Forty honoree, then in 2009 as an Industry Leader in that year's Business Women Awards program. But her work as a mentor to other women and girls, both inside and outside the company, deserve to be called out as well. Bush is active in the Amgen Womens' Interactive Network and received the Rhode Island Million Women's Mentor Stand Up For STEM Award.  Numerous Amgen employees testified to Bush's passion and effectiveness as a mentor at the company in her application.
A dozen other women were named either Industry Leaders or Women to Watch in six industry categories as well. The two leading honorees, as well as the dozen recognized by industry, will be celebrated Thursday, May 25, from noon-2 p.m., at the Providence Marriott Downtown. For information and to register to attend, click HERE.
Partner sponsors for the program are the Bryant University Executive Development Center, CVS Health Corp. and Citrin Cooperman.
The 2017 winners by category are:
Creative Services – Industry Leader: Michelle Carney, vice president of strategic customer initiatives, International Game Technology PLC
Creative Services – Woman to Watch: Felice Silvia, Uncas International Home of Crimzon Rose
Financial Services – Industry Leader: Maria Barry, community development banking national executive, Bank of America Corp.
Financial Services – Woman to Watch: Amy Martel, executive vice president and chief operating officer, People's Credit Union
Health Care Services – Industry Leader: Katrina Thompson-Burnett, director, ancillary services, Coastal Medical Inc.
Health Care Services – Woman to Watch: Melissa Cummings, senior vice president and chief customer officer, Blue Cross & Blue Shield of Rhode Island
Professional Services – Industry Leader: Patricia Igoe, partner in charge, Robinson+Cole LLP
Professional Services – Woman to Watch: Michelle Saunders, manager of organizational design and leadership, Ocean State Job Lot
Social Services – Industry Leader: Margaret Holland McDuff, CEO, Family Service of Rhode Island
Social Services – Woman to Watch: Erica Busillo Adams, development manager, The Autism Project
Technical Services – Industry Leader: Theresa Baus, head, Technology Partnership Office, Naval Undersea Warfare Center, Division Newport
Technical Services – Woman to Watch: Julie Freshman, project manager/scientist, Ransom Consulting Inc.
The Achievement Honorees for 2017 are (listed alphabetically):
Shannon Hughey Cornicelli, Dream Big Academy
Louise Dinsmore, Partners in Philanthropy
Karen Emma, Universal Wealth Management
Anne-Marie Rosario Flores, Anne the Plumber
Morgan Grefe, R.I. Historical Society
Heidi Guerard, Heidi Hope Photographers
Kristy Knoedler, Fellini Pizzeria
Kelly Mendell, Mikel
Lauren Motola-Davis, Lewis Brisbois Bisgaard & Smith LLP
Carol O'Donnell, CRM Modular Homes
Sandi Tinyk, Barrington Community School
Jennifer Torbett, Crestview Dental Associates