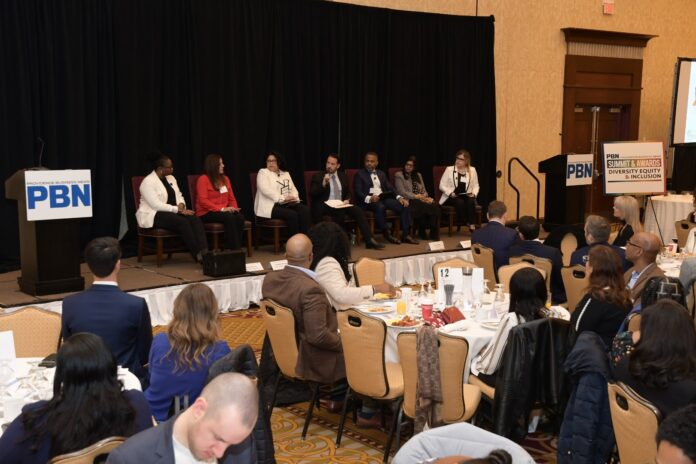 WARWICK – Business and nonprofit leaders in Rhode Island and beyond realize that targeted efforts to increase diversity, equity and inclusion in culture and practice is more than a virtue signal. It is good business. 
That's according to participants in a panel discussion at Providence Business News' Diversity and Inclusion Summit and Awards program on Thursday moderated by Kevin Matta, human resources chief and diversity officer with the Amos House in Providence and board vice president of Diversity and Inclusion Professionals.
Matta, who was also honored as Diversity Champion at the event, said there has been increased awareness of this workplace revolution, but in the past, the rhetoric from top executives making bold public commitments often failed to achieve the stated goals, which can lead to frustration. 
"A lot of employees are saying they are [still] waiting for it to happen," he said. 
The event took place at Crowne Plaza Providence-Warwick, where panelists said that as calls for social and economic justice continue to reach and influence decision-makers, the dedication to diversity and inclusion can lead to greater strides in both well-being and productivity. 
But there needs to be wholesale buy-in from organizational leaders, said Shaweta Pandey, executive director of strategic diversity management at CVS Health Corp. 
"It must be about everyday actions. It is not just the responsibility of human resources," she said. "They need to think about DEI the way they do about [the organization's] DNA." 
From a strictly financial perspective, it is vital that businesses commit dollars toward the effort, said Ken Gladney, executive director and manager of diversity, assets and wealth management at J.P. Morgan Chase & Co., which recently launched a dollar-for-dollar $5 million Diverse Supplier Grant Initiative meant to provide capital access to minority-owned businesses. 
"We put our money where our mouth is," he said. "Inclusion is making sure everybody has a fair seat at the table." 
Doris De Los Santos, who manages the supplier diversity program at Blue Cross & Blue Shield of Rhode Island, said it is about playing "the long game," which can not only grow market share but open the door to generational wealth for employees and customers, "creating an economy that is vibrant." 
"Making sure the practices are embedded [in the culture]," she said. "Thinking about those small suppliers that are representative of the customers that we serve." 
"Our job is to move from the start of the value chain to the end," said Pandey, who called for greater external transparency from companies regarding the measured outcomes of their diversity initiatives. 
Part of the work also includes increasing access to overlooked talent pools, which could be filled with untapped potential. 
"We have incredible talent in the state of Rhode Island, and they are hungry for that next opportunity," said Angela B. Ankoma, vice president of the Rhode Island Foundation's Diversity, Equity and Inclusion Initiative. 
Panelists were asked if there had been any pushback, internal or external, from their respective efforts. Leading DEI enterprises for a nonprofit has its challenges, Ankoma said, noting how sometimes donor input is not always in line with the foundation's commitments. 
"It's not always comfortable to have these conversations," she said, encouraging people to "get out of their comfort zones." 
However, the conversation should never be stifled due to fear of criticism. 
"If there is a pushback," Pandey said, "then it needs to be pushed back [to the forefront]."
Also participating in the panel discussion was Shameen Awan, vice president of talent management and DE&I assistant vice president at Amica Insurance Co., and Monika Soban, director of manufacturing and diversity, inclusion and belonging site lead at Amgen Rhode Island.
During his acceptance speech for receiving the Diversity Champion award, Matta reminded organizations that as with any capital expenditure, DEI comes with a price tag. But it is a wise investment. 
The work comes at a premium, he said, but the alternative for business leaders who remain on the fence is no longer viable. 
"Because the cost of silence is wrapped in a privilege that you do not have," he said.
In addition to Matta, the following businesses were presented with awards at the ceremony:
Accounting: Marcum LLP
Architecture/Construction/Design: Gilbane Inc.
Biotechnology: Amgen Inc.
Entertainment: Hasbro Inc.
Financial Services: Marstone Inc.
Government: R.I. Division of Equity, Diversity and Inclusion
Health Care – Enterprise Company: CVS Health Corp.
Health Care – Large Company: Blue Cross & Blue Shield of Rhode Island
Higher Education: College Unbound
K-12 Education: Rhode Island Nurses Institute Middle College Charter High School
Legal: Lewis Brisbois Bisgaard & Smith LLP
Not for profit: AAA Northeast
Nonprofit: Rhode Island Foundation
Social Services Agency: YMCA of Greater Providence
Training: Equity Institute
Each honoree will be profiled in a special section in PBN's Dec. 9 print edition.
CVS Health Corp. and the Rhode Island Foundation were presenting sponsors for PBN's 2022 Diversity & Inclusion Summit and Awards program. Amgen, Amica, J.P. Morgan Chase & Co. and Blue Cross & Blue Shield of Rhode Island were partner sponsors.
(ADDS link to acceptance speech in 20th paragraph.)
(Christopher Allen is a PBN staff writer. You may contact him at Allen@PBN.com)

Want to share this story? Click Here to purchase a link that allows anyone to read it on any device whether or not they are a subscriber.