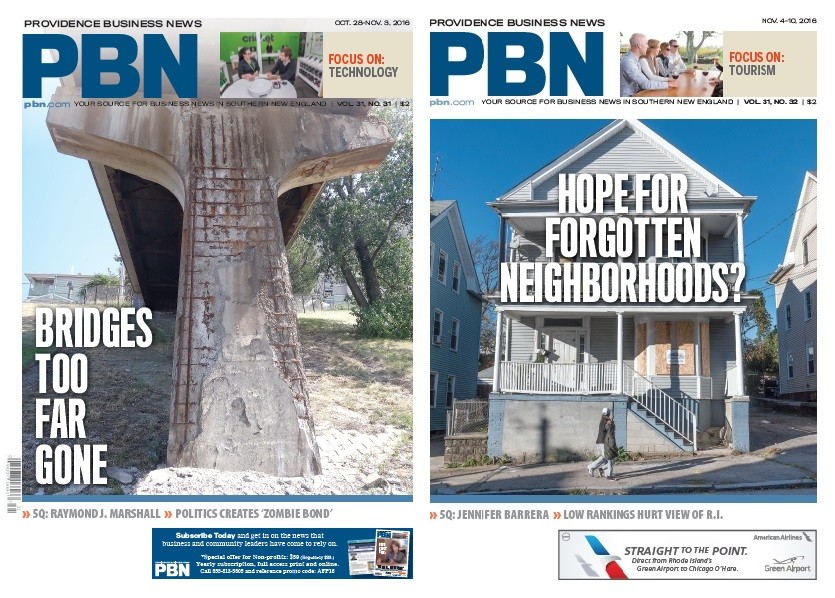 BOSTON – Providence Business News was awarded first place for general excellence as well as best overall website for a specialty publication on Saturday at the New England Newspaper & Press Association's 2018 New England Newspaper Convention, which was held Feb. 23-24 in Boston. In addition to recognition for overall quality, PBN took home top honors in three story and one advertising category in NENPA's annual Better Newspaper Competition.
The General Excellence category in the Better Newspaper Competition rewards publications for the overall quality of its products, from content to presentation. This is the third time in the last nine years that PBN has won first place for general excellence in the NENPA competition and the seventh time in the last decade that it has been recognized as one of the top three specialty publications in New England.
Judges for the competition said that "Providence Business News has Rhode Island business covered from A to Z, and from large to small. The staff's energy and commitment make their work leap off of the pages."
While there were no judge's comments recognizing PBN's first place finish of Best Overall Website, the recognition comes within a year of PBN redesigning its website and adopting a new content-management system. A year ago, PBN was named the third best website overall for specialty publications and in 2016 PBN.com won second place for best website for a weekly publication.
In addition to the two first-place awards for overall excellence, PBN received first-place recognition for two news stories, a two-part news series and for a digital revenue-building idea. PBN efforts also garnered second-place honors in three categories and third-place finishes in three categories.
PBN's advertising staff took home first-place honors in the Digital Revenue Building Idea for its concept and promotion of PBN Connect, a program on PBN.com that allows companies and individuals to post press releases, people on the move items and white papers to the site for a fee.
Eli Sherman took first place in the General News category for his examination of the shrinking fortunes of the newspaper industry, with an emphasis on the Rhode Island marketplace. "It is an ultimate challenge for a journalist to write about their own industry," said the judges. "This author did a top-flight job with thorough and informative content that likely enlightened most non-industry involved readers, and hopefully inspired readers to appreciate their local paper – and subscribe!"
Emily Gowdey-Backus won the History Reporting category with a story about the viability of the more than 190 historical and heritage organizations in the Ocean State. "Thoughtful and well-written analysis of local Rhode Island historical societies and the struggles they have regarding funding and support," said the judges.
Sherman and Mary MacDonald shared first-place honors in the Investigative/Enterprise Reporting category for their two-part series on the need to rebuild the 6-10 Connector and the Providence neighborhood that it disturbed when it was built originally. "This two-part, well-researched series takes a look at how Providence's deteriorating infrastructure will have an impact on the city's poorer neighborhoods, and points out that it is not only a people issue, but a political and state administration issue," said the judges.
PBN's overall design and presentation won second place in the competition, with the judges saying "The design is bold, but clean and easy to follow. Content is very accessible, and easy to read … thanks to smart design choices." The Aug. 19, 2016, front page of PBN, with the cover story, "Who will lead on pension, benefits?" also took second-place honors.
Sherman's story, "Good jobs, skills elusive in R.I," took second place in the Business/Economic Reporting category. The judges noted that "Sherman engages us right away by showing the human cost. … The thoughtful, well-sourced story also provides a public service by making clear that all is not lost: that state leaders could make a difference."
Third-place honors went to PBN for Advertising General Excellence, as well as for MacDonald's story on how sea level rise endangers Newport's The Point neighborhood as well as Sherman's look at the challenges still facing the state worker pension plans.
The 2018 Better Newspaper Competition drew 2,975 entries from daily, weekly, bi-weekly and monthly publications throughout New England. It was judged by 60 industry veterans and academics. Awards were given in 81 editorial and 25 advertising categories.
Other newspapers in Rhode Island and Bristol Co., Mass., winning first-place honors in both editorial and advertising categories at the Boston conference included:
Fairhaven Neighborhood News – general news photo
The Herald News, of Fall River – food page or section, humor columnist, photo illustration, political columnist, social issues feature story, spot news photo
Newport Life Magazine – audience/community involvement, overall design and presentation of a specialty publication
The Providence Journal – business/economic reporting, investigative reporting, local personality profile, sports columnist
The Standard-Times, of New Bedford – feature photo, front page, headline writing, infographics, personality photo, photojournalist of the year, pictorial photo, portrait photo, rookie of the year, serious columnist, slide show, sports section, website interactivity and engagement