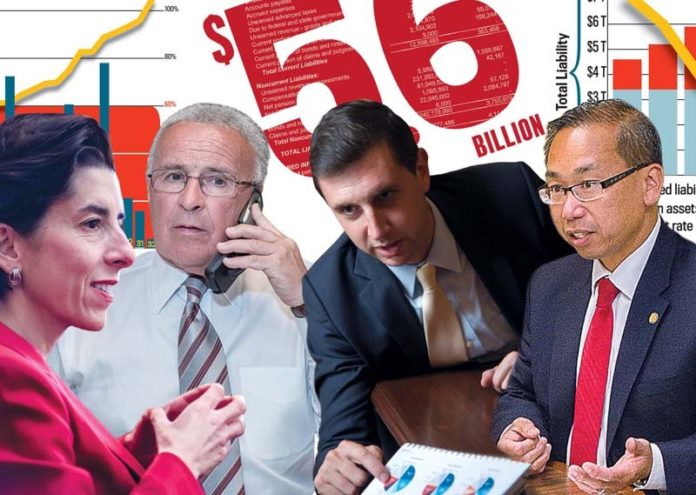 PROVIDENCE – Accountants, actuaries, politicians and union leaders are scheduled to meet on Friday to discuss the looming Rhode Island crisis related to public pensions and other post-employment benefits at a seminar dubbed "The Gathering Storm."
Donoghue Barret & Singal and The R.I. League of Cities and Towns are hosting the seminar beginning at noon at the R.I. Convention Center in Providence. Six panelists, including former Providence Mayor Angel Taveras and former R.I. Auditor General Ernie Almonte, are expected to discuss the many financial issues related to post-employment benefit costs at both the state and local levels.
"While it's true that the state has enacted and implemented important legislative reforms that address the problem, it persists and may yet explode in our very midst unless immediately addressed," according to organizers.
The forum came together following a months-long investigative series by Providence Business News on the impending financial crisis related to unfunded long-term liabilities.
Pension and other post-employment benefits costs, mostly related to health care, have a strong hold on municipal balance sheets, totaling in aggregate liabilities upward of $5.6 billion. In Providence alone, the OPEB liability exceeds $1 billion and is entirely unfunded.
The situation is exacerbated by aging populations and ballooning costs – especially related to health care. The long-term liabilities can erode the fiscal stability of governmental budgets, as politicians must decide between trying to pay down unfunded obligations or paying to fix potholes or dilapidated school buildings. The seminar is designed to address some of these issues.
"The seminar will discuss the accounting, actuarial and legal ramifications of the dire public fiscal crisis and the perspectives of the cities and towns, and the affected employees and retirees," according to organizers.
The six panelists are:
Ernie Almonte, partner at RSM US LLP, former R.I. auditor general
William M. Dolan III, attorney with Donoghue Barret & Signal
Paul A. Doughty, union president of Providence Fire Fighters
Carly B Iafrate, Law Offices of Carly Beauvais Iafrate
Daniel W. Sherman, Sherman Actuarial Services LLC
Angel Taveras, attorney with Greenberg Taurig LLP, former Providence mayor
Those interested in attending the event can register HERE.