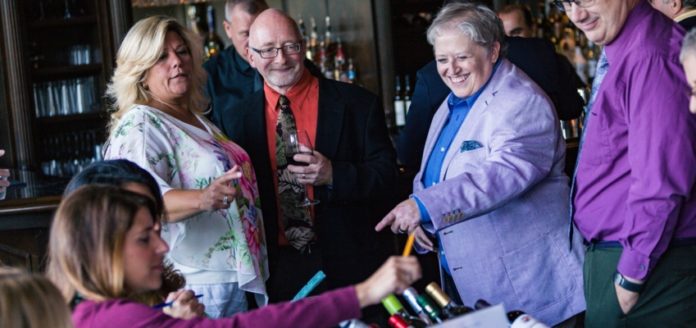 If a nonprofit wants an upcoming fundraiser to be considered for a calendar listing, email information to Nicole Dotzenrod at nonprofit@PBN.com at least four weeks in advance of the event.
---
Cocktails and Conversations
The Women's Fund of Rhode Island will offer "cocktails and conversations" at an event hosted with 10,000 Small Businesses – the national small-business investment program – from 5:30-7:30 p.m. on Sept. 13 at Aurora on Westminster Street in Providence. Proceeds will aid the WFRI's mission to invest in women and address gender inequality. Cost: $10. For more information or to register, visit wfri.org.
CCAP Chip for Charity
This year's CCAP Chip for Charity 9 Hole Golf Tournament & Community Awards Dinner, presented by Neighborhood Health Plan of Rhode Island, will take place on Sept. 14, from 11 a.m. to 6:30 p.m., at Harbor Light Country Club, 150 Gray St., Warwick. There will be a morning and afternoon round of golf, hole-in-one concert and awards dinner honoring community partners. Cost: $125/person for golf and dinner, $75/dinner individual, $140/dinner couple. For more information or to register, visit comcap.org.
Wishes on the Waterfront
Tockwotton on the Waterfront will host its 17th Annual Wishes on the Waterfront on Sept. 16 at 500 Waterfront Dr., East Providence in support of its senior residents. The event will begin at 5:30 p.m. and proceeds will go toward the Eliza B. Rogers Program and Wishing Jar Program, both devoted to supporting residents who need financial support or care. Cost: $75 for hors d'oeuvres, beer and wine, dinner, and a silent and live auction. For more information or to register, call (401)-272-5280.
Step it up
Walk for a cause at the Alzheimer Association's Walk to End Alzheimer's this September. The Newport walk will begin at Fort Adams State Park on Sept. 17 and the Providence walk will start at Roger Williams Park on Sept. 23. Registration for both begins at 8:30 a.m. while the walks will commence at 10. Participants can also enjoy exhibitor tents, refreshments, entertainment and giveaways. For more information or to register, call (401) 421-0008.
A Gallery Affair
Butler Hospital will be offering a night of fine art, food and music at its signature event, A Gallery Affair II, on Sept. 19. The event will begin at 6:30 p.m. at the Providence Art Club and proceeds will benefit the work of the hospital. Cost: $150. For more information or to register, call (401)-921-8508 or visit foundation.butler.org.
A la Vegas
WellOne Primary Medical and Dental Care will be offering a Taste of Las Vegas at its annual fundraiser at the Cranston Country Club, 69 Burlingame Road in Cranston on Sept. 22. Attendees can look forward to hors d'oeuvres, dinner, a silent auction as well as entertainment by the Edwards Twins and a cadre of celebrity impersonators. Cost: $75. For more information or to register, call (401) 285-5153.
Cheers
Run to McBride's Pub, 161 Wayland Ave. in Providence on Sept. 23 to witness the spectacle of the establishment's 3rd Zero K Road Race. At noon, entrants will imbibe a beverage at the firing of a starting gun and when the last participant is finished, the race is over. Proceeds will benefit Operation Stand Down Rhode Island's efforts to assist homeless and in-need veterans. All involved can then retire to the pub for a choice of hot dog or hamburger. Rewards will be given by category. Cost: Free. For more information or to register, visit (401) 383-4730.
Ace your way to better health
Support the YMCA of Greater Providence at its Ace Your Way to Better Health Golf Tournament on Sept. 26 at the Alpine Country Club in Cranston beginning at noon. Besides golfing and a meal, registrants can look forward to a memorabilia auction and the opportunity to meet local sports figures such as coaches Ed Cooley, Mike Pressler, Mary Burke and Andy Gresh. Proceeds will go toward funding YMCA health and wellness programs. Cost: $75 for reception and dinner-only to $1,000 for access to lunch, golf, reception and dinner. For more information or to register, call (401) 427-1820.
Celebrate heritage
The Blackstone Valley Tourism Council will highlight "Our Blackstone Valley Story" at its 32nd annual celebration on Sept. 28 at 5:30 p.m. at the Blackstone Valley Visitor Center in Pawtucket. There will be hors d'oeuvres, a meal and complimentary beer and wine, with proceeds benefiting the council's Environmental Fund. Cost: $100. For more information or to register, call (401) 724-2200.
Good eats for a good cause
Celebrate the conclusion of Hunger Action Month with Food4Good Oct. 1 at The Guild in Pawtucket. Beginning at 5 p.m., proceeds will go toward helping Food4Good and its efforts to fight hunger in Rhode Island. Cost: $55 for general admission, including a Southern Barbecue Buffet Dinner and access to R.I. Cupcake Wars; $75 for VIP, also including access to a VIP reception. For more information or to register, visit food4goodri.weebly.com.
Harvesting Hope
The Southside Community Land Trust, with co-chair Matt Varga, executive chef of Gracie's Providence, will present Harvesting Hope, SCLT's annual fall fundraiser on Oct. 3, 6-8:30 p.m. at the Squantum Association – 947 Veterans Memorial Parkway, East Providence. Varga will design dishes using food that represents the rich diversity of farmers growing on SCLT land. Proceeds support their work to expand low-income Rhode Islanders' access to healthy, fresh and affordable food. Cost: $100-$1,200. For more information or to register, visit southsideclt.org.
Making strides
The American Cancer Society will hold its Making Strides Against Breast Cancer of Providence Walk on Oct. 15 in Downtown Providence. Registration opens at 7:30 a.m. with the walk starting at 9. Proceeds will benefit breast cancer research, education and risk reduction. For more information or to register, call (401)-243-2624 or visit makingstrideswalk.org.
Hidden treasures
Make treasured memories at the Brain Injury Association of Rhode Island's 3rd annual Hidden Treasure Gala on Nov. 3 at the Providence Biltmore. The gala will begin at 7 p.m. and include silent and live auctions and the organization's signature "message in a bottle." Cost: $125/$160 after Sept. 15. For more information or to register, call (401) 228-3319.
Walk the Red Carpet
Sojourner House will hold its seventh Annual Masquerade Ball on Nov. 17, with cocktail hour beginning at 7 p.m. at the Providence Biltmore, 11 Dorrance St., Providence. The Hollywood-inspired affair will feature entertainment by Chifferobe's TropiGals and Michelle Cruz. There will be a cocktail hour, live and silent auctions, a cash bar and a cake competition by Rhode Island Food Fights. Cost: $40-$500. For more information or to register, visit sojournerri.org.
Nicole Dotzenrod is the PBN researcher. She can be reached via email at research@PBN.com or you can follow her on Twitter.