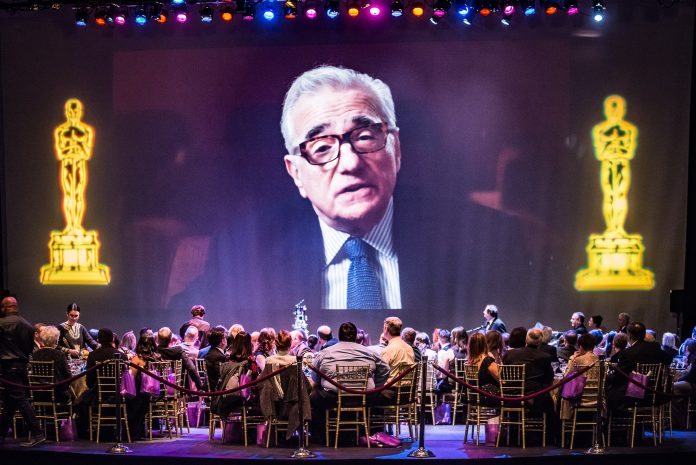 If a nonprofit wants an upcoming fundraiser to be considered for a calendar listing, email information to nonprofit@PBN.com at least four weeks in advance of the event.
A glamorous bash
The Providence Preservation Society will hold its 15th annual Winter Bash fundraiser, titled "Glitz and Glamour: A Speakeasy Affair," on Saturday, March 3, 8 p.m. to midnight, at ALCO, 317 Iron Horse Way, Providence. The bash's theme pays homage to one of the most bustling eras in ALCO's history. Tickets cost $55 through March 3 and $65 on-site; VIP tickets cost $110 through March 3 and $125 on-site. Admission includes free parking, entertainment and complimentary bites from several Providence restaurants and vendors. A cash bar, with proceeds also benefiting the preservation society, will be available. VIP ticket holders will have access to exclusive lounges, hors d'oeuvres and beverages. For more information and to purchase tickets, visit ppsri.org/bash.
Lights! Camera! Action!
Flickers' Rhode Island International Film Festival will host its ninth annual Red Carpet Experience gala celebrating the 36th anniversary of the Flickers' Arts Collaborative on Sunday, March 4, beginning at 5:30 p.m. at the Providence Biltmore Hotel's Grand Ballroom, 11 Dorrance St., Providence. The event will include a welcome reception for this year's Producer Circle Award winners, hors d'oeuvres, beverages, live music and a big-screen viewing of the 90th annual Academy Awards. Tickets cost $125. For more information, visit film-festival.org/RedCarpetExperience.php.
Heroes against AIDS
AIDS Project Rhode Island will hold its 32nd annual AIDS Run/Walk for Life on Saturday, April 21, beginning at 9 a.m. in the Roger Williams Park Carousel Village, 100 Elmwood Ave., Providence. This year's event encourages participants to dress up as their favorite superhero. The event, for the first time, will also include a 5K run. Registration will begin at 8 a.m. and a speaking program will commence at 9 a.m. prior to the 5K run and walk. Proceeds will benefit needed support services provided to Rhode Islanders living with HIV/AIDS. Fundraising information can be found by visiting firstgiving.com/aidswalkri/walkforlife2018. For more information, call (401) 831-5522 or visit aidswalkforlife.org.
Women helping women
Crossroads Rhode Island will hold its annual "Women Helping Women" event on Wednesday, April 4, 5:30-7:30 p.m., at the Providence Biltmore Hotel, 11 Dorrance St., Providence. The event will include cocktails, hors d'oeuvres, a brief speaking program and a chance to network with over 300 prominent women in the community. Tickets cost $100. Proceeds will benefit the Women's Shelter and other programs for women at Crossroads. For more information, call (401) 277-4330 or visit crossroads.org.
Branching out
San Miguel School will hold its 13th annual Gala and Miguel Medal Ceremony on Friday, April 6, 5:30-9 p.m., at the Pawtucket Armory Arts Center, 172 Exchange St., Pawtucket. The event will feature the Miguel Medal ceremony, student performances, a student art gallery, silent and live auctions, Fund-A-Need opportunities, a raw bar and pasta station, cocktails and hors d'oeuvres. Tickets cost $100 and proceeds will benefit the Student Scholarship Program. For more information, call (401) 467-9777 or visit smsgala2018.eventbrite.com.
A two-day birthday celebration
Rhode Island Public Radio and CVS Health will hold a two-night birthday celebration for RIPR beginning Friday, May 18, at 7 p.m. at The Steel Yard, 27 Sims Ave., Providence, through Saturday, May 19, at WaterFire Arts Center, 475 Valley St., Providence. The event hopes to raise $200,000 to fund continued growth of public service journalism in Rhode Island and southeastern Massachusetts. The Friday event will feature a live pour where attendees can personalize a cast leaf for a giving tree. On Saturday, Len Cabral, who received the National Storytelling Network Circle of Excellence Award, will guide attendees through an exploration of the diversity of the community across spoken word, art, music and dance while examining how art gives voice and life to civil discourse. Tickets cost $10 for Friday's event only and $125 for both events, and can be purchased by visiting ripr.org/soundandvision.
Celebrating the best of Bernstein
Conductor Teddy Adams and Broadway's Morgan James will join the Rhode Island Philharmonic Orchestra onstage to perform a concert featuring Leonard Bernstein's famous Broadway compositions as part of a fundraiser and gala titled "Best of Bernstein's Broadway" on Sunday, June 3, at 3 p.m. at The VETS, 1 Avenue of the Arts, Providence. The concert will be followed by the "Bernstein on Broadway: Glitter and Be Gala" dinner celebration at the Renaissance Providence Hotel, 5 Avenue of the Arts, Providence. Providence Performing Arts Center President J.L. "Lynn" Singleton will be presented with the John Hazen White Sr. Leadership in the Arts Award during the dinner. Proceeds from the events will benefit scholarships, and education and community outreach programs. Concert tickets cost $25-$65 and can be purchased at tickets.riphil.org or by calling (401) 248-7000. Gala tickets, which include premium concert seating, cocktail reception and dinner, cost $750, and can be purchased by either calling (401) 248-7034 or emailing ljohnson-carvalho@riphil.org.