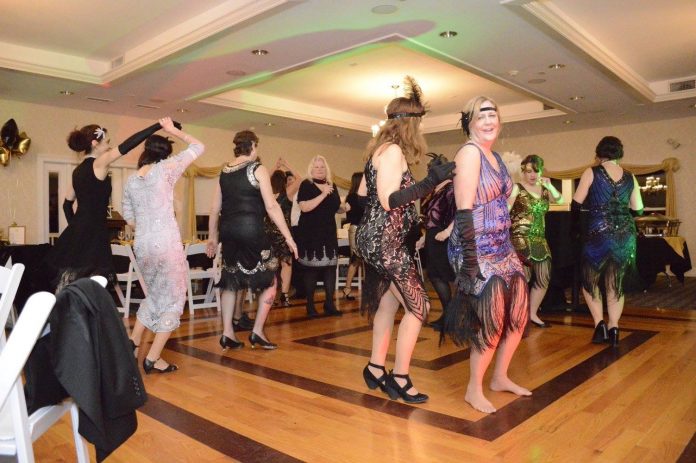 If a nonprofit wants an upcoming fundraiser to be considered for a calendar listing, email information to nonprofit@PBN.com or research@PBN.com at least four weeks in advance of the event.
Keeping warm this winter
Orangetheory Fitness will team up with Comprehensive Community Action Program for the inaugural blanket and clothing drive "Burning to Keep Others Warm." From now until Sunday, Feb. 17, gym members and community members can drop off new or lightly used blankets, socks and gloves to the studio at 4 Chapel View Blvd., Cranston, and the items will be donated to CCAP to deliver to people in need. The items can be dropped off during the drive on Mondays through Thursdays from 5 a.m. to 7 p.m., Fridays from 5 a.m. to 6 p.m., and Saturdays and Sundays from 7:30 a.m. to noon. For more information, call (401) 830-2812.
Step back in time
The Busy Buddies Foundation's fourth annual Roaring 20's Gala will take place Saturday, Feb. 9, from 7-11 p.m. at Laurel Lane Country Club, 309 Laurel Lane, South Kingstown. The event will include music, food and prizes for the best-dressed guests in 1920s attire. Tickets cost $35 before Jan. 29 and $45 after. Proceeds will support Busy Buddies Foundation's programs, which sponsor children's activities with a focus on self-discipline and healthy living habits. For more information and to register, visit eventbrite.com/e/busy-buddies-foundation-4th-annual-roaring-20s-gala-tickets.
Black tie, blue jeans and baseball
The Ocean State Waves, based in South Kingstown and part of the New England Collegiate Baseball League, will hold its fifth annual Black Tie and Blue Jeans Fundraiser on Friday, Feb. 15, from 6-11 p.m. at The Towers, 35 Ocean Road, Narragansett. The event will feature live music, a silent auction of sports memorabilia, dinner by Arturo Joe's and beverages. Tickets cost $65 and proceeds will benefit the nonprofit baseball team's operations. For more information and to register, visit eventbrite.com/e/5th-annual-ocean-state-waves-black-tie-blue-jeans-fundraiser-tickets.
Celebrating African-American culture
Stages of Freedom, a nonprofit that provides educational programs and cultural opportunities to Rhode Island's African-American community, will hold its fourth annual Black Culinary Extravaganza on Saturday, Feb. 23, beginning at 12:45 p.m. at the nonprofit's offices, 10 Westminster St., Providence. The event will feature a pop-up exhibit of kitchen memorabilia. A soul food dinner will also be held at the Rhode Island School of Design's Portfolio Café across the street. Tickets cost $75 and proceeds will benefit Stages of Freedom. For more information, call (401) 421-0606.
All you can eat!
The Boys & Girls Clubs of Warwick will host its annual Sportsman Game Dinner fundraiser on Sunday, Feb. 24, at 12:30 p.m. at the Elks Lodge, 326 Farnum Pike, Smithfield. Ralph's Catering of Cranston will serve all-you-can-eat meals from an assortment of venison and other locally caught game – wild boar, game hen, bruschetta, etc. The event will also have various raffles and a cash bar. Tickets cost $35 and proceeds raised will benefit the Boys & Girls Clubs of Warwick and its programs. Tickets can be purchased either my mailing a check to Boys & Girls Clubs of Warwick, Administrative Offices, 42 Frederick St., Warwick, 02888, or by visiting wbgclubs.org.
Thawing out
The Gaspee Thaw Buffet Fundraiser, benefiting the annual Gaspee Days Parade, will take place Sunday, Feb. 24, from 1-4 p.m. at Lemongrass, 1138 Post Road, Warwick. Along with a buffet dinner, the event will also feature a cash bar, a table raffle and a 50/50 raffle. Tickets cost $25 for adults and $10 for children. For more information, visit gaspee.com.
Celebrating West Africa
Higher Ground International will hold its 2019 Cultural Gala & Village Leader Awards event on Friday, March 1, from 6-10 p.m. at the Crowne Plaza Providence-Warwick, 801 Greenwich Ave., Warwick. The event is themed "Expanding The Village – A Focus on Women's Empowerment," which will have music, dancing and a live auction, and honor five individuals as village leaders. Tickets cost $100 per person and $950 for a reserved table of 10. Attendees are encouraged to dress in formal African and Western attire. Proceeds raised will benefit Rhode Island's West African community and the rural villages of Liberia and West Africa. For more information and to register, visit eventbrite.com/e/higher-ground-internationals-2019-cultural-gala-village-leader-awards-tickets.