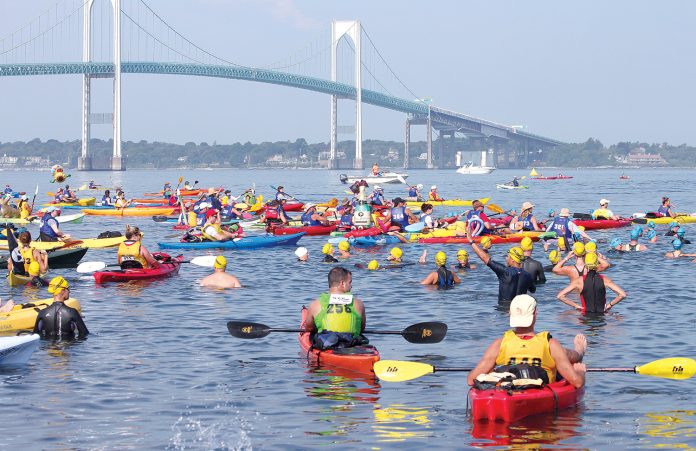 If a nonprofit wants an upcoming fundraiser to be considered for a calendar listing, email information to nonprofit@PBN.com or research@PBN.com at least four weeks in advance of the event.
A million reasons to eat
Applebee's Neighborhood Grill and Bar, which has 13 locations in Rhode Island and Bristol County, Mass., has teamed up with Alex's Lemonade Stand Foundation for a monthlong fundraising campaign to fight childhood cancer. All Applebee's locations across the country aim to raise $1 million from now until Sunday, Aug. 12, to help fund cancer research. Among the fundraising efforts, donating a portion of lemonade sales to the cause, selling paper lemons and hosting various fundraising events. For more information and to donate, visit applebees.com/alexslemonade.
Rolling for homes
Habitat for Humanity West Bay and Northern Rhode Island Inc. will hold the second annual Rolling for Homes motorcycle and Jeep run on Saturday, July 28, at 10:30 a.m. starting and ending at Dan's Place, 880 Victory Highway, West Greenwich. The 68-mile ride will be escorted by police. Beavertail Lighthouse in Jamestown will be the halfway point and there will be a half-hour stop for restrooms, water and snacks. A barbeque will be held at 1 p.m., as well as an auction, a 50/50 raffle and live music. Cost is $30, which includes a T-shirt. Lunch-only registrations cost $25 and T-shirts will be sold separately at $10 each. Children ages 12 and younger are free. Proceeds from the run will benefit the Veterans Build program, which provides affordable home ownership and repairs for active and retired military personnel and their families. For more information and to register, visit habitatriwestbay.org.
Bowling for rhinos
The Roger Williams Park Zoo chapter of the American Association of Zoo Keepers will hold its sixth annual Bowling for Rhinos benefit fundraiser on Saturday, July 28, from 6:30-9:30 p.m. at AMF Cranston Lanes, 1450 Elmwood Ave., Cranston. Proceeds raised from the event will help rhinos and habitat conservation. Cost is $15 for adults, $10 for children ages 3-10, and free for children ages 3 and younger and attendees who are not bowling. Cost includes bowling and shoe rental. Sponsorship opportunities are also available. For more information, visit rwpzoo.org/bowling-for-rhinos?entityDomainId=1&secure=False.
Ride 'round Rhody
The 10th annual Ride 'Round Rhody, a fundraiser benefiting Lifecycle Inc., which supports healthy lifestyles and cancer treatment, will be held Sunday, July 29, at 6:30 a.m. beginning at The Farmer's Daughter, 716 Mooresfield Road, South Kingstown. The event will have multiple routes between 15 miles and 80 miles in length and riders of all skill levels are welcome to participate. Registration costs $40 with a $300 fundraising minimum for a fundraising rider and $225 for a non-fundraising rider with no fundraising minimum. Volunteers are also being sought for the event. For more information and to register, visit rrr.greatfeats.com.
Swimming in the bay, for the bay
Save The Bay will host its 42nd annual Swim on Saturday, Aug. 4, between 6:45-7:05 a.m. from Naval Station Newport, 690 Peary St., Newport, to Potter Cove in Jamestown. The event is expected to attract more than 500 swimmers and about 200 kayakers, who will travel the 1.7 miles across the bay in support of Save The Bay's initiatives to protect and restore Narragansett Bay. Registration costs $50, which includes parking, shuttle service, bag check, a swim cap, a towel, medal, an event T-shirt, a post-swim party with free massage, yoga, live music, awards, vendors and refreshments. Swimmers are also required to raise a minimum $400 to participate. For more information and to register, savebay.org/2018.
A "fest"-ive day
Foolproof Brewing Co. will host its annual Augtoberfest on Saturday, Aug. 11, from 3-7 p.m. at the brewery, 241 Grotto Ave., Pawtucket. The event will feature live music, an inflatable slip and slide, games, competitions and beer. The event is for attendees ages 21 and older. Tickets start at $15 and a portion of the event's proceeds will benefit the Pawtucket Foundation, a nonprofit representing the business and nonprofit sector advocating for enhancements within the city. For more information and to register, visit tickets.beerfests.com/event/augtoberfest/listing.
A nice day for a luau
Ocean Community YMCA Arcadia Branch will host a luau party, benefiting the Y's YCares Financial Assistance Program at the branch, on Saturday, Aug. 11, from 3:30-7 p.m. on Heather Island, a private island in Ninigret Pond, Bend Road, Charlestown. The event will include hors d'oeuvres, cocktails, a raw bar, live music and an auction. Tickets cost $110. For more information, visit oceancommunityymca.org or call (401) 340-1011, ext. 108.
Swinging for the fences
The 15th annual Edd Pedro's Fight for a Cure of Juvenile Arthritis Wiffleball Tournament will be held Thursday, Aug. 12, from 9 a.m. to 4 p.m. at Slater Memorial Park, Armistice Boulevard, Pawtucket. More than 50 teams from six states competed in last year's event and more than $352,000 has been raised in the event's history. In addition to a wiffleball tournament, approximately 150 prizes will be raffled off, including Boston Red Sox tickets, gondola rides during WaterFire, a flat-screen television, golf and cart for a foursome at Agawam Hunt Country Club, and a deep-sea fishing trip for four from Block Island Hula Charters. Registration for players costs $40 per person and each player will receive a free T-shirt. For more information and to register, visit wiffleman.com.
A "Goodwill" tournament
A golf tournament benefiting Goodwill Industries of Rhode Island will take place Monday, Aug. 13, with a shotgun start at 8 a.m. at Crestwood Country Club, 90 Wheeler St., Rehoboth. Registration begins at 6:30 a.m. and a continental breakfast will be served from 7-8 a.m. The tournament format will be scramble, and cocktails and lunch will be served immediately after golf. Individual and team prizes will also be awarded. Clothing and electric devices will also be accepted as donations for Goodwill. Registration costs $125 per player. Sponsorship opportunities are also available. For more information and to register, call (401) 487-8042, (401) 641-2540 or (401) 861-2080, ext. 130.