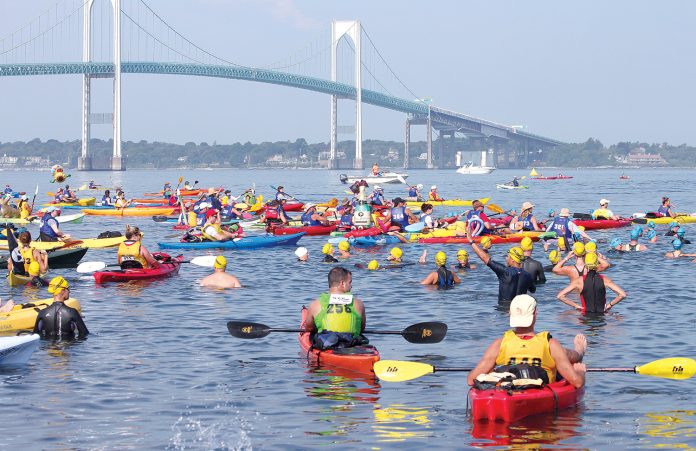 If a nonprofit wants an upcoming fundraiser to be considered for a calendar listing, email information to nonprofit@PBN.com or research@PBN.com at least four weeks in advance of the event.
Relay for life
The Rhode Island chapter of the American Cancer Society will hold the 21st annual Relay for Life of Greater Westerly from Friday, June 29, at 6 p.m. through Saturday, June 30, at 8 a.m. at the track at Westerly High School, 23 Ward Ave., Westerly. The event will bring together people from around the community to raise awareness and fight against cancer. Registration is free, however donations toward cancer treatment programs are welcome. Other fundraisers, including a haircut-a-thon, will also be taking place on-site. For more information, email greaterwesterlyrelay@gmail.com or heidi.thompson@cancer.org,  or call (401) 243-2639.
Hitting the links for breast cancer awareness
YWCA Rhode Island will host its 24th annual YWCA Gini Duarte Memorial Golf Tournament on Sunday, July 15, with a shotgun start at 1 p.m. at Foster Country Club, 67 Johnston Road, Foster. Prizes will be awarded for the winners of the women's and the coed/male divisions. Cost is $120 per person, which includes greens fees, a golf cart, a sirloin steak dinner, hot dogs at the turn and other prizes. Proceeds will benefit ENCOREplus, a program aiding women in early cancer detection and screening-service referrals, and other YWCA programs. For more information and to register, visit ywcari.org/golf or call (401) 769-7450.
Serving up donations
The International Tennis Hall of Fame will hold an "Aces for Rhode Island" program, allowing fans and supporters to financially assist nonprofits during the 2018 Dell Technologies Hall of Fame Open, which will be held from Sunday, July 15, through Sunday, July 22, at the Stadium Court at the hall of fame, 194 Bellevue Ave., Newport. Individuals can pledge money for every ace hit during the singles main draw of the tournament. Donations or pledges can be made to Boys & Girls Club of Newport County, Dr. Martin Luther King Jr. Community Center, International Tennis Hall of Fame, Lucy's Hearth, Redwood Library and Athenaeum, Sail Newport, The Newport County YMCA and Year Up. For more information, visit halloffameopen.com/aces.
Honoring scholars
Big Brothers Big Sisters of the Ocean State will host its third annual Scholarship Luncheon on Thursday, July 26, from noon to 2 p.m. at the Crowne Plaza Providence-Warwick, 801 Greenwich Ave., Warwick. The event will celebrate the accomplishments of the nonprofit's recent graduates receiving the Dr. Dorothy Pieniadz Scholarship. Tickets cost $35 per person or $250 for a table of eight people. Proceeds will benefit the scholarship fund. For more information, visit bbbsos.org.
Rolling for homes
Habitat for Humanity West Bay and Northern Rhode Island Inc. will hold the second annual Rolling for Homes motorcycle and Jeep run on Saturday, July 28, at 10:30 a.m. starting and ending at Dan's Place, 880 Victory Highway, West Greenwich. The 68-mile ride will be escorted by police. Beavertail Lighthouse in Jamestown will be the halfway point and there will be a half-hour stop for restrooms, water and snacks. A barbeque will be held at 1 p.m., as well as an auction, a 50/50 raffle and live music. Cost is $30, which includes a T-shirt. Lunch-only registrations cost $25 and T-shirts will be sold separately at $10 each. Children ages 12 and younger are free. Proceeds from the run will benefit the Veterans Build program, which provides affordable home ownership and repairs for active and retired military personnel and their families. For more information and to register, visit habitatriwestbay.org.
Swimming in the bay, for the Bay
Save The Bay will host its 42nd annual Swim on Saturday, Aug. 4, between 6:45-7:05 a.m. from Naval Station Newport, 690 Peary St., Newport, to Potter Cove in Jamestown. The event is expected to attract more than 500 swimmers and about 200 kayakers, who will travel the 1.7 miles across the bay in support of Save The Bay's initiatives to protect and restore Narragansett Bay. Registration costs $50, which includes parking, shuttle service, bag check, a swim cap, a towel, medal, an event T-shirt, a post-swim party with free massage, yoga, live music, awards, vendors and refreshments. Swimmers are also required to raise a minimum $400 to participate. For more information and to register, savebay.org/2018.
A "fest"-ive day
Foolproof Brewing Co. will host its annual Augtoberfest on Saturday, Aug. 11, from 3-7 p.m. at the brewery, 241 Grotto Ave., Pawtucket. The event will feature live music, an inflatable slip and slide, games, competitions and beer. The event is for attendees ages 21 and older. Tickets start at $15 and a portion of the event's proceeds will benefit the Pawtucket Foundation, a nonprofit representing the business and nonprofit sector advocating for enhancements within the city. For more information and to register, visit tickets.beerfests.com/event/augtoberfest/listing.