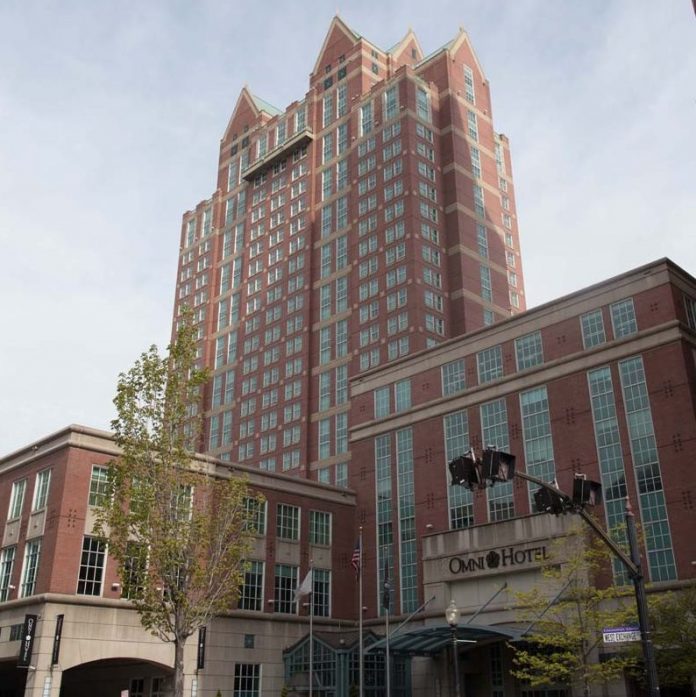 If a nonprofit wants an upcoming fundraiser to be considered for a calendar listing, email information to nonprofit@PBN.com or research@PBN.com at least four weeks in advance of the event.
Lending a paw
Pet Valu, which has five locations in Rhode Island, will hold its seventh annual fundraiser throughout the month of March to help America's VetDogs, an organization that trains service dogs for veterans and first responders with disabilities and impairments. All proceeds from sales of Pet Valu's hand sanitizer, at a cost of $3, will go toward the organization. Last year's fundraiser raised $186,000 and Pet Valu has raised more than $619,000 for the nonprofit. For more information, visit vetdogs.org.
A colorful run
A Color Run fundraising event, organized by Portsmouth High School senior Nicholas Yalanis, will be held Saturday, March 16, from 10-11 a.m. at Glen Park, Gilbert Barker Lane, Portsmouth. The 5K run will feature nontoxic, colored powder being tossed into the air, turning the participants into colorful runners. Registration costs $20 and proceeds raised will benefit the Leukemia & Lymphoma Society. For more information and to register, visit eventbrite.com/e/portsmouth-color-run-tickets.
Soldier suicide prevention
Operation Made, a retail store featuring items made by military veterans, will host a private shopping fundraising event titled "Mission: Stop the 22" on Friday, March 22, from 6:30-9:30 p.m. at the store, 1050 Toll Gate Road, Warwick. The shopping event will feature raffles and a 50-50 drawing, as well as vendors offering different products for sale. Food and drinks will be served. Tickets cost $22 and proceeds will be donated to an organization helping to end the soldier suicide epidemic. For more information and to register, visit eventbrite.com/e/mission-stop-the-22-tickets.
Climbing for air
The American Lung Association will hold its 11th annual Fight For Air Climb, presented by MetLife Auto & Home, on Saturday, March 23, from 9 a.m. to 3 p.m. at the Omni Providence Hotel, 1 West Exchange St., Providence. Participants, including firefighters in full gear, will race up the hotel's 22 floors. Participants can climb individually or with a team. An after-party will be held at Union Station Brewery, 36 Exchange Terrace, Providence. Registration costs $35 and participants must raise $100. Proceeds raised will benefit the association's mission to save lives by improving lung health and preventing lung disease through various research and education programs. For more information and to register, visit fightforairclimb.org/providence.
A celebration ball
ChatterBOXtheatre will hold a ChatterBOX Ball, celebrating the theater group's 10th anniversary, on Sunday, March 24, at 5:30 p.m. at Festival Ballet Providence, 825 Hope St., Providence. The event will feature dancing and activities with ChatterBOX characters, appetizers, gifts and raffles. Seven Star Bakery co-founders Jim and Lynn Williams will be honored for their dedication to the theater group. Tickets cost $40 for adults and $25 for children. Proceeds will benefit the theater group. For more information and to purchase tickets, visit festivalballetprovidence.org.
Scotch for a good cause
The Brain Injury Association of Rhode Island and Gracie's will host "An Evening of Scotch with Sir Jeremy Bell and a Few of His Friends" on Monday, March 25, from 6-10 p.m. at Gracie's, 194 Washington St., Providence. Bell, an educator and erstwhile US Brand Ambassador for Glenlivet brand of whiskies, will guide attendees through a tasting of five premium offerings. The event will also include hors d'oeuvres, cigars, an auction and dinner. Tickets cost $190, and space is limited to 70 people. All proceeds will benefit the Brain Injury Association of Rhode Island, which offers support and assistance to those who experienced traumatic brain injuries and their families. For more information and to register, call (401) 228-3319 or email robyn@biair.org.
Chowing down
The Children's Advocacy Center of Bristol County will hold its 2019 Wing Eating Contest on Thursday, March 28, at 6 p.m. at White's of Westport, 66 State Road, Westport. The event will feature a bracket-style wing-eating competition, with personnel from local police, fire, emergency medical service and child safety service agencies taking part. There will also be raffles, food and live music. The event is free to attend, however proceeds raised from donations will benefit children and families and programs that help prevent child abuse. For more information, call (508) 674-6111 or email dcharron@cacofbc.org.
Eating globally
The second annual Global Eats, a culinary fundraiser, will be held Thursday, March 28, from 6:30-9 p.m. at Rhodes on the Pawtuxet, 60 Rhodes Place, Cranston. The event, for attendees ages 21 and older, is expected to feature local chefs who recreate family dishes from Dorcas International Institute of Rhode Island's Global Cookbook. Last year's event attracted more than 500 people. General admission tickets cost $40 and VIP tickets, which include a 5:30 p.m. special reception, an open bar and hors d'oeuvres, cost $100. Proceeds raised will benefit Dorcas International, which helps empower immigrants and refugees. For more information, visit globaleats.org.