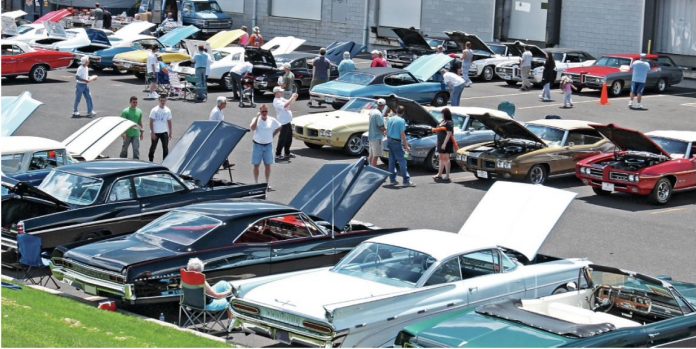 If a nonprofit wants an upcoming fundraiser to be considered for a calendar listing, email information to nonprofit@PBN.com or research@PBN.com at least four weeks in advance of the event.
Serving those who served
Operation Stand Down Rhode Island will hold its 26th annual Outreach Weekend beginning Friday, Sept. 14, at 8 a.m. through Sunday, Sept. 16, at Diamond Hill State Park, 4097 Diamond Hill Road, Cumberland. The event will provide hundreds of veterans access to life-essential services, including health care, dental care, employment services, legal services, social welfare benefits, housing assistance and clothing. About 50 local service providers will be on hand throughout the weekend to offer those services. Additionally, entertainment – movies, karaoke and live music – will be offered to veterans who offer to stay the weekend. The public is invited any day during the three-day event. For more information, visit osdri.org.
I got Bingo!
The Brain Injury Association of Rhode Island will host a Bingo Night event on Friday, Sept. 14, beginning at 6:30 p.m. at the Knights of Columbus, 7 Valley Road, Middletown. Doors to the event open at 5:30 p.m. In addition to bingo games, sandwiches, pizza and other treats will be offered at the event. Admission costs $15 and proceeds raised will benefit the nonprofit, which offers assistance to those who suffered traumatic brain injuries. For more information, call (401) 228-3319.
A fun day out
Community Connections Inc. will hold its 11th annual Walk-A-Thon & Family Fun Day to bring awareness and funding for individuals with disabilities on Sunday, Sept. 16, at 10:30 a.m. at Fairhaven Recreation Center, 227 Huttleston Ave., Fairhaven. All teams get their own colored T-shirt and those teams who raise more than $1,000 get use of their own tent with chairs, along with drinks and snacks at the event. Registration, which starts at 9:30 a.m. the day of the event, is free, however fundraising is strongly encouraged. For more information and to register, visit firstgiving.com/event/ccima/Annual-Walk-a-thon—Family-Fun-Day.
Golf 'Clubs'
The Boys & Girls Clubs of Warwick will host its 40th annual Charity Golf Tournament on Monday, Sept. 17, at 1 p.m. at Warwick Country Club, 410 Narragansett Bay Ave., Warwick. Registration begins at 11:30 a.m. and the format will be scramble. The event will also have various contests and raffles. Cost is $200 per golfer and various sponsorships are available. For more information and to register, visit wbgclubs.org.
Golfing for MADD
Mothers Against Drunk Driving will host its 21st annual Golf Tournament on Friday, Sept. 21, from 1:30-7 p.m. at Richmond Country Club, 74 Sandy Pond Road, Hopkinton. The tournament format will be scramble, and lunch and dinner will be provided. The event will also include carts for golfers, a raffle and a live auction. Registration costs $125 per golfer and sponsorship opportunities are available. All proceeds will benefit MADD and its programs to prevent drinking and driving. For more information and to register, visit madd.org/rhode-island/join-us-for-our-21st-annual-madd-golf-tournament.
A Pontiac celebration
The Pontiac Registry and The Tomorrow Fund, which offers support to children with cancer and their families, will sponsor a three-day classic-car showcase titled "A Pontiac Celebration" from Friday, Sept. 21, at 5 p.m. until Sunday, Sept. 23, at noon at the Crowne Plaza Providence-Warwick, 801 Greenwich Ave., Warwick. Live music will take place on Friday and Saturday. An awards dinner will be held Saturday and a getaway breakfast will be served on Sunday. Raffle tickets will be sold all day Saturday. All proceeds will benefit The Tomorrow Fund. For more information, visit tomorrowfund.org/events/a-pontiac-celebration.
Walk in the park
Providence Animal Rescue League will host its 29th annual Pet Walk fundraiser on Saturday, Sept. 22, from 9 a.m. to noon at the Temple to Music in Roger Williams Park, 1000 Elmwood Ave., Providence. The event will consist of a 1-mile walk, a pet costume contest, a marketplace, lunch and a speaking program. Registration costs $20 in advance and $25 the day of the event. The event will benefit the low-cost spay/neuter and pet food pantry programs sponsored by the rescue league. For more information and to register, visit parl.org.
Bluegrass and a BBQ
Visiting Nurse Home & Hospice will hold a Bluegrass BBQ for Hospice event on Saturday, Sept. 22, from 4-7 p.m. at Glen Park, Glen Road, Portsmouth. The event will include a pig roast barbecue, local craft beer and wine, live entertainment and dessert. Tickets cost $95 and proceeds will benefit hospice and palliative programs. Luminaries are also available for purchase for $10 prior to the event. Reservations are due Sept. 10. For more information and to purchase tickets, visit donatenow.networkforgood.org/visitingnursehh, call (401) 682-2100 ext. 1631 or email jglenning@visitingnursehh.org.
Offering hope
Horses Bringing Hope, a local nonprofit that offers therapeutic horseback riding lessons to those with disabilities across Rhode Island, will host its fifth annual gala on Friday, Oct. 12, beginning at 6 p.m. at The Imperial Room, 1 Rhodes Place, Cranston. The event will have a cash bar, a silent auction, raffles, entertainment and dinner at 7:30 p.m. Attendees are advised to dress in casual wear and no jeans. Tickets cost $60 for adults, $50 for seniors and $25 for children ages 6-12. All proceeds will benefit the nonprofit's programs and reservations are due Sept. 20. For more information and to register, call (401) 265-1341 or email horsesbringhopevolunteer@gmail.com.