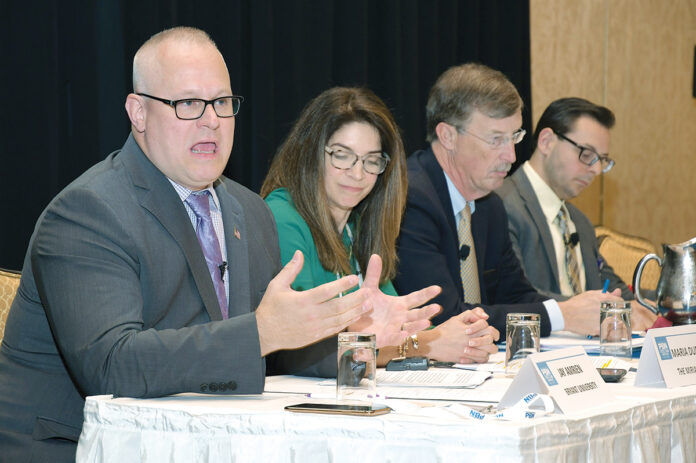 Rhode Island is facing a shortage of primary care physicians, but increasing the roles of physician assistants and nurse practitioners might ease the problem, said panelists at the Providence Business News 2019 Health Care Summit.
Robert Jay Amrien, founder and director of the physician assistant program at Bryant University, said patients are often discharged from hospital emergency rooms with instructions to consult their primary health care provider. "The typical answer is, 'I don't have a primary care provider,' " Amrien said during the summit's second session at the Crowne Plaza Providence-Warwick on Oct. 30.
Urgent care centers are a great option for treating acute illnesses or injuries, he said, but they are not well-equipped to handle chronic conditions.
Maria Ducharme, chief nursing officer and senior vice president of patient care services at The Miriam Hospital in Providence, said only 8% of medical school graduates in the United States go into primary care medicine each year.
One tactic to expand access to primary care, said Ducharme and Amrien, is an increasing role for nurse practitioners and physician assistants. "I think they will be very much a part of the landscape in the future," Ducharme said. The hope is that physician assistants and nurse practitioners will provide greater access to health care while helping to keep costs down.
One problem, Ducharme said, is that there is considerable variation from state to state over how physician assistants and nurse practitioners are regulated.
In July, Rhode Island passed a new law that provides more autonomy and flexibility for physician assistants. (Nurse practitioners are regulated under a separate law.) Under the new law, physician assistants will no longer work under the direct supervision of a physician. The term "supervision" has been replaced by "collaboration."
The law removes the requirement that medical practices, clinics and hospitals have a written agreement on file defining the level of supervision and the patient-care responsibilities of the physician assistant. The new law states that physician assistants will be allowed to provide any medical services within the physician assistant's education, skills and training.
Under the law, the degree of collaboration is determined by the medical institution that employs the physician assistant, whether it's a medical practice, hospital, clinic or other health care provider.
The law declares that a physician assistant may be considered a primary care provider. Amrien said that means a physician would not be considered liable for the actions of a physician assistant.
Some Rhode Island doctors opposed the law on the grounds that it would diminish the quality of medicine in Rhode Island by allowing physician assistants to practice medicine independently of physicians, despite having far less medical training.
'People need more access to care.'
ROBERT JAY AMRIEN, Bryant University Physician Assistant Program founder and director
In remarks to Providence Business News after the panel discussion, Amrien said that's a faulty understanding of the law. He said nothing in the law allows physician assistants to practice independently, but that it supports the idea of doctors and physician assistants operating as a team. Under the law, a physician must be present at all times for consultation with a physician assistant.
Amrien said no physician assistant is suggesting that his or her training is equivalent to a doctor's. "People need more access to care, and we are providing more access to care," Amrien said.
The discussion on physician assistants was part of the second panel of the health care summit. In addition to Ducharme and Amrien, the panel included Dr. James E. Fanale, CEO of Care New England Health System, and James Rajotte, chief of the Center for Health Promotion in the Division of Community Health and Equity at the R.I. Department of Health.
The fast-paced panel discussion touched on a number of topics, including potential threats to health care computer systems, Gov. Gina M. Raimondo's temporary ban on the sale of flavored e-cigarettes and the current status of hospital consolidation in Rhode Island.
With the health care system's increasing dependence on computers at all levels, cyber­security is more and more worrisome to health care executives. "It's a scary topic," said Fanale, who noted that Care New England is trying to build more and more protections into its systems. "We are doing our best, but I'm not sure health care [computer] security is at the cutting edge. It's a question of capital."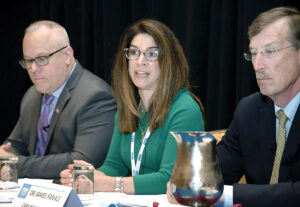 "I'm worried about the continuity of care if there's ever a cyberattack. It could take us down to nothing," said Ducharme. "That's what keeps me up at night."
When the question of the state's temporary ban on flavored e-cigarette products came up, Rajotte pointed out there is ongoing litigation over the issue, so he couldn't say too much. A Superior Court judge ruled in favor of the temporary ban on Nov. 5.
Under Raimondo's executive order, it has been illegal to manufacture, distribute or sell flavored nicotine-delivery products in Rhode Island for four months, beginning Oct. 4. The emergency regulations can be extended for another 60 days.
But what happens then?
Rajotte said the state is considering potential regulations after the temporary ban is lifted, including restricting the sale of flavored tobacco products to people under 21, limits on the quantity that consumers may purchase, warning labels, child-proof packaging and more.
He also emphasized the importance of education within the family about the consequences of tobacco use and vaping. "This is a discussion that needs to start at the kitchen table," he said.
The panel was asked about health care consolidation, particularly after the long and so far unsuccessful attempts to bring Rhode Island's major hospitals, as well as Brown University's medical school, into one system.
Fanale, of Care New England, which runs Butler Hospital, Kent County Memorial Hospital, and Women & Infants Hospital, said he believes further consolidation within the health care system in general is inevitable. But after recent efforts to link Care New England first with Partners HealthCare in Massachusetts, and then with Lifespan Corp. in Rhode Island, both failed, Fanale said Care New England is taking a break.
"We'll go through the next year and take a deep breath," he said. He ackowledged some disappointment at the opposition Care New England faced over its attempt to link with Boston-based Partners HealthCare.
"It's a situation of scale. Is it always the case that the bigger you get, the better you'll be? Not necessarily. It's whether you can deliver the product at a lower price point and still improve quality," he said.
Fanale said he hasn't given up hope that a unified Rhode Island system can be achieved.
He acknowledged that health care can be a difficult business in today's political and economic climate. "If we think that health care is stressful today, it will get worse. It's a stressful world," Fanale said. "Yet at the same time it's the best business in the world to be in because you can have such an incredible impact on people's lives."