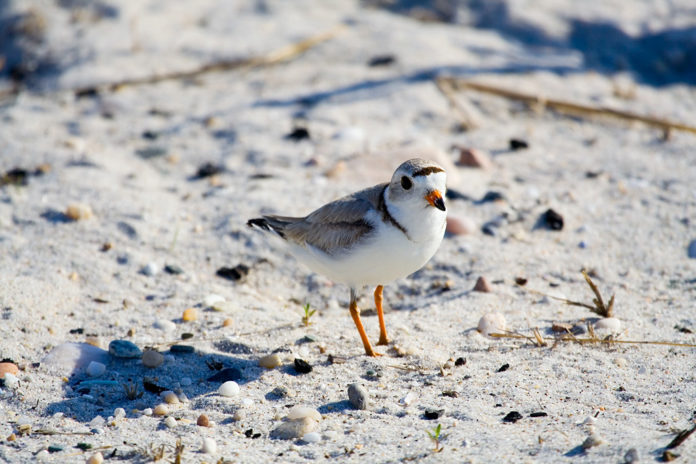 BOSTON – The Natural Resource Damages Trustee Council for the Bouchard Barge 120 oil spill has released a final restoration plan and environmental assessment for state and federally threatened piping plovers impacted by the 2003 spill in Massachusetts and Rhode Island.
According to the plan, the injuries resulting from the 98,000-gallon oil spill that affected roughly 100 miles of shoreline killed five piping plover chicks and 12 adults.
"The Bouchard B-120 oil spill devastated natural resources within Buzzards Bay and injured numerous species of birds, including the delicate piping plover," Energy and Environmental Affairs Secretary Rick Sullivan, who serves as Massachusetts' trustee for natural resources, said in prepared remarks.
"Since Massachusetts supports the largest breeding population of piping plovers along the Atlantic coast, this plan will protect that threatened species and help to restore the population to a more healthy level," added Sullivan.
The most recent count for the bird sets the piping plover population at roughly 12,000 to 13,000, with about 41 percent of that total along the U.S. Atlantic coast, according to the International Union for Conservation of Nature and Natural Resources.
To help restore the piping plover population, the trustees plan to use $715,000 from the $6 million settlement to implement an enhanced management program at selected breeding sites in Massachusetts and Rhode Island.
The program, which will take place on various private and public properties in the two states, includes targeted predator management, increased enforcement of beach ordinances on plover-nesting beaches, and public outreach and education efforts.
Sites will be chosen based on landowner interest and permission, benefits to piping plovers, proximity to the spill location and other criteria, according to a release.
"Settlement funds from the oil spill will provide landowners an important and much-needed opportunity to improve their beach conditions for threatened piping plovers," Tom Chapman, the New England Field Office supervisor for the U.S. Fish and Wildlife Service, said in a statement. "We look forward to working with them and other partners to both reduce threats to nesting birds and to help regain losses for the birds killed by the oil spill."
According to the release, the piping plover restoration plan is the first of three anticipated plans to help restore Buzzards Bay and nearby areas affected by the Bouchard B-120 oil spill.
The development and implementation of the restoration plans are funded by a $6 million natural resource damages settlement between the Bouchard Transportation Co., Inc. and the trustees.
Landowners and beach managers interested in receiving funds to implement restoration projects are encouraged to apply online at www.grants.gov or to contact the U.S. Fish and Wildlife Service directly for more information.
The trustees expect to award restoration funds within the next few months.