(Corrected at 12:13 p.m. to fix Westerly location in second paragraph.)
Pizza is in the spotlight. Gourmet pizza, grilled pizza, wood-fired pizza, coal-fired pizza, brick-oven pizza, Neapolitan-certified pizza, Detroit-style pizza, New York slices and New Haven-style pizza are all vying for our hearts, minds and stomachs in Rhode Island.
The founding fathers of pizza in Rhode Island set the standard. Caserta Pizzeria and Uncle Tony's Pizza and Pasta, and local favorites such as Frank & John from Italy in East Greenwich and Illiano's Ristorante and Pizzeria in Westerly, serve consistently tasty, well-baked pies; some round, some square, most with thick crusts, baked in conventional pizza ovens.
Grilled pizza was an innovation of the late George Germon at Al Forno going back to 1980. Neither round nor square, each pizza is unique, right down to the toppings. The Pizza Gourmet on the East Side of Providence built a nationwide following on the idea of pizza crust grilled over wood. Toppings are limited only by the imagination of the person ordering, from old school to cutting edge.
True Neapolitan pizza has earned the designation of VPN – Verace Pizza Napoletana – certified Neapolitan pizza by an international organization, the Associazione Vera Pizza Napoletana. To be certified, the pizza chef – known as a pizzaiolo – must undergo training and adhere to strict guidelines of ingredients and cooking methods right down to the temperature of the oven. According to the Associazione, there are just three certified VPN pizzaioli in Rhode Island. Two are in Cranston – Avvio Ristorante and Basta. The other is Pasquale's in South Kingstown.
Brick ovens are in several pizzerias around the state. Many are wood-fired, such as Roma on Federal Hill in Providence. Dave's Marketplace stores feature brick-oven pizza in the square style, sometimes referred to as Sicilian. This is the basis for so-called "Detroit-style pizza," which is being introduced nationwide. [Disclosure – Dave's is a marketing partner of my radio show.]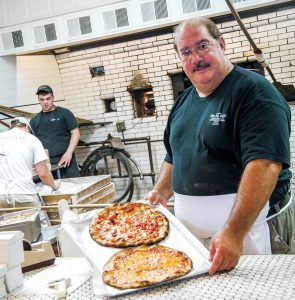 Frank Pepe Pizzeria Napoletana has just opened in Warwick. Pepe originated the New Haven-style, thin-crust pizza in 1925, baked in bread ovens fired by coal. Pepe's signature pizza, the white clam pizza, has a Rhode Island connection. The original Pepe's served raw little-neck clams from Rhode Island, on the half shell, as an appetizer.
Providence Coal Fired Pizza has been established for more than five years and identifies itself as "Rhode Island's first coal-fired pizza restaurant." Its approach appears to be more Rhode Island-centric, with a thick crust and less char than the New Haven-style pizza.
That charred edge of the crust on the coal-fired pizzas is an area that is a definite conversation-starter. It sometimes causes some consternation among new guests of the coal-fired places. The fact is the high temperature of the coal-fired ovens results in "well-done" pizza with some charred edges on the outer crust. This is part of the cult-like attraction that once prompted Pepe's fans to take four-hour drives for a pizza "fix." Now that there are outposts of the restaurant in far-flung locales such as Chestnut Hill in Massachusetts, Yonkers, N.Y., and now Warwick, comparisons are being made among the pizzeria locations. Is the original oven in New Haven, Conn., hotter than the one in West Hartford, Conn.? Does the white clam pizza taste different in Chestnut Hill?
National coal-fired chain Anthony's Pizza and Pasta takes it on as a teachable moment. The general manager of the restaurant in Cranston says he educates his guests on the cooking technique that renders the pizza well-done – which is not to some guests' liking. As a rule, the degree of doneness is not a consumer choice at these places. The pies are cooked well-done and they are generally well-cooked, that is, baked until properly cooked according to the recipe.
Bruce Newbury's Dining Out radio talk show is heard Saturdays at 11 a.m. on 1540 AM WADK, through the TuneIn mobile app and via smart speaker. Email Bruce at Bruce@brucenewbury.com.