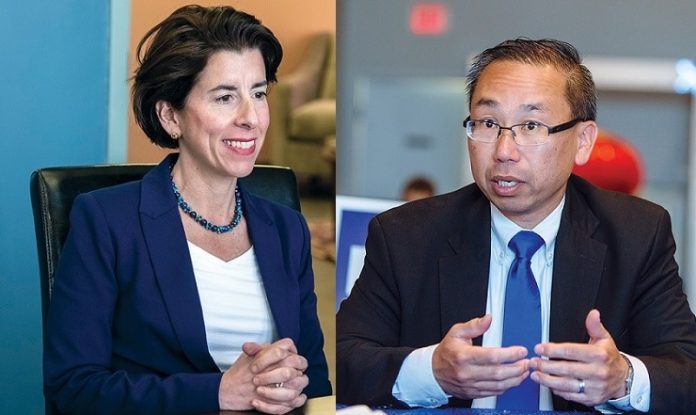 BRISTOL – With Election Day scheduled in exactly three months, the race for governor remains deadlocked, according to a Roger Williams University and WPRI-TV CBS 12 poll Monday.
Democratic Gov. Gina M. Raimondo, who received 39 percent of the poll's votes, currently holds a 2 percentage-point edge over Republican Cranston Mayor Allan W. Fung. Former state Rep. Joseph A. Trillo, an independent candidate who served as honorary chairman of Donald Trump's presidential campaign in Rhode Island, earned 6 percent of votes. The other independent candidates, Ann Armstrong, William Gilbert, and Dr. Luis-Daniel Muñoz received a combined total of 3 percent. Fourteen percent of Rhode Island's voters remain undecided.
"The governor's race has not changed since February – it's still a dead heat," pollster Joseph Fleming said in a news release. Since neither Raimondo nor Fung has surpassed 40 percent of the vote in the RWU-WPRI-TV polls, Fleming said, "If the independent candidates draw 10 percent of the vote, [Raimondo or Fung] will only need 45 percent of the vote to win the race."
Earlier this year, WPRI-TV and RWU forged a new partnership with the intention of providing Rhode Island residents timely polling data. Their first joint poll, conducted in February, also showed Raimondo ahead by 2 percentage points, 38 percent to Fung's 36 percent.
Cumberland-based Fleming & Associates was responsible for administering the most recent landline and cell phone interview poll, which surveyed 407 Rhode Island registered voters from July 28-31. The poll also matched Raimondo against the two other Republican candidates running in the Sept. 12 primary. Raimondo was predicted to win 41 percent to 24 percent against Republican Minority Leader Patricia L. Morgan, and 43 percent to 9 percent against businessman Giovanni Feroce.
The Fleming & Associates poll also compared the chances of Matt Brown, former secretary of state and challenger to Raimondo in the Sept. 12 Democratic primary, to the three Republican candidates. It showed Brown would defeat Morgan 25 percent to 21 percent and Feroce 27 percent to 8 percent but would lose to Fung 36 percent to 21 percent.
In evaluating voters' opinions of the candidates, the poll found that 50 percent of voters hold a "strongly favorable or somewhat favorable opinion" of Raimondo while 2 percent are unsure. Forty percent of voters say she is doing "an excellent or good job in office," a mark that sits exactly 10 percentage points below her favorability rating. Meanwhile, 56 percent of voters have a "strongly favorable or somewhat favorable opinion" of Fung, with 13 percent of voters saying they are unsure.
Haley Hunt is a PBN contributing writer.