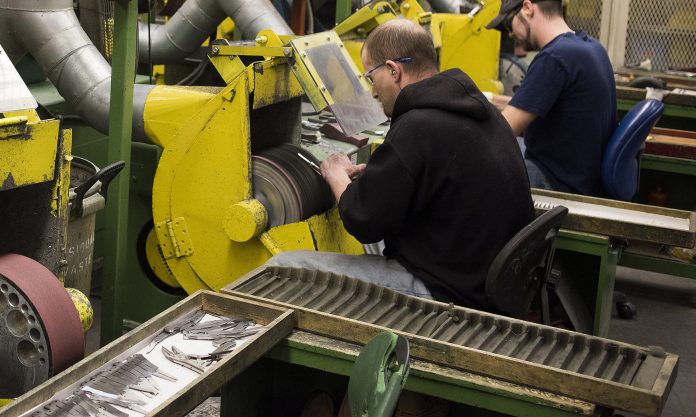 NEW YORK – United States producer prices unexpectedly fell in August, the first drop in 18 months, on declines in costs for services and foods, a Labor Department report showed Wednesday in Washington.
Highlights of producer prices (August)
Producer-price index dropped 0.1 percent month to month (estimated 0.2 percent rise) after no change in prior month and increased 2.8 percent year over year, least since Feb. (estimated 3.2 percent) after 3.3 percent gain
Excluding food and energy, core gauge fell 0.1 percent month to month (estimated 0.2 percent rise); an increase of 2.3 percent year over year (estimated 2.7 percent) after 2.7 percent
PPI excluding food, energy, and trade services, a measure some economists prefer because it strips out the most volatile components, rose 2.9 percent year over year after 2.8 percent in July
Key takeaways
The monthly decline in the PPI reflected a 0.1 percent drop in the cost of services — more than 80 percent of which was accounted for by falling margins for machinery and equipment wholesaling, according to the report. Goods prices were unchanged, as a 0.6 percent drop in food costs offset a 0.4 percent increase in energy.
While the main PPI gauge fell, a measure of underlying producer prices rose, albeit at a slower pace. Excluding food, energy, and trade services, costs were up 0.1 percent from the previous month following a 0.3 percent increase.
The data suggest that some inflationary pressures may be taking a breather even as most signs of economic growth remain solid. Analysts are also watching for signs of how trade tariffs and retaliatory levies are affecting companies, particularly how they are filtering through the production pipeline to other businesses and consumers.
While the figures – which highlight wholesale and other selling prices at businesses – tend to be less prominent than the consumer price index out Thursday, they illustrate how changes in input costs are feeding into inflation. Federal Reserve policy makers are expected to raise interest rates later this month for the third time this year, with their preferred inflation gauge above the central bank's 2 percent target.
Economist's view
The downshift in August is likely a blip, as the trade-services data that drove the decline tend to be "noisy," according to Ian Shepherdson, chief economist for Pantheon Macroeconomics. "The trend isn't turning down," he said in a research note, even after the July core PPI also missed economist estimates. "We doubt core PPI inflation has peaked, despite the unexpected weakness of the past two months' numbers; a sustained downward trend is even less likely."
Other Details
Machinery and equipment wholesale margins fell 1.7 percent, most since December; health, beauty and optical goods retail margins dropped 2.7 percent, most since February
Airline passenger services fell 2 percent, most since January
Construction machinery and equipment rose 0.8 percent, most since 2011
Processed lumber for intermediate demand fell 6.9 percent, the most since 1980
Katia Dmitrieva is a reporter for Bloomberg News.