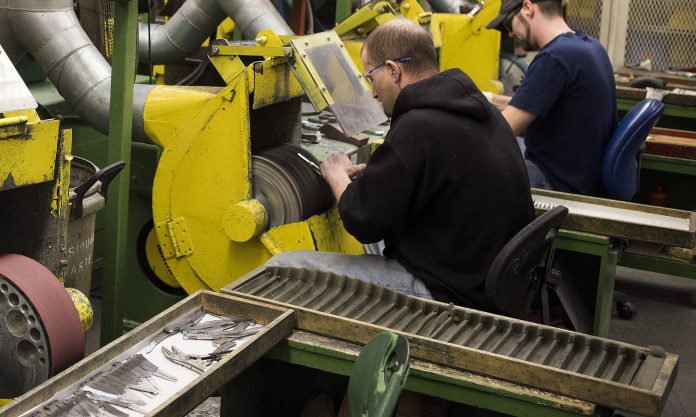 NEW YORK – Productivity gains in the United States accelerated by more than expected to the fastest pace since 2015 while labor costs fell, amid an economic-growth pickup supported by tax cuts and federal spending, a Labor Department report showed Wednesday.
Highlights of productivity (second quarter)
Measure of nonfarm business employee output per hour increased at a 2.9 percent annualized rate (estimated 2.4 percent) after 0.3 percent pace in previous three months; the fastest increase since the first quarter of 2015
Unit labor costs fell at 0.9 percent rate (estimated unchanged) following 3.4 percent rise; biggest drop since 2014
Productivity increased 1.3 percent year over year; unit labor costs rose 1.9 percent year over year
Key takeaways
The data indicate that the lift to growth in the quarter from Republican-backed tax cuts also came with a boost to productivity. That gives President Donald Trump another economic point to cheer, though many analysts are skeptical that the administration's policies will deliver a large, sustained acceleration in efficiency.
The latest advance in productivity compares with a 1.3 percent average pace over the period spanning 2007 to 2017, and a 2.7 percent average from 2000 to 2007. Improved gains in efficiency would support faster economic growth without generating higher inflation, a development that could suggest a slower pace of Federal Reserve interest-rate hikes than otherwise warranted.
Productivity figures can be volatile from quarter to quarter, as shown by the jump in the most recent data following a lull in the first quarter. U.S. trade tariffs and reciprocal levies may also curb business investment, and some companies have already lowered profit estimates.
Other details
Adjusted for inflation, hourly earnings rose at a 0.3 percent after a 0.2 percent increase
Output rose at a 4.8 percent rate, fastest since 2014, following 2.6 percent gain
Hours worked rose at a 1.9 percent pace; compensation for each hour worked advanced 2 percent
Among manufacturers, productivity rose at a 0.9 percent pace after a 1 percent decline in the first quarter
Katia Dmitrieva is a reporter for Bloomberg News.