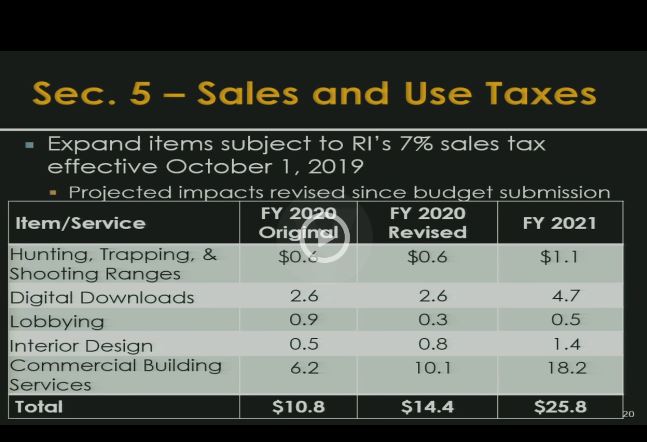 PROVIDENCE – The expansion of the state's 7 percent sales tax to a host of professional services used in commercial buildings, including landscaping, design services and pest control, drew widespread criticism this week at a hearing of the House finance committee.
The proposed tax expansion is contained in the fiscal 2020 budget released last month by Gov. Gina M. Raimondo, which is starting to move through committee review.
In testimony at a public hearing Thursday, the idea drew criticism from business owners and representatives who said it would encourage people to skip needed services and add expense to business operations. Several bristled at the rationale suggested by state revenue officials, that the expansion would not target essential aspects of business in Rhode Island.
Jonathan Womer, the state budget director, said the rationale for adding services to the tax base is that Rhode Island's tax base is now relatively narrow, and focused on goods.
"What's been happening in the economy, for the last 10 to 20 years, is that consumers are more interested in buying services, rather than things," he said. "What it means is our tax base is effectively shrinking over time, as the public changes its spending habits."
Proposed for a start date of Oct. 1, the new commercial building services tax would provide about $10.1 million in fiscal 2020, according to House Fiscal Advisor Sharon Reynolds Fernald. Addition of interior design services would generate about $800,000, she said.
The Providence Area Chamber of Commerce said services such as landscaping, pest control and facility cleaning will multiply the effect of the 7 percent tax, which would be imposed on services used by commercial properties.
Amica Mutual Insurance Co. has calculated that the services used in its buildings will amount to $2 million in total, or a new tax liability of $150,000, according to Elizabeth Suever, the chamber's lobbyist.
"That's a lot of money," she said. And the impact on small business is also immediate, she said. "Literally every small business … they're all using these services. They're all going to be paying this tax."
Executives of several landscape, design and pest control businesses also attended the hearing, and urged the committee to reject the proposal.
They included Griggs & Browne Co. Inc. of Cranston, Big Blue Bug Solutions, of Providence, and Libby Slader Interior Design, also of Providence.
Brian Goldman, CEO of Big Blue Bug Solutions, said the company would likely have to employ someone to decipher whether a client was considered a commercial property or a residential property, given the mix of uses in many properties.
"You're asking us to have a full-time position that could cost $50,000," he said, "quite a burden."
Mary MacDonald is a staff writer for the PBN. Contact her at macdonald@pbn.com.