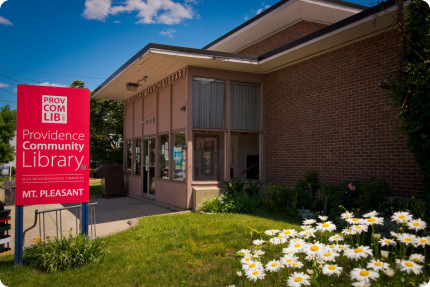 PROVIDENCE – The Providence Community Library will hold its 2016 Amnesty Week from April 11 to 16, during which time patrons can return overdue items and donate nonperishable food items in lieu of paying fines. PCL patrons can donate one can of food for every $20 of fines owed. All donations will be given to the Rhode Island Community Food Bank.
In addition, each library patron who returns an item, checks out a new item or receives a new or replacement library card during Amnesty Week will receive a raffle ticket for a chance to win prizes such as restaurant gift cards, gift baskets and a Kindle reader. Amnesty Week will conclude with a raffle drawing and a party featuring music, entertainment and free food at Mount Pleasant Library on Rhode Island Library Awareness Day, April 16, from 12:30-2:30 p.m. The concluding ceremony will also feature a performance by Providence-based brass band What Cheer? Brigade and comic book illustrator/improv artist Aric Fulford.
PCL moved its Amnesty Week from February to April to take advantage of milder weather and to mark National Library Week. Last year, PCL enabled the return of more than 9,000 missing library materials and donated more than 950 pounds of food during Amnesty Week.
"We aren't looking to punish people during Amnesty Week," said PCL program coordinator Michelle Novello. "We just want our stuff back."
Local businesses will offer Amnesty Week discounts for PCL library card holders. Hope Street retailers Blooming Blossoms, Kreatelier, J Marcel and Rhody Craft will give patrons 20 percent off purchases, and there will be discounts for dinners at the Punta Cana Bistro on Broad Street and the Suite Tart salon on the West Side of Providence. Festival Ballet Providence will give PCL cardholders a 20 percent discount on tickets to performances of "Swan Lake" at The Vets (April 29-May 1).
For full details of Amnesty Week activities and a complete list of offers from participating merchants, visit www.provcomlib.org/amnestyweek .