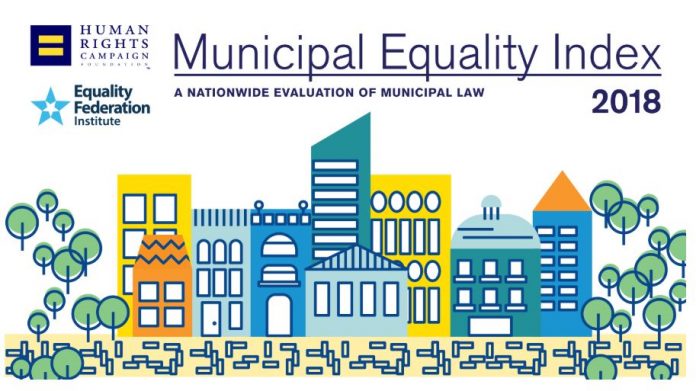 PROVIDENCE – The Providence city government earned a perfect score on the Human Rights Campaign's  2018 Municipal Equality Index, a measure of ways that cities support LGBTQ people that live and work in those municipalities.
Providence earned perfect marks for non-discrimination laws, its status as a LGTBQ-friendly employer, its municipal services, law enforcement and leadership on LGBTQ equality. The city even scored bonus points that earned it more than the allowable score.
Providence was also the only municipality in Rhode Island to earn points for its municipal services and programs this year, which includes having a human rights commission, non-discrimination ordinance enforcement by a human rights commission or having a LGTBQ liaison to the city, among other services.
Seventy-eight cities in the United States earned a perfect score this year, a record high for the MEI report. The average score this year of participating cities was 58. The average score in New England of participating cities was 65.
Narragansett was the lowest-rated municipality in Rhode Island this year, earning a score of 50 of 100. The town earned no points for municipal services, law enforcement policies and leadership on LGTBQ equality.
The town performed better for its role as an employer earning 20 of 28 possible points and for its non-discrimination laws, bolstered by points for state laws.
Rhode Island HRC MEI scores for 2018 (out of 100):
Providence: 100
Warwick: 65
Pawtucket: 62
East Providence: 60
Newport: 58
Cranston: 57
South Kingstown: 56
Narragansett: 50