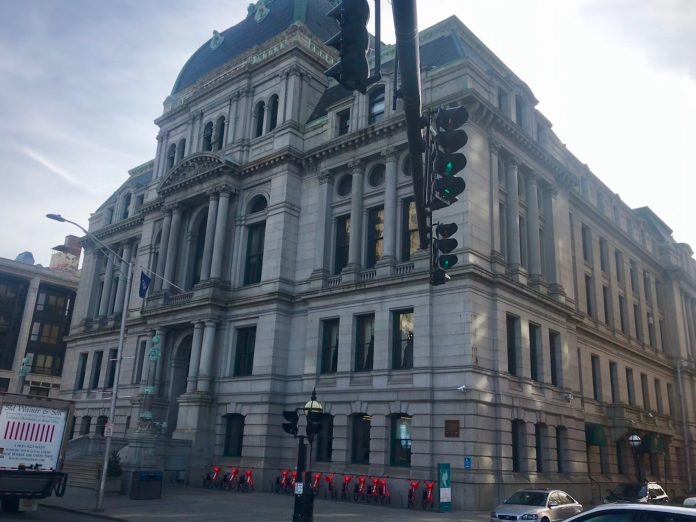 PROVIDENCE – Angry homeowners lashed out at the Providence City Council finance chairman on Thursday, upset at a proposal that would create a tiered homestead exemption based on property value.
Although the council leadership proposal would reintroduce a homestead exemption, the formula would result in homes exceeding $350,000 getting a smaller percentage reduction than less expensive houses.
On the East Side, where most homes sell in the $400,000s and above, residents feel that it targets them unfairly, and have organized in opposition to the idea. Other residents speaking at a public hearing Thursday were upset at the timing.
The proposal was released publicly Thursday in an early morning press conference, and residents say they were still confused as to what it would mean for them.
The proposal, introduced by City Council President Sabina Matos, finance chairman John J. Igliozzi and others, would include a homestead exemption as part of the city's fiscal 2020 budget.
The proposal would set a flat tax rate of $24.56 per $1,000 of assessed value for all homeowner-occupied structures. Then, a new homestead exemption would remove 40 percent of the first $350,000 in value. A 28 percent exemption on assessed value would be applied to all values in excess of that.
The intention, said council members, was to mitigate the impact of what is expected to be a substantial tax increase for neighborhoods where values have increased dramatically under a recently completed revaluation.
On Thursday, property owners and residents of the East Side pushed back, at one point, shouting down Igliozzi from the audience.
Councilwoman Nirva LaFortune, who said she learned of the proposal after a city council meeting last week, walked out of the meeting after an exchange with Igliozzi. She said the city council should have a transparent process for introducing a homestead exemption, not something that lacks a proper analysis. Many people in the city have no idea about the proposal, she said.
"This is not the proper venue to do this," she told the chairman.
John Goncalves, a resident of the East Side, said the idea of tax mitigation is worth discussion but not without including the homeowners most impacted. None of the city's neighborhood associations were contacted about the idea.
"The tax policy is pretty unclear to people," Goncalves said. "It's operating under this assumption that everyone on the East Side is wealthy and affluent."
Ed Bishop, a property owner with six buildings on the East Side, noted that while the properties have increased in value over the years, "they're also damn expensive to maintain."
It is a mistake to try to pit one part of the city against another, he advised.
Josh Eisen, president of the College Hill Neighborhood Association, noted his own assessed value indicates his property tax would increase from $14,000 a year by $5,000 or $6,000.
"You're trying to say 'well, it's not so bad.' Well, it is so bad," he said. State law is supposed to protect homeowners from that kind of tax sticker-shock.
"I think this is an improper way of imposing a shift in the burden of taxes, and I don't think it's going to hold up."
The city administration, meanwhile, has advised that the proposal isn't legal.
The city has no state authority to impose a graduated homestead exemption, according to an opinion from Jeffrey T. Dana, city solicitor. The General Assembly could grant that, he noted, but the state also prohibits the imposition of a graduated homestead on top of different tax rates for homeowner- and non-homeowner-occupied properties.
Providence now has two tax rates for residential structures – one for homeowner-occupied and another for buildings occupied by tenants.
Mary MacDonald is a PBN staff writer. You may reach her at MacDonald@PBN.com.