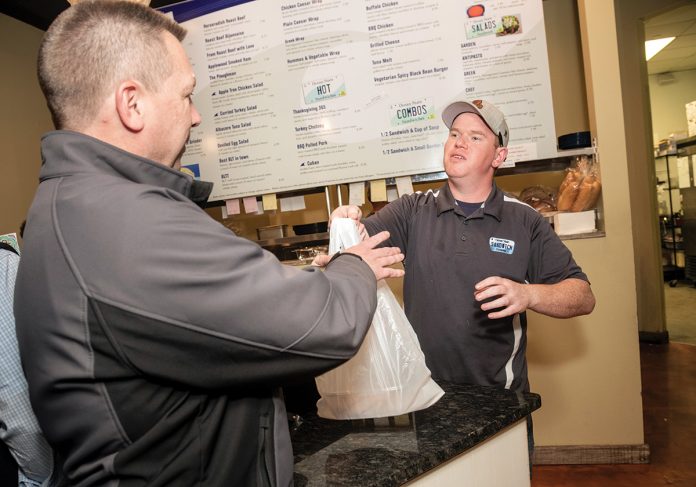 Ocean State Sandwich Co., a downtown Providence restaurant, uses the ubiquitous, pale white, single-use plastic bags for most takeout customers.
But owner Eric Handwerger and other city businesses will have to come up with what likely will be more costly alternatives before the end of the year. Mayor Jorge O. Elorza has signed into law a citywide ban of the thin, plastic bags that hold takeout food, groceries and small items purchased at retailers. They would be phased out in Providence over the next six months.
While Providence is among at least 10 Rhode Island communities that have adopted bans on single-use bags in recent years, state legislators also are expected to take up the issue this year.
For Providence retailers, the change was expected. But some worry about the increased cost of alternate options to plastic.
Handwerger says he will sit down with his suppliers and discuss options. He already uses paper bags for large takeout orders.
"I knew something would be coming like this. It's just a matter of finding the right product," he said. "We'll have smaller bags available. But there may be a charge for a bag."
Handwerger estimated he spends about 2 cents a bag for the plastic bags. And a paper option? "I'm going to guess it's at least 15 cents a bag."
Awareness of the impact of plastic in the environment, including ocean waters, is growing nationally. And legislators in cities and in statewide office have been proposing various forms of plastics bans for almost 10 years.
Providence's City Council first approved a ban on single-use plastic bags a year ago, but it contained a 10-cent fee for people who used paper bags as an alternative, and Elorza vetoed it, citing his concern for low-income residents.
The ordinance approved last month by the City Council was similar in scope but did not include the penalty for a paper bag. It was sponsored by Democratic Councilwoman Jo-Ann Ryan. She says there is plenty of evidence that plastics waste is harmful to the environment and humans, who may ingest it when it becomes a part of the food chain.
"It's the right thing to do," she said.
The Providence ordinance would ban single-use plastics at retail checkouts. Exceptions would include laundry or dry-cleaning bags, bags used for newspaper delivery, bags used to wrap or insulate frozen foods, meat and fish, and bags designed to contain fresh produce.
It would provide a mechanism for a business owner to seek an exemption, citing hardship.
One statewide proposal, House bill 5671 and Senate bill 410, has the blessing of a commission on plastic waste appointed by Gov. Gina M. Raimondo. If approved, the legislation would supersede local ordinances and create uniformity in plastic-bag prohibitions across the state.
It is similar to the Providence ordinance but requires a 5-cent fee if a customer uses a paper bag on checkout and does not provide a process for businesses to bypass the prohibition.
That statewide proposal has the support of the business community, said commission member Jonathan Stone, executive director of Save The Bay, because businesses want predictability. The uniformity of the provisions – covering all towns and cities – is what businesses have said they support.
"We think it's going to fly," he said of the bill. The business community doesn't want 39 different sets of rules, he added. "Businesses understand [plastics pollution] is a problem. They feel frustrated by different rules in every … community."
Business, too, are aware that consumers seem to be growing more concerned with plastics waste, Stone observed.
Save The Bay, over one weekend in 2018, conducted a statewide cleanup with 98 teams, covering 88 miles of coastline. The teams collected 12,389 pounds of trash.
Plastics were high on the list. The most frequent object found was a cigarette butt, each containing a tiny plastic filter. Plastic straws and stirrers, drink bottles and plastic bags also were represented, Stone said.
"Plastics are a huge problem," and single-use bags are a small part of a huge problem, Stone said.
In some ways, they are the simplest issue to correct because they can be replaced fairly easily with another option.
Many restaurants and small businesses in Providence already are preparing by finding alternatives.
State Sen. Joshua Miller, D-Cranston, is a sponsor of another bill that would prohibit single-use plastics. At his restaurant, Trinity Brewhouse in Providence, plastic bags and other waste were eliminated several years ago.
It was an easy thing to do and customers seem to appreciate the effort, he said.
Down the street, William Vihli, owner of Empire Market, said he would decide what to provide for an alternative once plastic bags are banned. He doesn't think customers will mind. Already, about half of his customers don't want the bags anyway.
In Europe and Morocco, he noted, stores are prevented from using single-use plastics.
"We need to come up with a solution," he said.
Mary MacDonald is a PBN staff writer. Contact her at Macdonald@PBN.com.