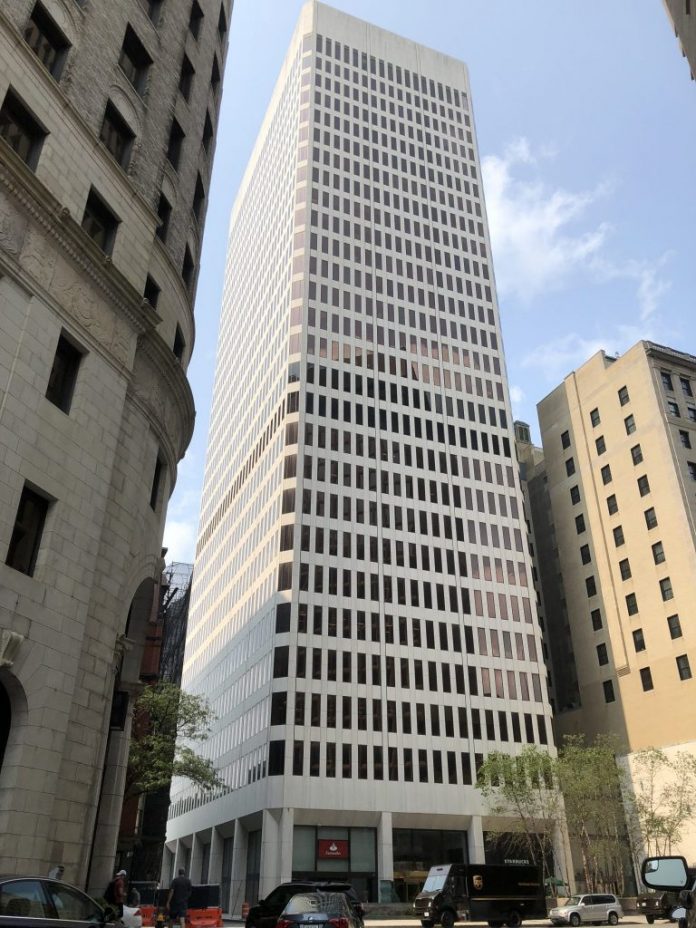 PROVIDENCE – One Financial Plaza, Providence's second-tallest building, was among the nation's five largest newly delinquent loans last month in the commercial mortgage-backed securities market, a new report shows.
With a loan balance of $45.8 million, One Financial Plaza ranked third in the nation in size of loans in commercial mortgage-backed securities, or CMBS, that went into delinquency in August, according to commercial real estate and banking markets research firm Trepp LLC.
The firm reported the delinquency status on the tower's loan was "nonperforming beyond maturity," meaning the balance of the loan had been due and could have been nearing foreclosure.
Toys R Us – the former retail giant that filed for Chapter 11 bankruptcy protection last year and is in the process of liquidating – and a related entity were the only newly delinquent CMBS loans in the United States with balances larger than that of One Financial Plaza, according to Trepp.
A fixture in Providence's skyline, the 25-story tower was sold last month for $51.8 million by Scarsdale, N.Y.-based Meritage Properties to Brooklyn, N.Y.-based JFR Global Investments. In 2007, Meritage bought the building for $65.6 million.
Formerly known as the Hospital Trust Building, the tower is home to offices for Santander Bank NA, and law firms Locke Lord LLP and Duffy & Sweeney Ltd., among others.
Topping the Trepp list of newly delinquent CMBS loans was retail chain Toys R Us, which went into delinquency status last month with a loan balance of more than $399 million for various locations. That was followed by Toys R Us Freely Payable, with a loan balance of nearly $90.1 million.
Ranking fourth was the Hyatt Regency hotel in Lexington, Ky., with a loan balance of $33.2 million, and the Holiday Inn Express in Brooklyn, N.Y., with a loan balance of $30.5 million, according to Trepp.
Overall, the firm found the CMBS loan-delinquency rate nationwide improved in August, dropping to 3.6 percent from 3.8 percent in July.
Scott Blake is a PBN staff writer. Email him at Blake@pbn.com.