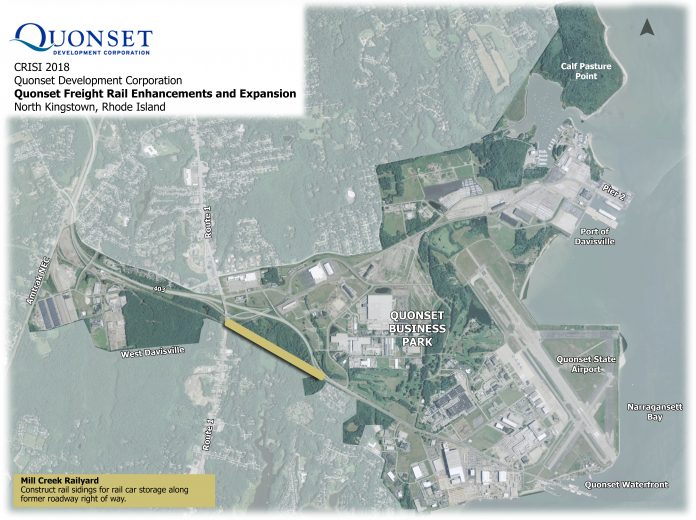 NORTH KINGSTOWN – The Quonset Development Corp. received a $3 million federal grant for the Quonset Freight Rail Enhancements and Expansion project, which will increase freight train capacity at the Quonset Business Park, Sen. Jack Reed, D-R.I., announced Thursday.
According to the QDC and Reed, the rail at the business park is approaching capacity, with traffic tripling since 2007.
The project would increase inbound and outbound freight capacity by creating 5,700 feet of new rail siding, capable of accommodating 58 rail cars, according to Quonset Development Corp. Managing Director Steven J. King. The project is also expected to reduce congestion within the business park. Reed noted the function of the new rail siding would be utilized as "storage tracks."
King said the Q-FREE project is currently at the "10 percent engineering design stage," with work done in 2017 for a 2018 grant application. The $3 million is expected to fund the completion of project plans and construction documents. Bidding for the construction of the project is expected in late 2019 or early 2020.
The project is also expected to free up land for development at the park, according to Reed.
King told PBN the project came into vision following the 2012 acquisition of right-of-way property under the old Roger Williams Way access road from the R.I. Department of Transportation, which was made available following construction of the Quonset access highway Route 403.
"This is a smart investment in improving Quonset's transportation infrastructure and growing capacity to keep up with demand now and in the future. Quonset Business Park and the Port of Davisville are strong economic drivers for the state and I will continue working with my colleagues in the delegation to deliver federal funds for Rhode Island," said Reed in a statement.
The federal funds used for the project were administered by the U.S. Department of Transportation.
Chris Bergenheim is the PBN web editor. Email him at Bergenheim@PBN.com.