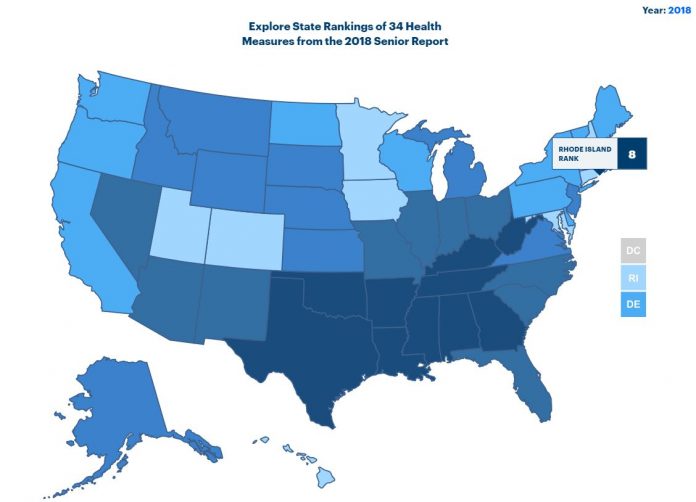 PROVIDENCE — Rhode Island's overall environment for seniors has improved since last year, ranking high in percentage of high-quality nursing home beds, Supplemental Nutrition Assistance Program enrollment and able bodied population, but it mirrored a national uptick in percentage of elderly suicides, according to the America's Health Rankings Senior Report released by the United Health Foundation Thursday.
The state ranked first in the United States for nursing home care in the report. In the past year, four- or five-star rated nursing home beds increased 21 percent.
"I think there are going to be a lot of other states calling your public health officials to find out what you've done," said Rhonda Randall, senior adviser to the United Health Foundation and chief medical officer and executive vice president at UnitedHealthcare Retiree Solutions.
Rhode Island ranked No. 8 in the country in overall senior health, up five spots from its No. 13 ranking last year.
The report used 34 measures of senior health to highlight successes and challenges locally and nationally.
Rhode Island ranked third healthiest among New England states, behind Connecticut (No. 6 nationally) and New Hampshire (No. 3). No New England state fell outside of the nation's top 15.
Rhode Island also improved in senior poverty, which decreased 12 percent year over year and improved on dental care, with a 14 percent yearly decrease in full-mouth tooth extraction.
Nationally, suicides among seniors increased 12 percent since the 2014 edition of the Senior Report, and Rhode Island followed that trend. Since 2014, Rhode Island has seen a 66 percent increase in suicides among adults aged 65 and older in Rhode Island, from 6.4 to 10.6 deaths per 100,000.
This year's figures are slightly better than in 2017, Randall said, with 11.2 deaths per 100,000.
Randall noted there are several factors that are correlated with suicide rates, including suffering from several chronic conditions and social isolation. This year, the report features a new analysis that measures and identifies locations where seniors are most at risk for social isolation. It builds on the AARP Foundation's Isolation Framework Project and supporting literature.
Contributing factors to social isolation include divorce, separation and widowhood, never having married, poverty, disability, difficulty living independently, and living alone.
In Rhode Island, the social isolation score was 81, among the top 11 in the U.S. The state ranks No. 42 among all 50 states for socially interactive environments, Randall said.
A possible strategy for decreasing social isolation would be to increase volunteerism in the state, Randall said.
Rob Borkowski is a PBN staff writer. Email him at Borkowski@PBN.com.