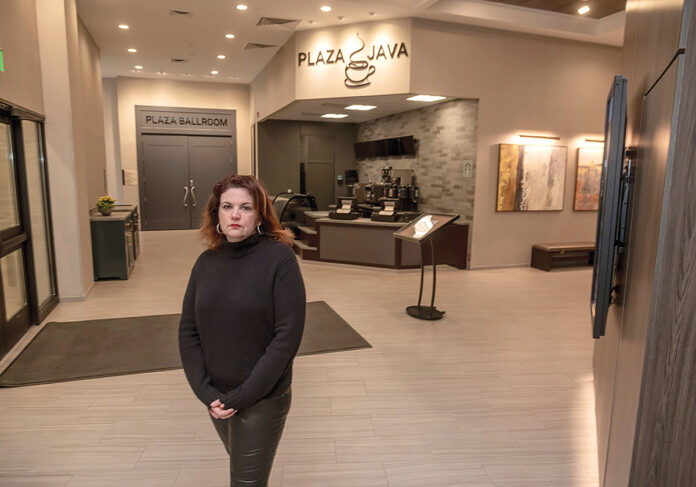 TOURISM
---
When R.I. Commerce Corp. decided to hire a chief marketing officer in late 2015, it made sense – bring in a person to guide efforts to rebrand Rhode Island as a place for tourists to spend money and businesses to set up shop.
And when Betsy Wall – the former head of the Mass. Office of Travel and Tourism – was appointed, it seemed like a coup.
But just a few months later, a failed "Rhode Island: Cooler & Warmer" slogan led to Wall's resignation, and the position has felt unsettled ever since.
Yes, Lara Salamano gained recognition as CMO for being an artful professional with the talent for collaborating with local tourism officials. She was also credited with the launch of the attention-garnering "Fun-Sized" state-marketing campaign. But she left after 2½ years for a job in the private sector, and her replacement, Heather Evans, stepped down after a year.
Matthew Sheaff, R.I. Commerce's director of communications and stakeholder outreach, stepped in, and served as interim CMO for more than a year.
In September, R.I. Commerce hired its fourth CMO since 2016, and state officials are hoping the effort to raise Rhode Island's profile will be on more-stable footing.
Anika Kimble-Huntley, who earned an MBA from Simmons College Graduate School of Management, has more than 20 years of marketing experience and recently served as vice president of marketing for the Hard Rock Hotel & Casino Sacramento at Fire Mountain.
Kimble-Huntley takes over as the state's tourism industry is still recovering from the effects of the COVID-19 pandemic, which shut down hotels statewide and closed the R.I. Convention Center in Providence. While tourist destinations such as Newport, Block Island and South County have bounced back, curtailed business travel has drained a lot of visitor spending from the Providence area, which relies heavily on meetings and conventions.
Kristen Adamo, CEO and president of the Providence Warwick Convention & Visitors Bureau, said R.I. Commerce was doing fine in marketing with Sheaff temporarily running things, but a permanent CMO will be helpful in the recovery.
With a decimated hospitality industry, thousands left jobless, tens of millions of dollars lost, recovery planning highlighted the need for a permanent CMO to provide direction and leadership.
"It's a full-blown crisis in Providence," said Adamo earlier this year, before Kimble-Huntley's hiring. Adamo said there was a need for a CMO "who can hit the ground running. I feel we're going to need a strategic, big-picture thinker, and someone who can outline a tourism strategy."
Even before the COVID-19 pandemic struck in March 2020, there were signs of turbulence at T.F. Green Airport, the gateway for many of the state's visitors.
In October 2017, state and federal officials gathered at the end of Runway 5 to celebrate the completion of a runway extension that promised more international flights and, eventually, new nonstop trips to the West Coast.
At the time, optimism was high. It seemed that new air carriers were adding flights at Green every month, such as Norwegian Air offering trans-Atlantic routes starting in 2017. But the momentum didn't last. Norwegian Air canceled its routes two years later, and discount carrier Sun Country Airlines scrapped plans for a Dominican Republic connection before it got off the ground.
The problem, in part, was related to the grounding of the 737 MAX aircraft in 2019 after two overseas crashes. The Boeing airliner had been a workhorse for many low-cost carriers.
As a result, the number of passengers passing through the airport sagged in 2019. When the pandemic arrived in March 2020, the daily passenger count dropped to a trickle – 200 passengers each day compared with 5,000 before the pandemic.
The crisis served as the impetus to make a name change that airport officials had sought for years.
Iftikhar Ahmad, CEO and president of the R.I. Airport Corp., the quasi-public agency that operates the state airports, had long argued that few travelers outside the region recognized the name T.F. Green Airport or its location in New England.
In travel planning, a name matters. The airport should have a name that identifies its location, showing travelers there are ways to get to New England other than through Boston's Logan International Airport.
After years of failed attempts, the General Assembly approved a name change in 2021: In June, the state's largest airport was renamed Rhode Island T.F. Green International Airport.
The pandemic also put a severe damper on what was already a sad occasion – the Pawtucket Red Sox' last season at McCoy Stadium in 2020.
The team, which had called Pawtucket home since the 1970s, decided in 2018 to move to Worcester, Mass., after team executives and state leaders couldn't reach an agreement on a deal that might have kept the PawSox in Rhode Island.
The blame fell largely on then-House Speaker Nicholas A. Mattiello, who opposed a proposal that would have had the state contributing $23 million for a new stadium and Pawtucket adding $10 million with the PawSox covering the rest of the $83 million cost.
The PawSox had drawn as many as 400,000 fans to Pawtucket annually in recent years, but after the team announced it was leaving, attendance plummeted in 2019. Now the team is the WooSox and plays at the new $159 million Polar Park in Worcester.
All may not be lost, however. Developers are finalizing plans for a $284 million mixed-use complex that will feature an 11,000-seat soccer stadium along the riverfront just south of downtown Pawtucket.
The Tidewater project is being helped financially by a $50 million incentive package offered by the state and city, including $14 million in state construction tax credits.
Planners are hoping to bring in a second-tier professional soccer team.