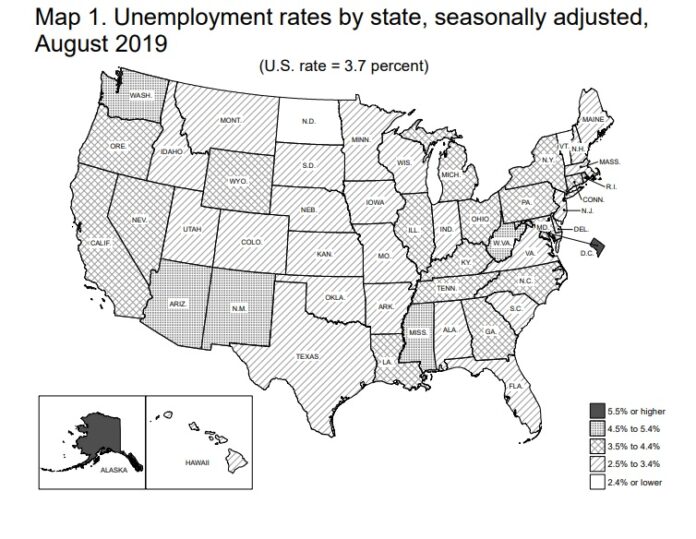 WASHINGTON – While Rhode Island's August seasonally adjusted unemployment rate of 3.6% may have been one-tenth of a percentage point below the national rate of 3.7%, the Ocean State, along with Connecticut, posted the highest jobless rate in New England, according to date released by the U.S. Bureau of Labor Statistics Friday.
In fact, all of the other four states in the region recorded unemployment rates that were significantly below the national rate, with Vermont having the lowest unemployment rate in the nation, at 2.1 percent.
Below are the year-over-year unemployment rate changes for the six New England states:
United States – 3.7% in August 2019 from 3.7% in August 2018
Rhode Island – 3.6% from 3.9%
Connecticut – 3.6% from 4%
Maine – 2.9% from 3.5%
Massachusetts – 2.9% from 3.3%
New Hampshire – 2.5% from 2.5%
Vermont – 2.1% from 2.6%
The labor force in the Ocean State fell over the year to 554,427 from 555,731, even as the number of unemployed in the state also fell, to 19,840 from 21,758.
The number of employees on nonfarm payrolls in Rhode Island grew to 504,200 in August from 496,800 a year earlier. All New England states showed job growth as well:
Rhode Island – 504,200 jobs in August 2019, compared with 496,800 in August 2018
Connecticut – 1.697 million from 1.690 million
Maine – 634,500 from 627,700
Massachusetts – 3.686 million from 3.642 million
New Hampshire – 694,500 from 681,500
Vermont – 318,000 from 317,400

Want to share this story? Click Here to purchase a link that allows anyone to read it on any device whether or not they are a subscriber.