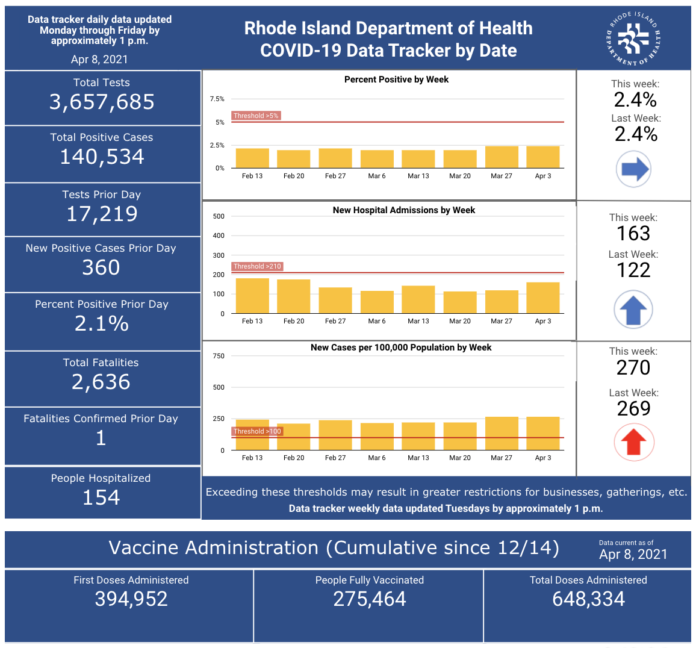 PROVIDENCE – State officials laid out the groundwork Thursday during their weekly COVID-19 press conference for large-scale events to incrementally return in Rhode Island.
Gov. Daniel J. McKee and R.I. Department of Health Director Dr. Nicole Alexander-Scott stated that Rhode Island is setting a goal to administer at least one dose of a COVID-19 vaccine to 70% of all Rhode Islanders ages 16 and older by May 15.
Vaccine eligibility will open to ages 40-49 starting April 12 and to ages 16-39 by April 19.
From there, the state has set a June 5 target date to have 70% of all Rhode Islanders ages 16 and older, which is approximately 755,000 individuals, to be fully vaccinated. That's because the state is implementing a three-phase structure for large-scale events to take place in the state based on the vaccination rate, which have been nonexistent for more than a year due to the ongoing pandemic.
Currently, events that do not serve food, such as commencements or concerts, can have 250 people indoors and 500 outdoors. By May 15, Alexander-Scott said the state plans to increase crowd capacity to 500 people for indoor events and 1,000 outdoors. Then, by June 5, with 70% of the state hopefully vaccinated by then, outdoor events will have a 2,000-person capacity while indoor events will remain at a 500-person capacity.
"These are markers that we're setting that we can reach all together," Alexander-Scott said. "If you haven't been vaccinated and you are eligible, you should get vaccinated. The more we can as a state reach those markers, the more confidently we can engage in all activities."
Masks and social distancing will still be required at these events, Alexander-Scott said. She also said all people planning to attend indoor events are strongly recommended to get tested 48 hours in advance of the event.
The health director said plans for outdoor events with more than 500 people in attendance are required to be submitted to the state at least 30 in advance. The R.I. Department of Business Regulation is working with entities on planning, she said.
"Incremental changes" to capacity for catered events are being made as well, Alexander-Scott said, and more information will be posted Friday on the state's ReopeningRI.com website.
McKee also announced that the state will have special events this summer, such as high school proms, fireworks and July 4 celebrations. R.I. Commerce Corp. Secretary Stefan Pryor said prom attendees can dance in "pod" form, which is dancing with people sitting with them at their respective tables.
Thursday's announcements come as confirmed cases of COVID-19 in Rhode Island increased by 360 on Wednesday with one new death, according to RIDOH.
Hospitalizations of COVID-19 patients in the state totaled 154, the same as one day prior. Of those hospitalized, 28 were in intensive care units, an increase of three day to day, and 21 were on ventilators, the same as Wednesday.
There have been 648,334 COVID-19 vaccine doses administered in the state to date, a rise of 13,804 from one day prior. To date, 275,464 people have been fully vaccinated against the virus in Rhode Island, an increase of 7,472 day to day.
McKee announced Thursday that 20,000 vaccine appointments will be made available 5 p.m. Friday and those seeking appointments should visit VaccinateRI.org.
COVID-19 cases in the state have totaled 140,534, an increase of 509 from figures reported Wednesday, accounting for both the day-to-day increase as well as for data revisions for previous days.
Deaths due to the virus have totaled 2,636 in Rhode Island.
There were 17,219 tests processed in the state on Wednesday with an overall positive rate of 2.1%. When excluding both repeat positive and repeat negative test results, the positive rate was 18.1%
There have been 3.66 million tests administered in the state to 858,631 individuals.
Earlier Thursday, Providence Mayor Jorge O. Elorza, along with other local city leaders, announced that the city will reopen all 11 recreation centers and offer free socially distant enrichment programming beginning April 12 after having been closed for a year.
The recreation centers will offer free programming for city youth ages 7-15 on weekdays. On April 19, recreation centers will resume grab-and-go meals for youth. No food will be allowed inside the recreation centers for the time being, the city said.
In a statement, Elorza said the recreation centers are often the focus of community life and vital to local youth's physical and emotional well-being. "It's critical that, as our state continues to reopen, we prioritize promoting safe and healthy ways for youth to stay active and engaged all year round through enrichment programming and summer employment opportunities."
The city will also again offer youth summer employment opportunities to help operate lunch program sites, camps and water parks across the city. Applicants must be at least 14 years old as of July 15 to apply and may apply online. The city noted that the program is subject to change due to the ongoing pandemic.
James Bessette is the PBN special projects editor, and also covers the nonprofit and education sectors. You may reach him at Bessette@PBN.com. You may also follow him on Twitter at @James_Bessette.
This story has been updated throughout to include details from the state's weekly COVID-19 press conference as well as to include details from Providence's reopening of recreation centers.

Want to share this story? Click Here to purchase a link that allows anyone to read it on any device whether or not they are a subscriber.