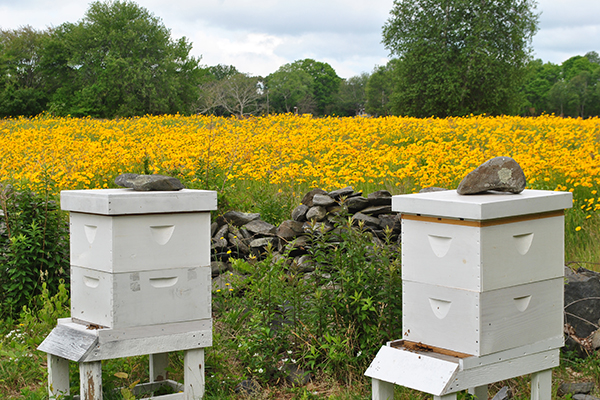 PROVIDENCE – The Rhode Island Foundation has awarded $385,000 in grants to fund more than 40 neighborhood-based projects in 26 cities and towns, including a pollinator garden in Jamestown that sustains 150,000 bees, racial equity training for community leaders in Cranston and improvements to the walking trails at Canonchet Farm in Narragansett.
"Our grants will create places to gather, make friendships and launch new collaborations that will build community connections throughout Rhode Island," said Jessica David, the foundation's executive vice president of strategy and community investments.
The maximum grant was $10,000, and most of the projects are expected to be underway before the end of the year.
The following grants were awarded by the foundation:
$10,000 to the African Alliance of R.I. for improving existing AARI community gardens and to expand garden projects at Chad Brown and Hartford Park apartment complexe, as well as at 883 Eddy St. in Providence and Aldersbridge Communities in East Providence.
$10,000 to Aquidneck Community Table to expand school and community gardens and programming in Newport and Middletown. The group partners with Pell Elementary School, the Newport Housing Authority, the Newport Health Equity Zone, the Dr. Martin Luther King Jr. Community Center and Bike Newport, among other organizations, to expand residents' access to healthy food.
$10,000 to Central Falls to support its Salsa Night summer event series. Scheduled for Aug. 30 and Sept. 27 at the bridge on Roosevelt Avenue, the events will feature food trucks, a photo station and free salsa lessons.
$10,000 to Communities for People to launch an initiative designed to improve neighborhood health and safety and the academic performance of children in Central Falls.
$10,000 to Community MusicWorks in Providence for Music for Refugees, a series of musical events designed to strengthen social networks among recently arrived refugee communities and long-term residents of Providence.
$10,000 to the Cranston Public Library to offer racial equity training to as many as 50 municipal, business and nonprofit leaders this fall. The initiative is a partnership with the OneCranston Working Cities Initiative and the Cranston City Council.
$10,000 to Cumberland to restore and preserve the gazebo at the Monastery, the town's largest park. The work to the more-than-30-year-old structure will include roof, lighting and landscape improvements.
$10,000 to the Gamm Theatre in Warwick to launch "Community Stage," an initiative designed to engage the public in a shared experience through music, poetry, improv and conversation. Free and open to the public, the events will take place one evening a month, will feature a variety of art forms and will encourage community dialogue in an open-mic format.
$10,000 to Harvest Acres Farm in Richmond to build a covered wooden pavilion in which to stage live music performances, theater productions, movie nights, community picnics and other events. The nonprofit organization serves persons with mental health disorders.
$10,000 to Glocester for improvements to Spring Grove Beach in the DiFonzo Recreation area. The work will include removing debris, fence installation, new landscaping and selective tree clearing to better define the picnic and play area for beach users.
$10,000 to the Jamestown Arts Center to support its Outdoor Arts Experience, an islandwide public art installation celebrating its 10th anniversary in 2020. The funding will be used to construct a permanent sculpture pad on-site in 2019, pay an artist's honorarium to install an artwork and to promote the request for proposals to artists.
$10,000 to the Little Compton Community Center to revitalize its communal theater space. The Community Center is a gathering place for residents and organizations, hosting more than 80 hours of community use a week with the theater often being a central feature of those programs and events.
$10,000 to NeighborWorks Blackstone River Valley in Woonsocket to support free monthly events at the wood-fired, outdoor community oven in Market Square, as well as at regularly scheduled community events.
$10,000 to North Providence to install a street clock at the intersection of Mineral Spring Avenue and Douglas Avenue. The reproduction of an antique post clock will be installed near the gateway to two major developments: the new Stephen Olney Elementary School and North Providence Public Safety Complex.
$10,000 to Pawtucket to complete a public mural project at Payne Park in coordination with residents of the Woodlawn neighborhood.
$10,000 to Providence to maintain the planters being installed along Broad Street as part of City Walk, part of the city's vision to connect every neighborhood with an urban trail.
$10,000 to the Rhode Island Action Coalition in Providence to host a two-part performance series to bring attention to the opioid crisis in partnership with Creating Outreach About Addiction Support Together and Teatro ECAS.
$10,000 to the Salvation Army of Newport to purchase a new full-sized wall-mounted projection screen and modernized audio-video system for its community center at 51 Memorial Blvd.
$10,000 to The Collaborative to run the Warren Art Academy, a free six-week series of art classes for students K-12.
$10,000 to The Personal Lifetime Advocacy Networks of RI in Warwick to support its "Community Building through Diversity" program, which will serve families from Cranston, Coventry and North Kingstown that include a child with a disability.
$10,000 to Woonasquatucket River Watershed Council to install signage and stage events that commemorate the history of the reservoir system along the Woonasquatucket River in Smithfield.
$9,908 to the Blackstone River Theatre in Cumberland to make façade improvements and landscaping and streetscape enhancements to its nearly 100-year-old building.
$9,519 to Community Health Innovations of Rhode Island in Providence to expand its work promoting the intergenerational oral and visual history of the Mount Hope and East Side neighborhoods. The project will include the creation of two murals celebrating the area's history.
$9,337 to The PLACE in Portsmouth to support theater, dance and music performances and workshops, including yoga dance, expressive movement and sounding circle drumming. In addition, there are plans for an afterschool chorus program for school children and a women's choir.
$9,230 to The Coventry Resource and Senior Center to build a greenhouse at 50 Wood St., where the newly renovated center will be located.
$9,200 to Friends of Hearthside in Lincoln to complete the interpretive signage within Chase Farm Park. The project includes the creation of an artist's mural depicting the historic Great Road in the early 19th century, as well as an interpretive panel for the Hannaway Blacksmith Shop.
$8,944 to the East Providence Public Library to promote the Weaver Library Farmers' Market. The plan includes installing informational banners at popular community locations, staging cooking demonstrations using food purchased at the market, providing picnic tables and seating at the market, and adding a foam block-based play system at the market to give children a place to play.
$8,800 to What Cheer Flower Farm in Providence to create a series of free Art in the Fields classes on photography, sketching and painting for Olneyville residents.
$8,500 to the Providence Police Department to conduct a Youth Police Initiative series for teenage males who live in the city and are involved with or under the supervision of Juvenile Corrective Services at the Department of Children Youth and Families.
$8,000 to the Alliance to Mobilize Our Resistance in Providence to produce and distribute reusable grocery bags and create a small community organic soap-making business. The cloth grocery bags will include the name and logo of local food co-ops and the AMOR support hotline number and will be distributed at the co-ops and in neighborhoods that AMOR serves.
$8,000 to the Taft Street Community Garden in Pawtucket to fund two staff organizer positions, purchase garden supplies and print educational garden information signs in three languages. The organization offers the public free gardening sessions Sundays at 3 p.m. through October and Wednesdays at 4:30 p.m. through September at its 134 Taft St. garden.
$7,000 to the South County Museum in Narragansett for additional signs at Canonchet Farm to enhance the visitor experience at the 174-acre municipal park.
$6,000 to Tides Family Services in West Warwick to launch a bicycling program that will serve young men from Providence, Pawtucket, Central Falls, West Warwick and Woonsocket. The funding will enable Tides to buy new mountain bikes, helmets, tools, spare parts and bike racks.
$5,000 to Foster Parrots Ltd. in Hopkinton to support "Feral Arts Movie Nights." Free to the public, the drive-in style events will take place at the New England Exotic Wildlife Sanctuary.
$5,000 to the Ocean Community Chamber of Commerce to support the publication of a pop-up book that will include sections celebrating Misquamicut, Watch Hill and more. The Chamber will print 2,500 copies of the book to mark Westerly's 350th anniversary.
$4,000 to the Conanicut Island Land Trust for a 10,000-square-foot pollinator garden at Godena Farm in Jamestown. The garden provides pollen and nectar that sustains approximately 150,000 honeybees and five hives, as well as thousands of native bumble bees, butterflies and hummingbirds.
$4,000 to Rhode Island Latino Arts in Providence to create an archive that displays the rich and blooming history of Latin Americans living in Rhode Island. The Nuestras Raíces Latino Oral History Project of Rhode Island aims to bring the community together through storytelling and document collection.
$2,250 to the Bristol Historical & Preservation Society to create five portable exhibits that will focus on aspects of the town's history. The displays will be made available to local organizations, as well as temporarily displayed in public places.
$1,000 to the Community 2000 Education Foundation for the Maddie Potts Spirit of Community Leadership Endowment. The endowment supports two Spirit of Community Leadership Awards that are given annually to male and female graduating seniors from the Chariho Regional School District.
The Chorus of Westerly, Communities for People in Central Falls, the Conimicut Village Association in Warwick, the Greenville Public Library in Smithfield, Kenny's Coalition in North Smithfield, Southside Community Land Trust in Providence and Wilbury Theatre Group in Providence also received grants.

Want to share this story? Click Here to purchase a link that allows anyone to read it on any device whether or not they are a subscriber.