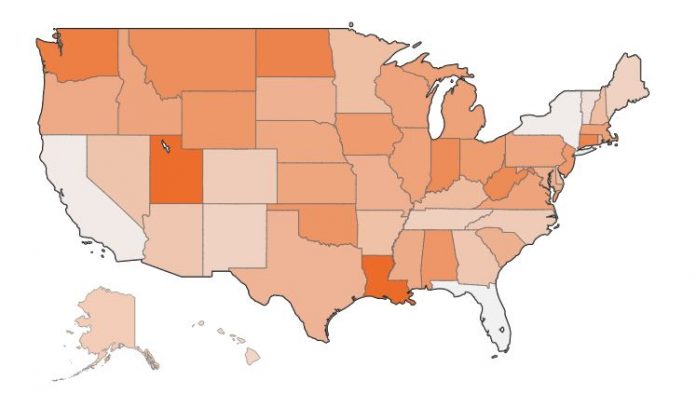 PROVIDENCE – Rhode Island had the No. 20 smallest gender pay gap in the nation, with women in the Ocean State earning 82 cents for every dollar earned by men, according to a report from the American Association of University Women Monday, which has been designated Equal Pay Day.
The average yearly male salary in the state was $53,400 while the average woman's was $43,541.
Nationally, the average percentage of woman-to-man earnings ratio was 80 percent. New York had the smallest pay-gap percentage in the nation at 89 percent. Louisiana had the largest discrepency, with women earning 70 cents for every dollar earned by a man. The percentage differences are based on the median annual earnings for full-time, year-round workers.
Rhode Island ranked second-worst for gender pay gap in New England, ahead of only Connecticut's 79 percent women's wage to men's wage ratio. Vermont had the smallest gender wage difference in New England at 86 percent, No. 5 in the nation. Maine had an 84 percent ratio (No. 8 in the nation), while New Hampshire had an 83 percent ratio (No. 11) and Massachusetts had an 82 percent ratio (No. 14).
The National Partnership for Women and Families in its own report on the pay gap, reported the same 82 percent ratio of woman-to-man pay in Rhode Island and added that the largest pay discrepancy in the state compared with white, non-Hispanic men was for Latina women, who earned $28,951 less on average. Black women earned $23,783 compared with the average white, non-Hispanic male. Meanwhile, white, non-Hispanic women in the state earned $10,764 less than white men, according to the NPWF.
"Equal Pay Day is a disturbing reminder that women overall have had to work more than three months into 2018 just to catch up with what men were paid in 2017, and black women and Latinas must work considerably further into the year," said Debra L. Ness, president of the NPFW in a statement. "The wage gap cannot be explained by women's choices. It's clear that discrimination contributes to it – and equally clear that it's causing grave harm to women, families and the country."
Chris Bergenheim is the PBN web editor.