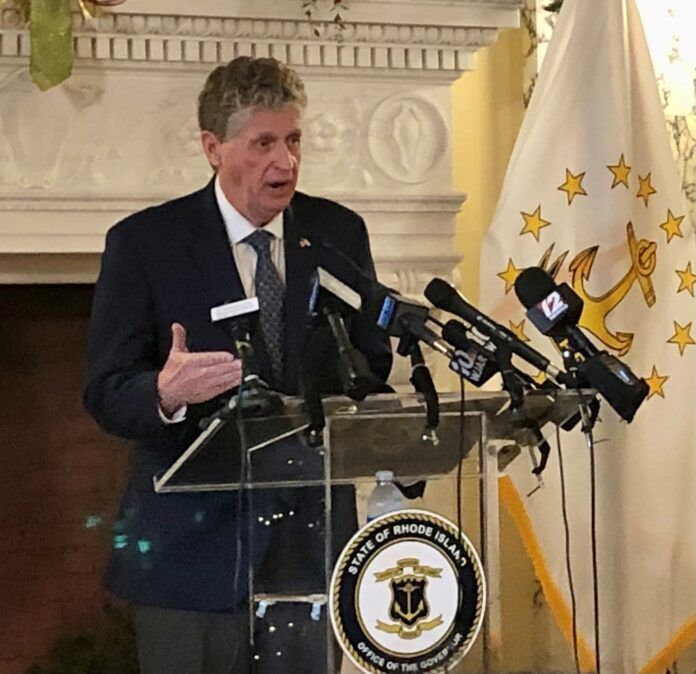 PROVIDENCE – The state launched the $50 million Home Assistance Fund Rhode Island program on Monday that will provide up to $50,000 of aid to homeowners struggling with pandemic-related hardship who meet income requirements.
It's hoped the program will reduce mortgage delinquencies and defaults, foreclosures, loss of utilities and the displacement of homeowners due to financial hardship. The program will help homeowners pay their mortgage and utility bills and other housing-related costs.
Sen. Jack Reed, D-R.I., spearheaded the creation of the $10 billion federal Homeowner Assistance Fund approved as part of the coronavirus stimulus package last spring. Rhode Island received $50 million in funds for implementing the program locally.
The Rhode Island Housing and Mortgage Finance Corp., otherwise known as Rhode Island Housing, will distribute funding to eligible applicants who can receive up to 24 months of assistance. Applicable expenses include mortgage arrearages, monthly mortgage payments, principal reduction, property taxes, homeowner association fees, and condominium association fees.
Eligible homeowner applicants must meet all of the following criteria to be eligible for assistance:
The Household must be below certain income limits, ranging from $90,850 for a one-person household to $171,300 for an eight-person household.
Must own and occupy a one to four-unit dwelling in Rhode Island.
Must have experienced a COVID-19-related financial hardship after Jan. 21, 2020.
The original mortgage balance must have been less than $548,250.
Those who qualify for assistance for other foreclosable liens may also receive payment assistance for utilities, flood or mortgage insurance, or other mortgage-related expenses. Generally, program assistance will be paid directly to the mortgage servicer, utility provider or other entity owed housing-related costs.
"I am incredibly proud to launch this program and provide Rhode Islanders who have been financially impacted by COVID-19 with the support they need," Gov. Daniel J. McKee said Monday in announcing the program. "Another example of our state providing critical support directly to our residents, these resources help families in our state to stay in their homes and potentially prevents others from experiencing homelessness. We are grateful to our federal delegation for their advocacy and Senator Reed for his leadership to ensure that all Rhode Island residents have access to a safe space to call home."
On Oct. 5, McKee announced the approval of $50 million in funding through its RentReliefRI program, funded by the federal Emergency Rental Assistance program. That program is aimed at providing rental and utility assistance to close to 4,600 rental households in Rhode Island, including more than $16 million in payments for utilities for low- and moderate-income customers.
Reed said he created the federal homeowner assistance program to help prevent people from losing their homes, leading the effort to include the $10 billion for the program in the American Rescue Plan Act.
"This is another example of the federal government giving states the resources to cope with impacts of the pandemic – in this case, averting further problems in our already stressed housing market," he said. "Getting this money out the door quickly is imperative if we want to help families, neighborhoods, and communities."
House Speaker K. Joseph Shekarchi, who told the Providence Business News that housing was a priority for the 2022 legislature session, said, "We hear how important access to critical support, like homeowner assistance, can be for families and I am proud that we were able to bring these funds directly to our residents. We are so grateful to RI Housing for their work to implement this program across the state and hope that anyone eligible to benefit from this program will apply today."
Senate President Dominick J. Ruggerio said, "We know that our constituents, particularly our homeowners, have experienced so much over the course of the past two years. COVID-19 has presented new challenges and I'm glad that we were able to respond and provide our residents with critical dollars to help with housing costs and payments."
Brenda Clement, director of HousingWorks RI, said that keeping Rhode Islanders safe in their homes during the pandemic is critical.
"Many Rhode Islanders struggled to keep a roof over their heads even before COVID," she said, noting that nearly 53,000 local households with mortgages are cost-burdened. "The economic impacts caused by our public health crisis have made this struggle even more challenging. This is much needed help for Rhode Island homeowners."
Information, including frequently asked questions, and application details for HAF-RI can be found at the program's website.
Cassius Shuman is a PBN staff writer. Contact him at Shuman@PBN.com. You may also follow him on Twitter @CassiusShuman.

Want to share this story? Click Here to purchase a link that allows anyone to read it on any device whether or not they are a subscriber.