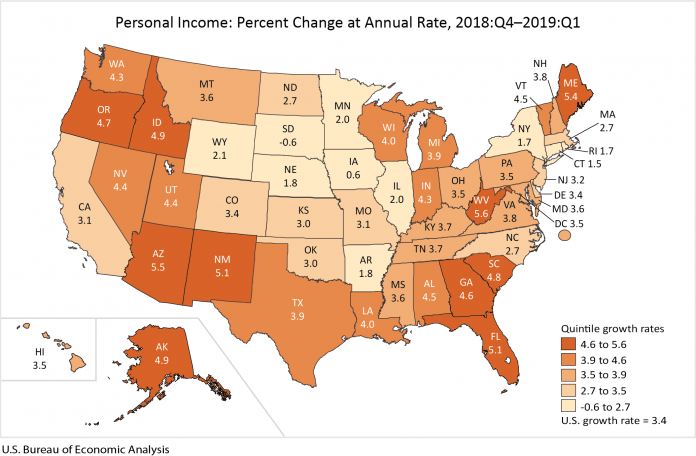 PROVIDENCE – Personal income in Rhode Island increased at a seasonally-adjusted, annualized rate of 1.7% in the first quarter of 2019 over the fourth quarter of 2018, the fifth-slowest growth in the nation, according to the U.S. Bureau of Economic Analysis Tuesday.
Nationally, personal income increased at a 3.4% annualized rate while New England personal income increased at a 2.6% annualized rate.
New England personal income growth in the first quarter (annualized):
Maine: 5.4%, No. 3 in the nation
Vermont: 4.5%, No. 11 in the United States
New Hampshire: 3.8%, No. 22 in the country
Massachusetts: 2.7%, No. 39 in the U.S.
Rhode Island: 1.7%, No. 46 among states
Connecticut: 1.5%, the third-slowest rate nationally for the quarter
West Virginia had the highest personal income growth rate in the quarter at 5.6%.
Rhode Island's quarter-to-quarter growth from an annualized $58.4 billion in the fourth quarter was dragged down in part by a $334 million decline in earnings in the management of companies and enterprises sector from the fourth quarter to the first quarter, the report said.
Chris Bergenheim is the PBN web editor. You may reach him at Bergenheim@PBN.com.