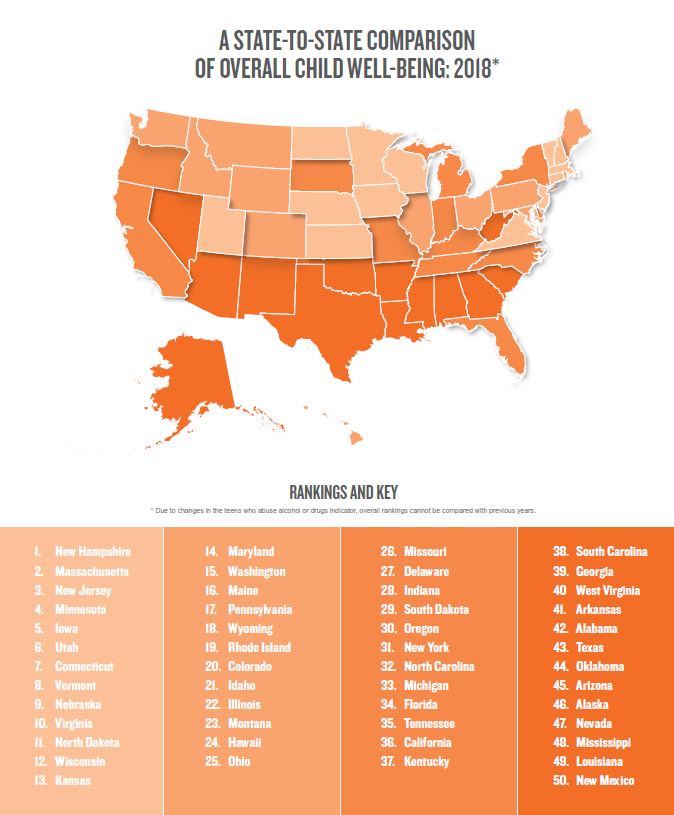 PROVIDENCE – Rhode Island ranked No. 19 in the nation for child well-being in the 2018 KIDS COUNT Data Book report released Wednesday.
Rhode Island ranked last in New England on the report, while New Hampshire ranked first in the nation followed by Massachusetts at No. 2.
The state ranked highest for its health ranking at No. 11 in the country. The child and teen death rate in the Ocean State was the lowest in the nation, at 15 deaths per 100,000 children. The report also said that 98 percent of children in Rhode Island had health insurance, the second-best percentage in the country.
Rhode Island ranked No. 20 in the report for economic well-being for children. The percentage of children in poverty declined to 17 percent in 2016, compared with 22 percent in 2013.
The Ocean State ranked No. 28 for education this year, with a No. 33 ranking for eighth-grade math skills.
The state ranked No. 29 in the "family and community domain," ranking in the bottom half of the nation despite declining teen-birth rates at 13 births per 1,000 teens, which ranks No. 6 in the nation.
The report also noted that in Rhode Island, 18,000 children were estimated to be under-counted, about 33 percent. In the United States 23 percent of children were estimated to be under-counted.
Connecticut ranked third highest in New England at No. 7 in the nation, ahead of Vermont at No. 8. Maine ranked No. 16 this year.
New Mexico ranked last in the 2018 report.
Chris Bergenheim is the PBN web editor.